Babies are expensive little creatures.
When a new baby is brought into the world, one of the first thoughts people have is; "I need to get a baby gift." From cute little outfits, snuggly sleepsuits, and sweet teddy bears, there is a whole lot of options available. But these store bought gifts can be pricey, generic and impersonal.
If you are looking for ideas for baby gifts, then why not think outside of the box and have a go at making something yourself?
If the thought of this terrifies you, then don't fear, we are here to help. You don't have to be the most creative, or the most crafty to make a baby gift, which not only looks great, but will become a treasured keepsake.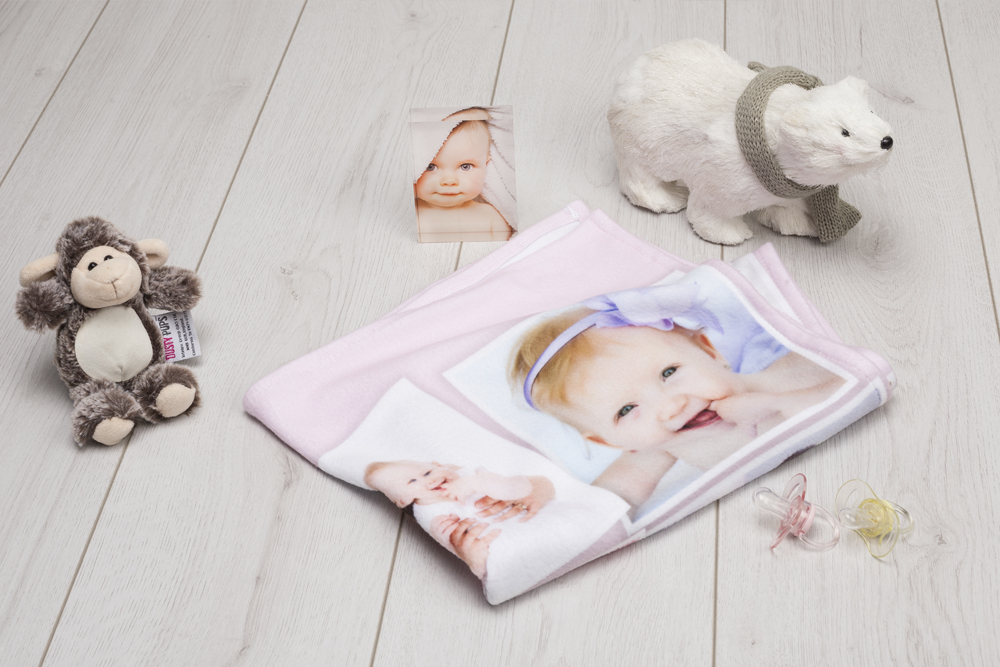 One of the most valuable, and useful gifts that you could give a new baby and their parents, is  baby blanket. These functional, and often adorable blankets are an essential piece of baby garb. You can get some pretty gorgeous blankets in the shop, but if you can make your own, you can decide the design and the fabric. Don't know how to make a baby blanket? No worries. Our easy 10 step guide will show you how to make a baby blanket online, using our custom fabric and unique hemming service.
Make a baby blanket online
At Bags of Love, you have a wealth of options when it comes to creating personalised gifts. You can make your own baby blanket by uploading a design, which we print, cut, double layer, sew and send out to you. Or, you can design your own fabric, and complete the blanket at home. The other option, which is what we are going to focus on today, is our unique hemming service. This option allows you to create a design on any of our 100 fabrics. Our skilled technicians will print your design onto the fabric. Next, our talented seamstresses stitch and hem around the fabric, creating a highly professional finish. The result is a beautiful baby blanket to your exact requirements.
How to make a baby blanket in 10 easy steps
Now that you have decided to make a baby blanket with Bags of Love, just follow these 10 simple steps.
Step 1. 
Head on over to Bags of Love and click on the "Digital Fabric Printing" option. When you have a design for your blanket in mind, click the green "Start Design" button, to start the process.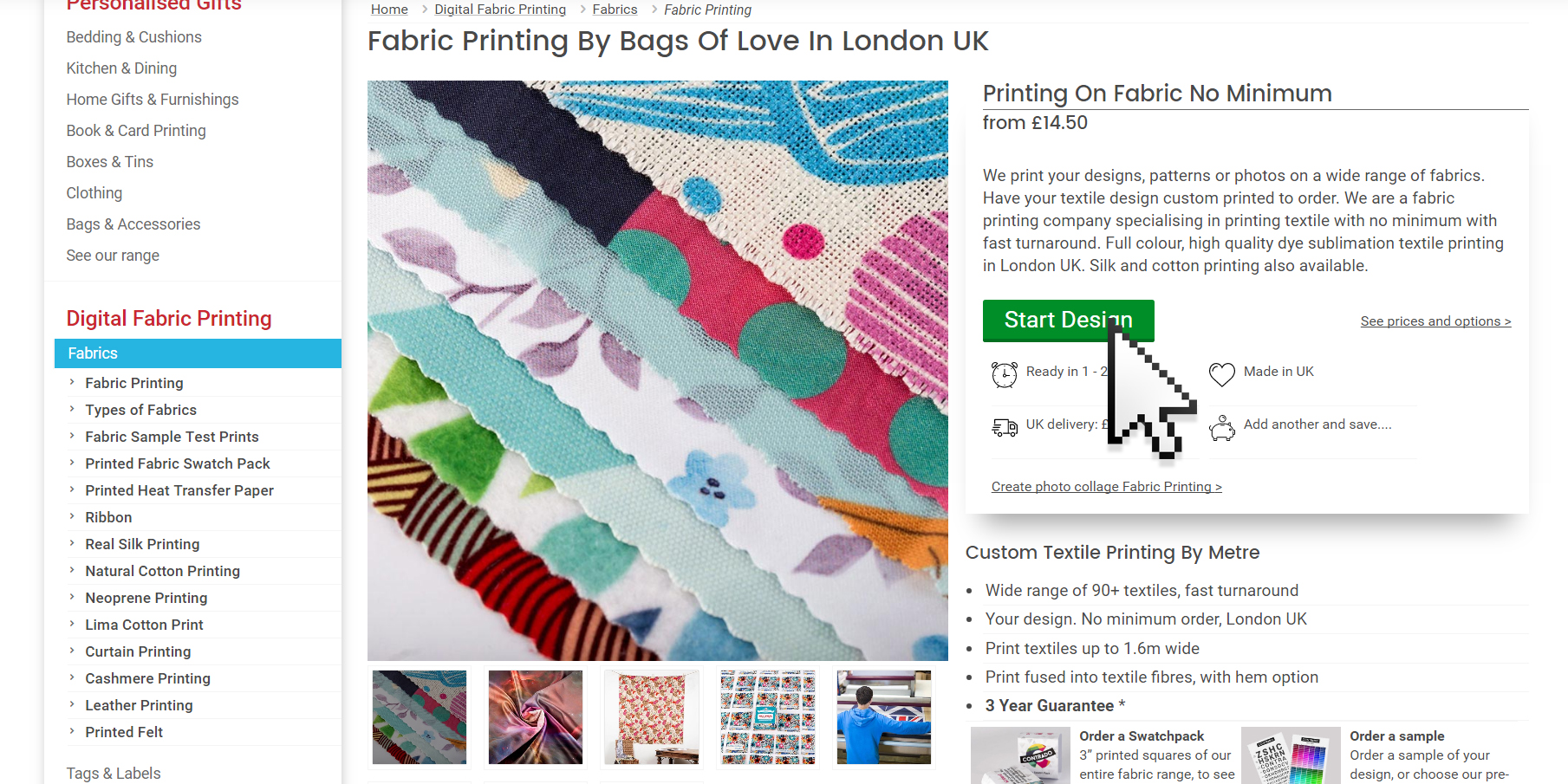 Step 2.
You now get to choose which fabric you want to make a baby blanket with. Because these blankets need to be soft for such delicate skin, we recommend opting for the Polar Fleece fabric. This textile is ultra soft and insulating, so it is ideal for wrapping baby up to keep warm. Because it is so cuddly, it also makes a wonderful comforter blanket for when baby is a little older. Click the drop down menu and use the curser to choose your fabric.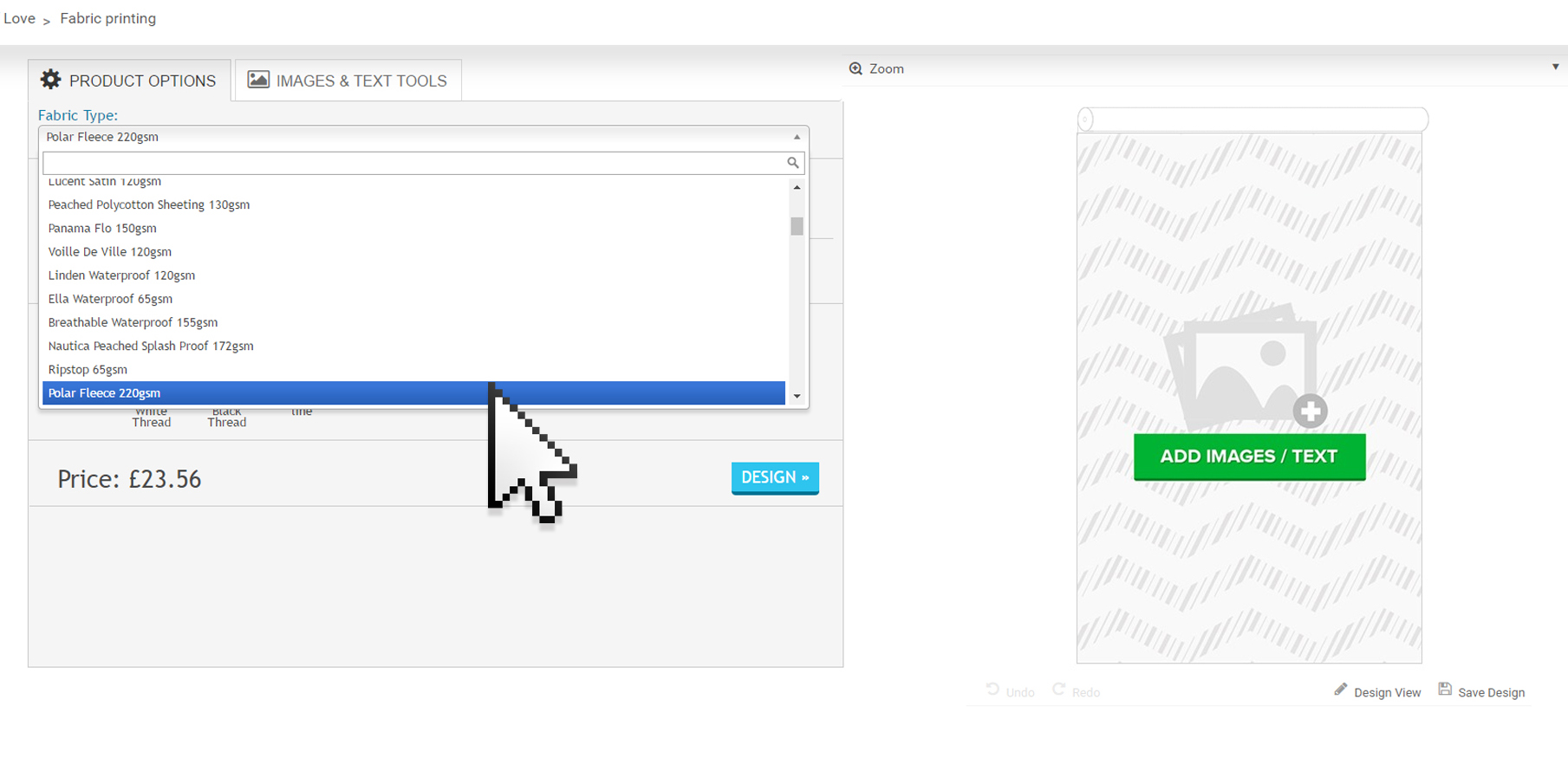 Step 3. 
You can now choose the size of your fabric. Think carefully about how this might impact your design, and the intended use of the blanket. A comfort style blanket can be a little smaller, as it is for cuddling. A blanket big enough to wrap a baby in, both as a newborn and as it gets older, will require a larger size. If in doubt, measure a blanket you might have at home, to make sure that you select the best measurements for your design.
At this stage, you can also select the hemming option. This is what will turn your design from a piece of printed fabric, to an actual baby blanket. How to make a baby blanket that stands out from the crowd starts with this option. There is also the choice between a hem with white, or black thread. Select which you would prefer.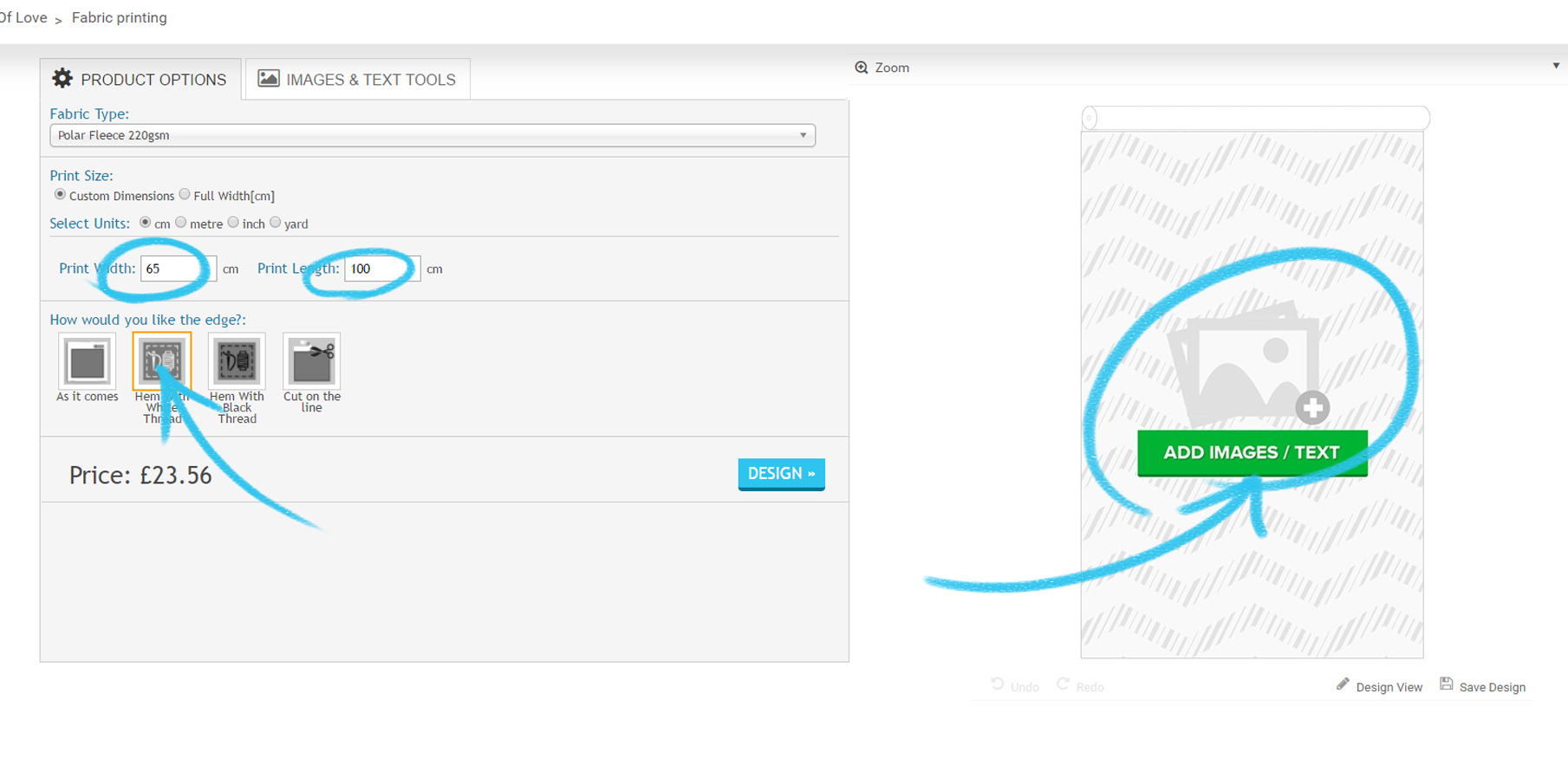 Step 4.
Click the green "Add Images/Text" button. This will open up the design options. From here, you can select the background colour for your blanket and add your images or text. The text option is great if you want to add baby's name and birthday – perfect for adding a little extra personalisation.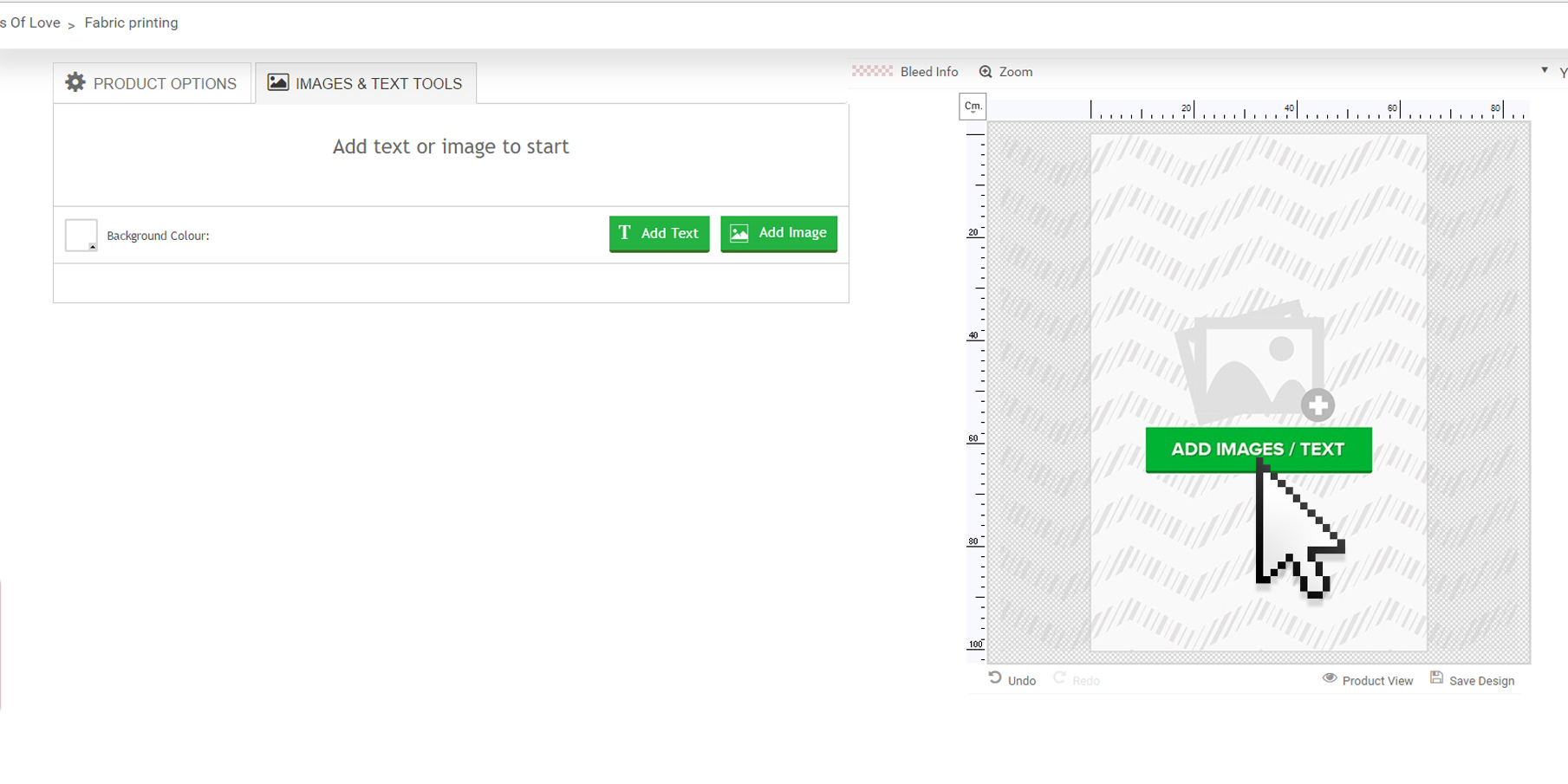 Step 5.
To add your images, photos, or design, click the green "Add Image" button. From this page, you can upload images from your desktop or your computer. You can also upload them directly from your Facebook or Instgram account. Because, well, let's face it, most of our best photos are stored there! If you want to upload a design you have created yourself, scan it or upload it onto your computer, and follow the same instructions above.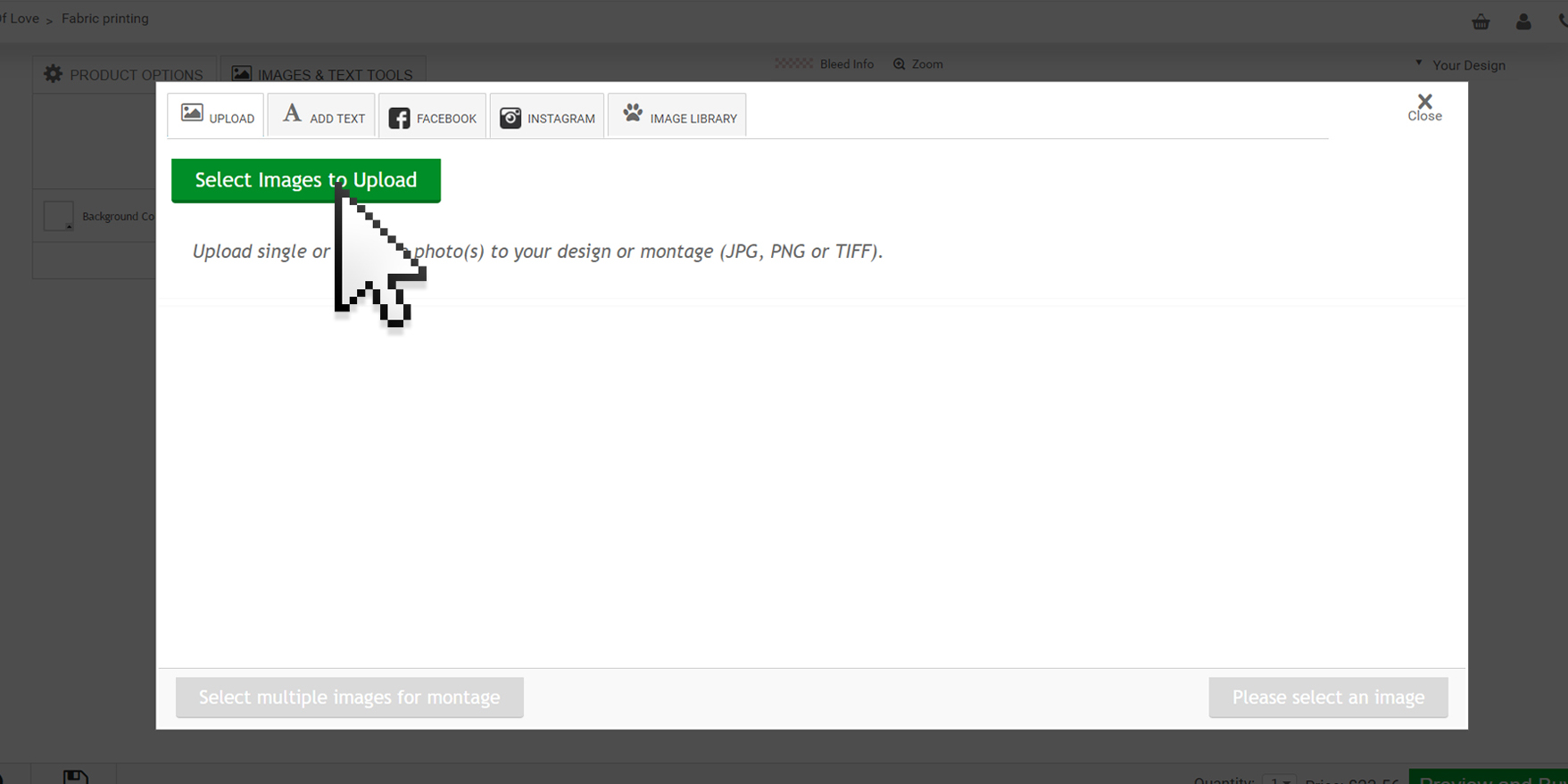 Step 6.
Click the green "Select Images to Upload" button and select the photos you want to include in your baby blanket design. You can select as many as you want, and create a montage, or choose just one.  To choose an image, click the blue "Select" button underneath.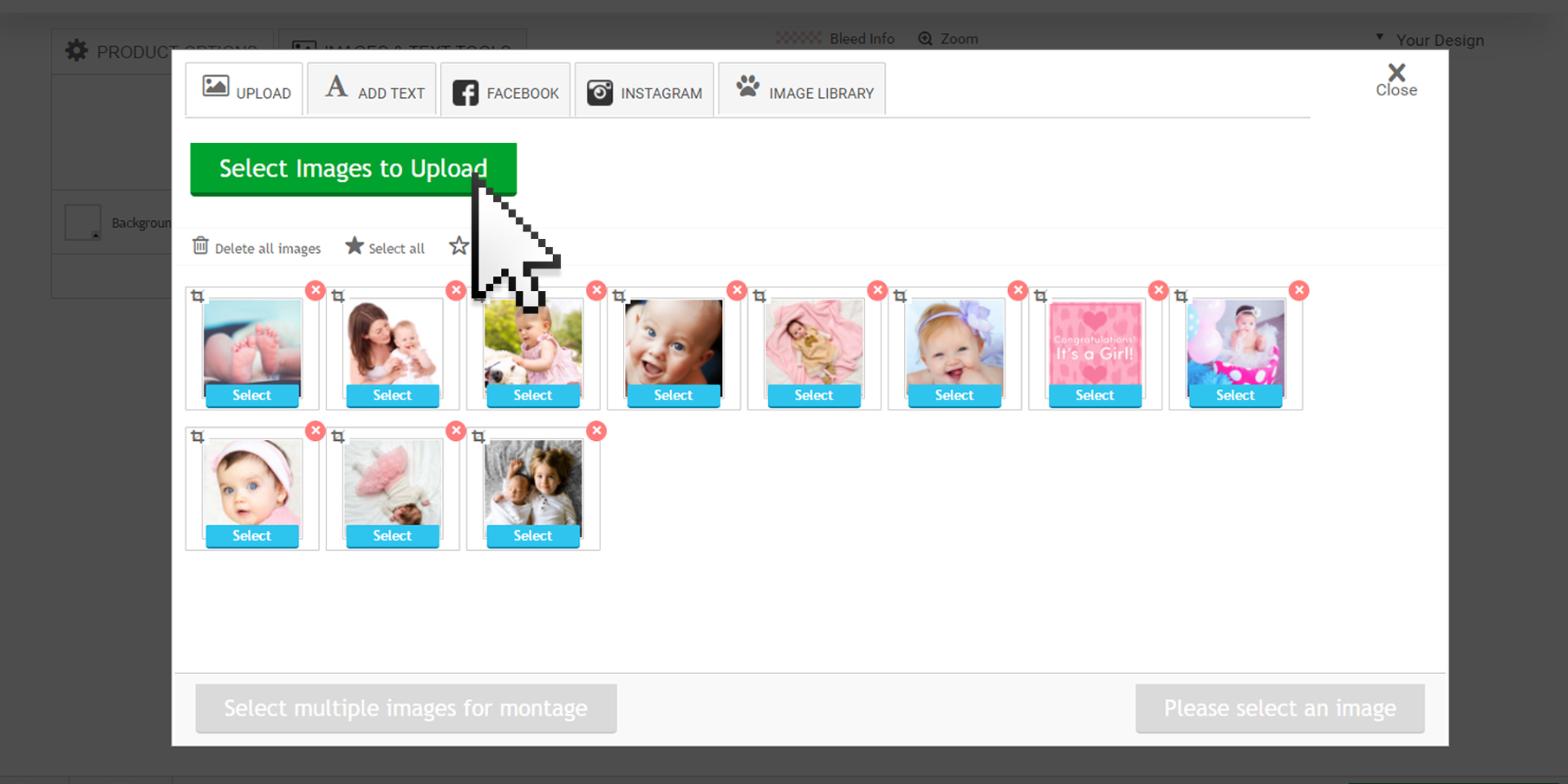 Step 7. 
Once you have chosen which images you want to use, simply click on the "Create Montage With (?) Photos" button. The button will automatically update depending on how many pictures you have opted to use.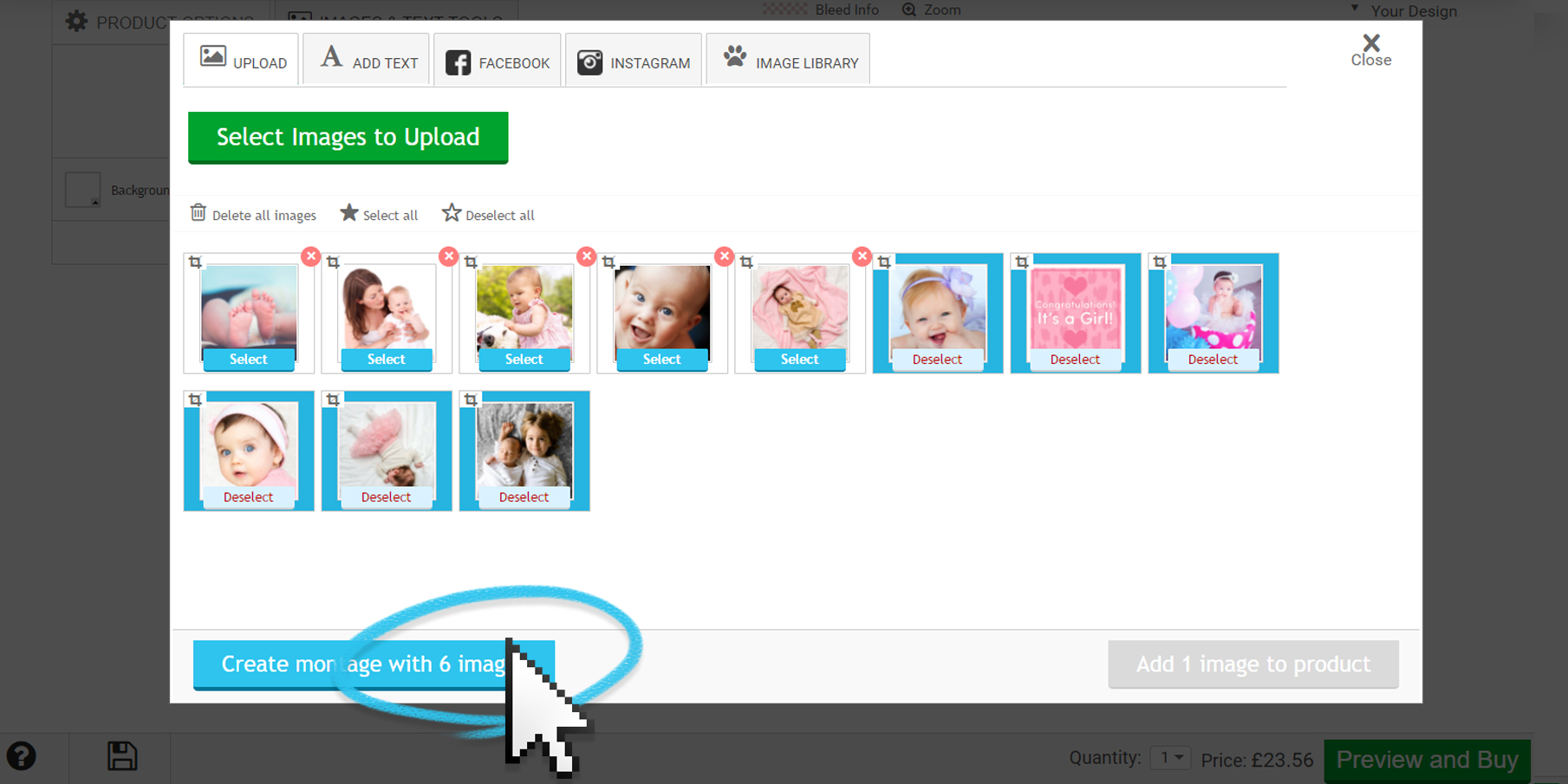 Step 8. 
If you have decided to make your design with a photo montage, you will now have the option to choose the montage style:
Plain with no background
A photo frame style with a photo in the background
A scattered design which creates a look where the photos are randomly scattered around the canvas
Plain heart design, where the photos are placed in a heart design with a plain background
Frame heart design, where the photos are placed in a heart with a photo background
Do it yourself, where you select where you want the photos to be placed
Select your background colour, and edit the design using the tools. Once you have your design exactly how you want it, you can click on the green "Preview and Buy" button to see your final design.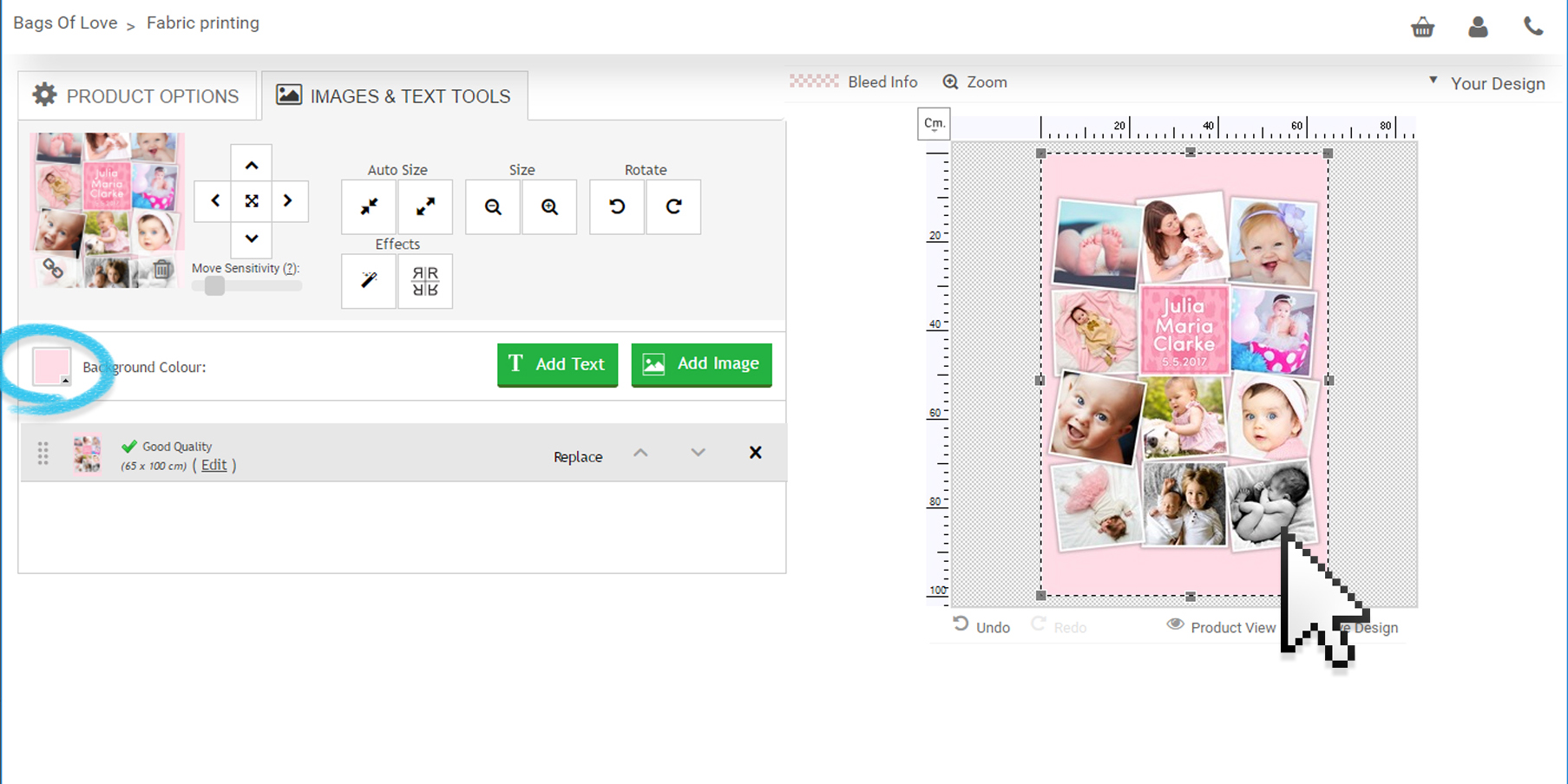 Step 9.
You can now see what your final design will look like. If there are any quality issues or design issues, then you will be informed and you can make changes. Once you are happy with how your baby blanket looks, click on the green "Proceed to Cart" option.
Step 10.
You can now place your order and select your payment and delivery options. A pretty simple version of how to make a baby blanket, right?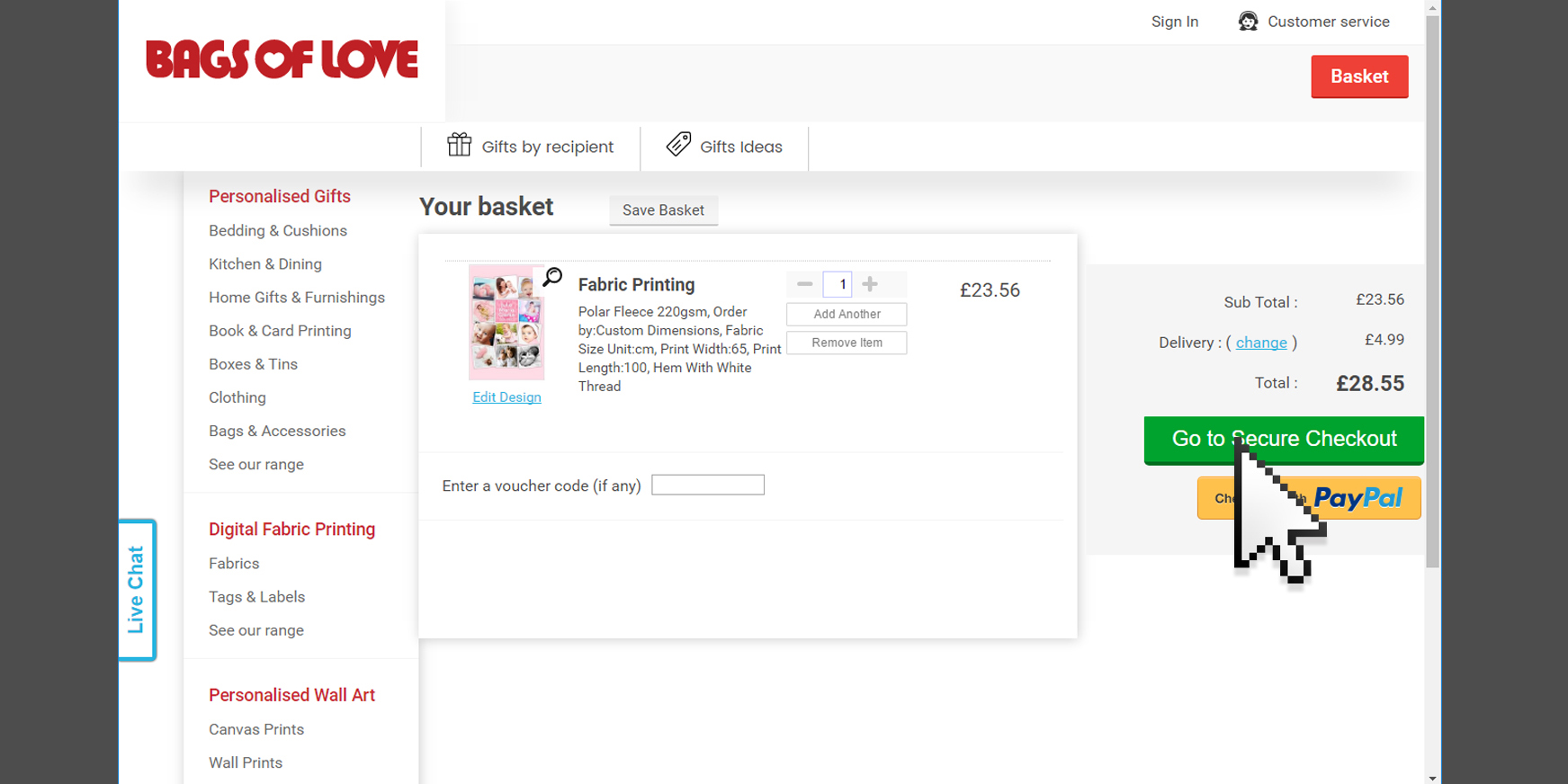 What happens next to your baby blanket?
Once all the above steps have been completed, then the magic happens! Your design is quality checked to the highest degree, ensuring it will look exactly as you want it, maybe even better. Your fabric is then printed in the Bags of Love studio, by our team of technicians.
The fabric is carefully checked, to ensure it is flawless. At this stage, your baby blanket is then cut to size.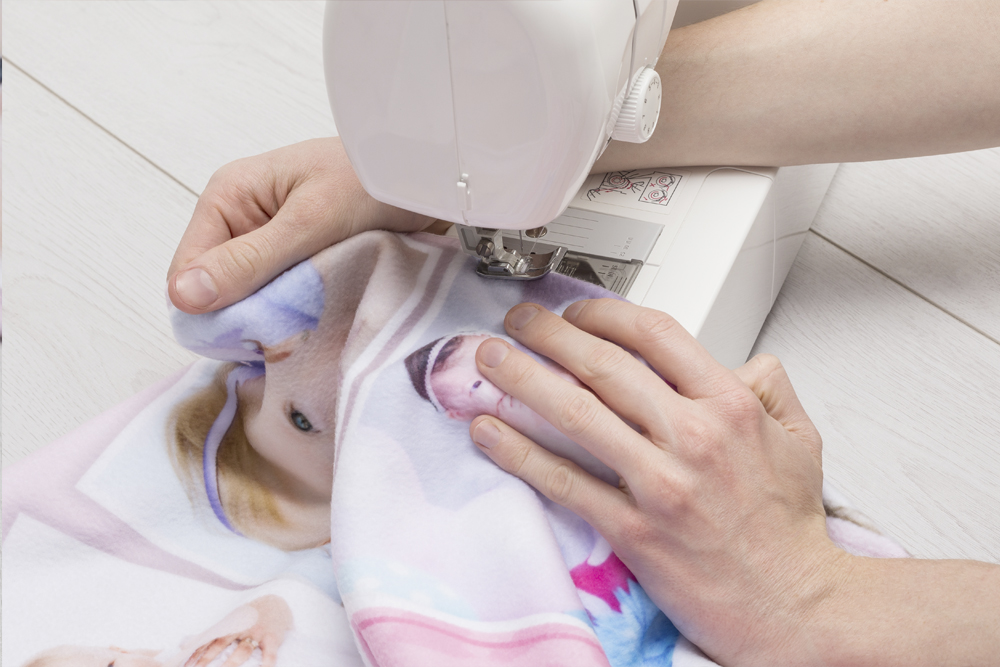 Next comes the professional hemming service. A hemming service is provided in-house, so your blanket is printed, cut, and sewn all in the same location. The beautiful hem gives your blanket a high end finish, with a hem which goes all the way around the fabric. Neat edges and a carefully scrutinised final check, and your new blanket is ready to be delivered directly to you. Now all you need to do is present it to the baby!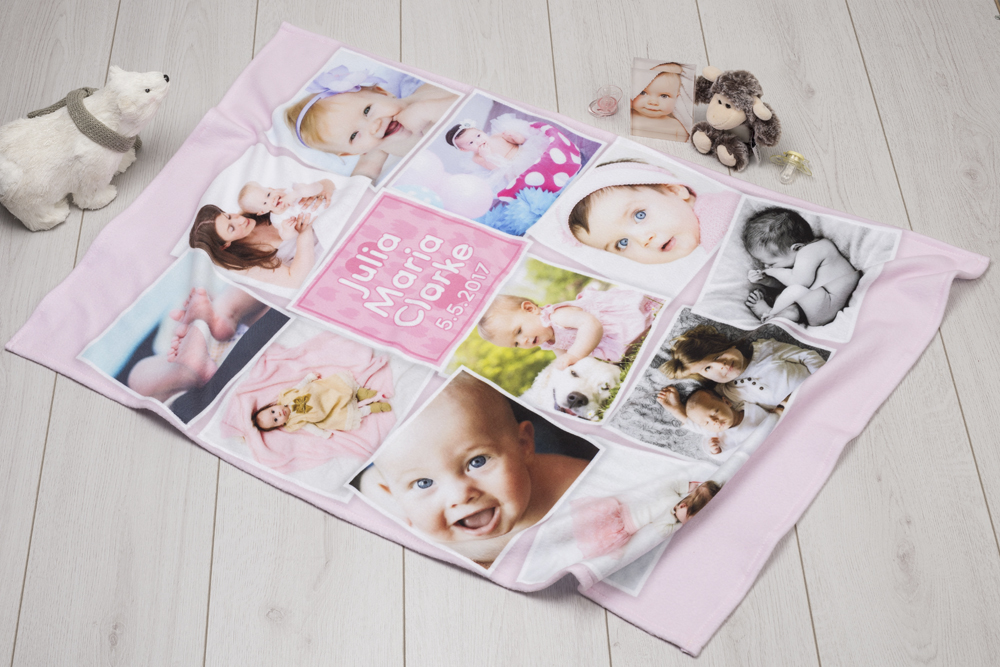 There you have it. How to make a baby blanket, from the comfort of your home, without any crafting skills necessary. What is great about this option, is you can be as personal as you like with your design. From photos and text, to original artwork, make a baby blanket, that will be treasured for years to come. 
Why not have a go yourself?