Are you a superfan?
Not sure what we mean? A superfan is someone who has an obsession, sometimes, a fixated obsession, with a person. Someone in the public eye; an actor, a band, a sports team, a film – you name it.
This might sound like a bit of harmless fun, after all, we all admire someone. A lot of the time it is harmless, and certainly fun. But there are times, when the obsession starts to go above and beyond what might be considered the norm. And it isn't enough to just shout your admiration, but you need to show it.
What is a superfan?
A superfan is extremely devoted to their subject. Often going to great lengths to see them, meet them, or try and get their attention.
Let's not get confused however, between a superfan and a celebrity stalker! Superfans have an extreme interest, and are devoted to their celeb of choice – if you have seen the way "Directioners" are about One Direction, then that is definitely something that will help you understand a thing or two about superfans!
Superfans are utterly loyal to their subject. Would drive, or even fly, miles to see them. Will wait in line for hours, and completely change their schedule to accommodate them.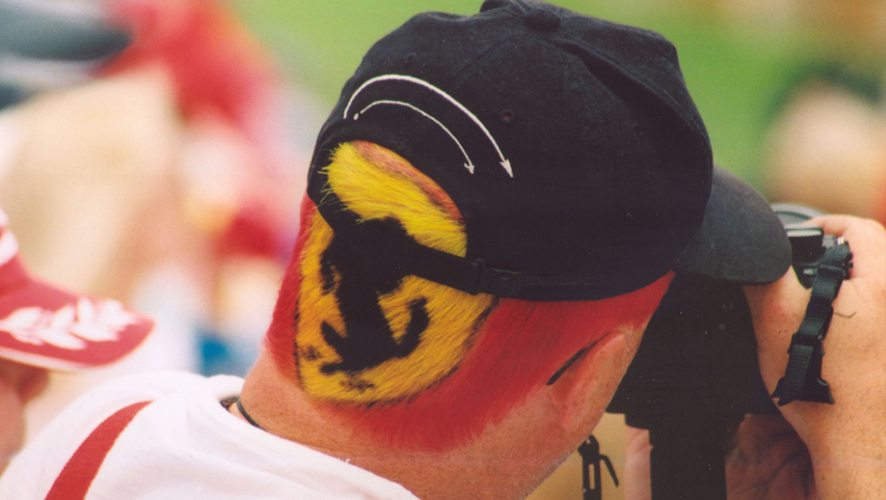 Superfan memorabilia
If you have ever been to a concert, a pro sports game, or anywhere else where celebrities rule, then chances are, you have come across fan merchandise. You know the sort of thing we mean. Lots of t-shirts, with popular pictures of the celeb splashed across them. A calendar, with a photo devoted to every month. Mugs. Mugs are a popular choice.
Memorabilia is just that. It is an item, which is associated with the celebrity/team/or event. When you look at it, use it, or wear it, it will make you think of those associations. Who hasn't gone to a concert, or a West End show and picked up a t-shirt, a programme, or maybe a hoodie? It's a great way to remember an occasion, and something to look back on and smile from the memories.
What is superfan merchandise?
Superfan merchandise. Now that is something a little different. Well, a lot different really. And this is where we come in. When it comes to fan merchandise, if the celebrity is famous, and popular, then chances are, there will be merchandise about. From Star Wars pyjamas, to Frozen stationary, this is a booming market, which targets the trending films, celebrities, music bands, and sports teams.
Fandom, particularly superfandom, is a lucrative industry.
However. What do you do, if you have an obsession with someone in the public eye, who is, perhaps not as popular as Star Wars, or Harry Styles? If you are a superfan of a celebrity who has limited merchandise dedicated to them, how can you get your fix?
By creating your own superfan merchandise.
You don't need to be an expert crafter, or even a novice sewer to make your own merchandise. All you need is a design.
Making your own fan merchandise
Over the years, we have seen hundreds of truly passionate superfans at Bags of Love. People who are so besotted with their obsession, that they can spend hours, and even days, creating their own personalised fan memorabilia.
From Ben Mitchell (you know, the guy off Eastenders) onesies, to George Michael pyjamas, and Sinitta t-shirts, to Bill Murray crockery, there isn't much we haven't seen at Bags of Love.
Without the outlet to be able to create their own merchandise, these superfans wouldn't be able to show off the object of their obsessions so easily. We love seeing the photos our customers send to us, displaying their personally designed merchandise proudly.
Memorabilia with a difference
Let's face it. Even if you are obsessed with Beyonce, One Direction, Ryan Gosling, or Arsenal Football Club, you might not be happy to settle with the same memorabilia that every other fan around the world has. If every Star Wars fan has the same posters, and hoodies as each other, then how can you set yourself apart?
"You have to help me, I'm the world's biggest Star Wars fan, and I want my home to show that!" Sure, Star Wars merchandise can be relatively easy to find. But if you want something that no other Star Wars fan has, then you need to get creative. Our customer created self-opening and closing curtains, depicting a scene from Star Wars, which created an incredible talking point in his home.
Design merchandise for your brand
Let's flip this on its head for a minute. Do you have superfans of your own? Maybe you are in an up and coming band, a new face on the TV, or launching a movie career? Even relatively new celebrities, or up and coming celebrities can have die-hard superfans. If this sounds like you, then creating merchandise for them, could be a great way to reach out to your fans, build your brands, and show the world who you are.
Music group Neotokio3 were able to create their very own merchandise, and set up a store with us. This came as a very welcome surprise to their loyal fans, who are now able to buy merchandise, and support their favourite band! You can watch the video of them explaining all about their experience here.
Do you qualify as a superfan? Have you ever gone above and beyond to show your love for your idol? Let us know in the comments below, or tag us on Facebook or Twitter.