Our photo canvas prints are very popular. Photos of babies, friends and holiday snaps are printed every day here in our studio. But some of you might not be too familiar with our other canvas print styles that we offer. Our photo canvas prints doesn't stop at just displaying normal photos…
Our photo pop art treatment is pretty amazing if you ask me. From your photos our artists can create artwork in the styles of famous artists for a fraction of the price. And the best part, YOU are the centrepiece in the artwork! Take a look at what styles we can create from your digital photo:
Warhol style: Andy Warhol made a name for himself in the 1960's when he began to make artwork inspired by iconic American products like Campbell's soup cans and coca-cola bottles as well as featuring iconic celebrities at the time, the most famous one the "Marilyn Monroe Diptych" a silkscreen painting that contains 50 identical images of the actress. A Warhol painting of actress Elizabeth Taylor estimated at as much as 8 million pounds, is on offer at art dealer Christie's here in London. Bags of Love's studio will painstakingly cut out and recolor elements of the image, reassembling it in similar colours to that used by Warhol.
Banksy style: Graffiti artist Banksy's street art has been hugely acknowledged the past couple of years. A lot of his artwork can be seen on the streets of London and some is sold expensively to celebrities. Banksy's artworks are often satirical pieces of art touching on topics such as ethics, culture and politics. The message in his work is normally anti-war, anti-capitalist or anti-establishment. Controversial his work might be but he's made street art known to the masses and paved the way for other street artists. A journalist coined the phrase, "The Banksy Effect", to illustrate how interest in other street artists was growing on the back of Banksy's success. With brand new design effect our in-house team can create a unique Banksy-style canvas with the picture of your choice.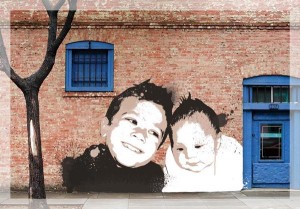 Lichtenstien style: One of the most prominent pop art artists who's work was profoundly inspired by advertising and comic book style is Lichtenstein. His work can be seen at places such as London's Tate Modern and New York's Museum of Modern Art. But now you can have your very own Lichtenstein style piece of art right in your living room! The artwork we do is similar to Lichtenstein's; a limited colour palate and any shading is done by a pattern of oversized dots, similar to a printing halftone. There is no button to press to get these results, only painstaking attention to detail by our graphic artists in the studio.