Have you ever dreamed of how your partner will pop the question? Your fantasy might involve white, sandy beaches and a candlelit dinner, or your pet puppy galloping towards you with a basket of roses in its mouth carrying the ring. It might not involve any of those things, but I bet my bottom dollar your fantasy doesn't have your other half acting out these unique ways to propose. 
Would you say Yes over a cup of tea? How about a board game? We all know how it goes; man gets down on one knee in some cliché romantic setting and the woman cries and says yes. But it's 2018! Let's bring back an element of surprise, a bit of unpredictability. Take a look at some of these unique ways to propose and maybe start dropping some hints to your partner. 
Unique Ways to Propose
Things are Heating Up
Okay, hear me out. You might not think being made a cup of tea is the definition of romance, but sometimes, it's in the smallest moments that the biggest memories are made. Imagine, receiving a hot beverage from your other half, taking a sip, and then realise a message is appearing on the side of the heat change mug. Turning such a regular, routine activity into a sentimental proposal is unexpected and totally memorable. And you also get to keep the mug as a memento of the special occasion…if it all went to plan, that is.  
Getting Between the Sheets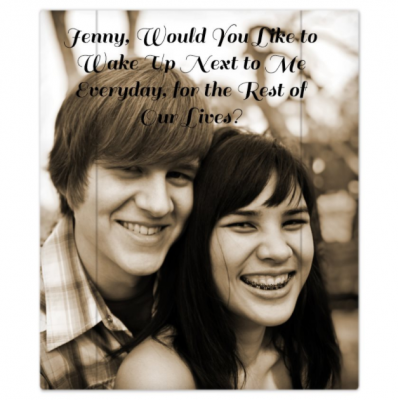 Picture this; your partner whisks you up to the bedroom, whips back the sheets and reveals one of the most important questions you might be asked. To spend the rest of your life with someone! Bed sheets are perfectly fitting for the moment – wink wink – as well as a dream to fall asleep on. You can get the sheets out for your future anniversaries and reminisce on that unforgettable moment.  
Missing Piece to The Puzzle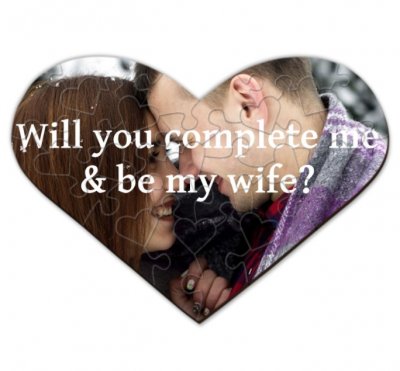 On your cosy nights in, you might be partial to playing a game or two. And whilst love is no game, imagine completing a jigsaw puzzle together that ends up revealing a marriage proposal? Printed with a special photo and those four words, something like this would be the perfect way to end what would have been an ordinary night.   
Your Very Own Love Story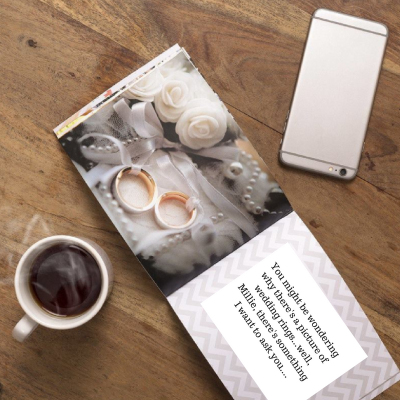 The Book of Love allows you to write your own love story; beginning, middle and end. A proposal doesn't necessarily have to be just four small words, you can make it into an entire novel, filled with stories from your past and dreams of the future. One way to secure a date for the future is by leaving the Book of Love on a cliffhanger, setting it up nicely to ask the question in real life.  
Keep Them Sweet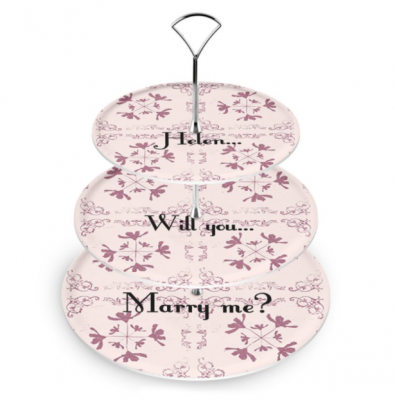 Whenever cake is involved, you know it's going to be a good day. And if that day also ends in being asked to marry the person of your dreams, then it's a bonus. Present 'the one' with a personalised cake stand and when the last treat is taken, et voila! Underneath the cakes, the all-important question is printed onto the cake stand. This moment will be sweeter than all that spongy goodness. 
If You Like It, Put a Ring on It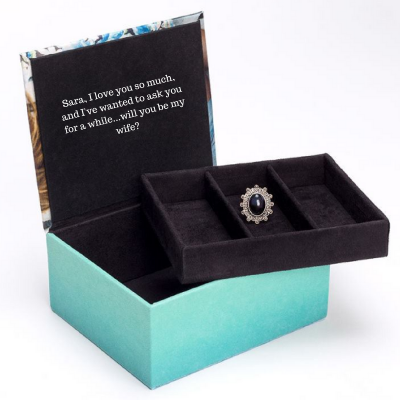 In the words of the goddess Beyonce, if you like it, you should put a ring on it. Traditionally, you propose with the ring box itself, however it's so obvious what's about to occur. Throw them off the scent and design a jewellery box, printed with a special photo on the lid and your question inside. When they open it, thinking it's just a beautiful gift, they'll see the message and sparkly ring sitting inside. Surprise! Who'd have thunk it.  
Hopefully these unique ways to propose have inspired you to do something similar, or made you simply want to express your feelings in an original way? Check out our full range of Valentine's Day gifts that say so much more than just 'Be Mine'.