Funny Pictures for Families
The holiday gift giving season is fast approaching.  In only a couple of months the holiday season will be in full swing, bringing along with it a flurry of wrapping paper and smiles.  To help you with the long list of presents to purchase we have a couple of great family photo ideas based on the work of photographer Irina Werning.
The young artist from Argentina became an internet sensation following her Back To The Future photo series.   The concept behind the series is to recreate images from peoples past in the modern day.  Irina carefully reconstructs scenes, focusing on matching details of the persons wardrobe, body language, and setting.  The photo above was taken in Berlin, the first in 1990 and the latter in 2011.  The most obvious discrepency between the photos is the missing Berlin wall.  When the images are placed side by side the composite image makes a strong statement about change and growth (one of my favourites from the series).

Irina works with both individual portraits and whole family photos to recreate moments in the past.  Many of her photos are humorous in nature; its always funny to think about yourself as a child versus the present day. When we saw her work, we also thought her images would make for amazing family gifts.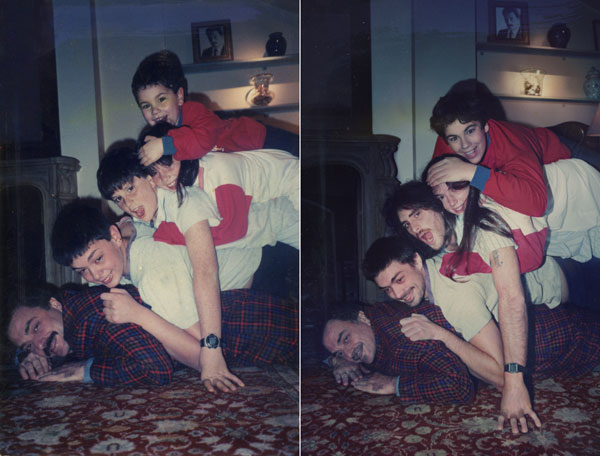 Imagine a photo book, canvas, or blanket given to another family member featuring old and recreated images of relatives.  Such an item would be especially fun for parents and grandparents.  Pictures of themselves and the extended family decades ago presented alongside their modern equivalents is a gift that contains strong sentimental value and highlights a journey of family change and development.  Even pictures of pets in the past and today are poignant images.  Such pictures would also be fantastic for an avid pet lover, perfect on a pet bed or sofa cushion.

Try out your own versions of Back to the Future for photo holiday gifts this year!  Once you have the images, simply upload them into our online to see how they would look on our products.  CLICK HERE to visit Bags of Love.