Leaving school is an emotional time. It signifies the end of an era but also the start of a new one. Whether it's moving onto secondary school, leaving for university or going out into the big wide world of work, the journey ahead is uncertain. But what is certain is that the teachers who have nurtured, educated – and probably pulled out a few hairs – deserve some recognition for their hard work. Let's welcome to the class: personalised teacher gift ideas UK.
The effort teachers put in to try and make every child a success is worth more than that box of biscuits at the back of the cupboard that expired two three years ago. Personalised gifts for teachers are a special keepsake that truly say 'thank you' in the best and most memorable way. Whether you're looking for gift ideas for nursery staff or leaving primary school gift ideas, there's something for all teachers.
Check out these gift ideas teachers would definitely give an A+!
Leaving Nursery
1) Lunchbox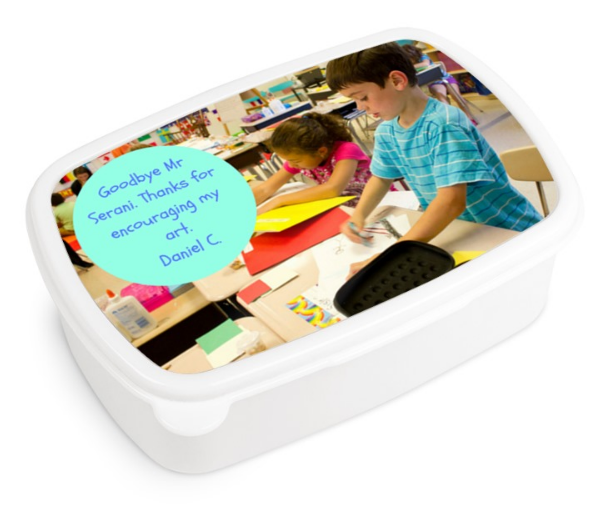 Let's be honest, that 1 hour lunch break is every teacher's saviour. While they kick back with people closer to their own age, they can indulge in a tasty lunch. In peace and quiet. For 60 whole minutes. So, lunchboxes are an obvious choice when choosing personalised gifts for teachers. Print a reassuring message so they know they're doing an awesome job. As they tuck into their sandwich they can smile with pride knowing that they had a big impact on your child's development and learning.
2) Pocket Notebook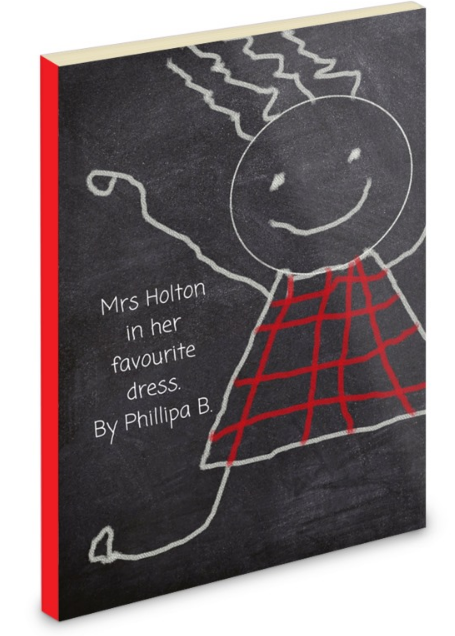 Nursery nurses and daycare workers take on a lot of responsibility looking after and teaching little ones. Before your child embarks on their next big educational adventure, have them draw a picture of their favourite teacher and upload the drawing onto a pocket notebook. Unusual teacher gifts like this notebook are totally unexpected and are a creative way of saying 'thank you'. Even once the notebook is full of notes, scribbles and doodles, it will double as a keepsake.
Leaving Primary School
3) Pencil Case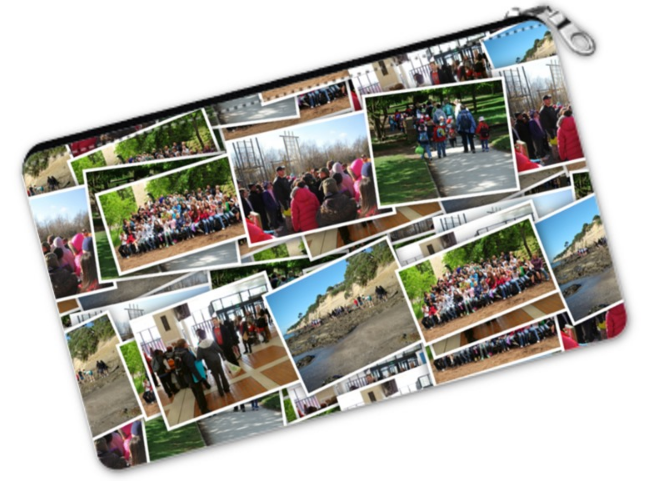 Primary school teachers always have an envious stationery collection, so help them keep it organised with a pencil case printed with photos from all those memorable school trips. Personalised teacher gifts like this strike the right balance between practical and sentimental. At the time, you wouldn't realise but teachers are just as keen to get away from the classroom too! This fun collage pencil case will serve as a bittersweet reminder of those chaotic lively days out.
4) Tablet Case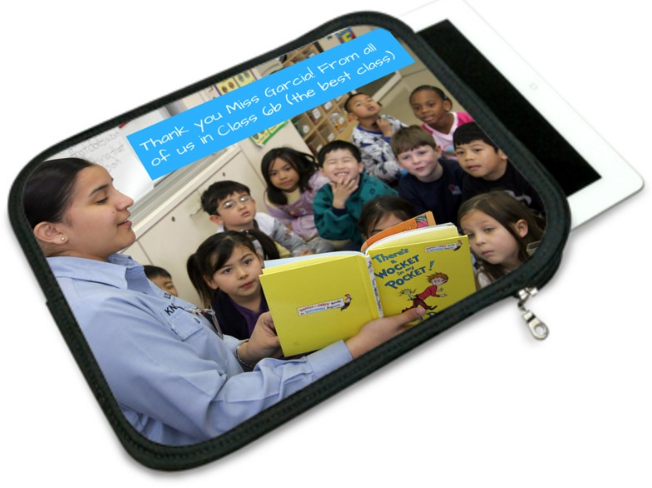 A lot of educational tools and resources are now online, so tablets and iPads are making their way into the classroom. Personalised teacher gifts that protect technology will receive an instant gold star, especially in a classroom full of energetic, excited children. Made from soft, thick spongy neoprene, these iPad slip cases will keep the teacher's tablet safe from sticky fingers and spillages.
5) Biscuit Tin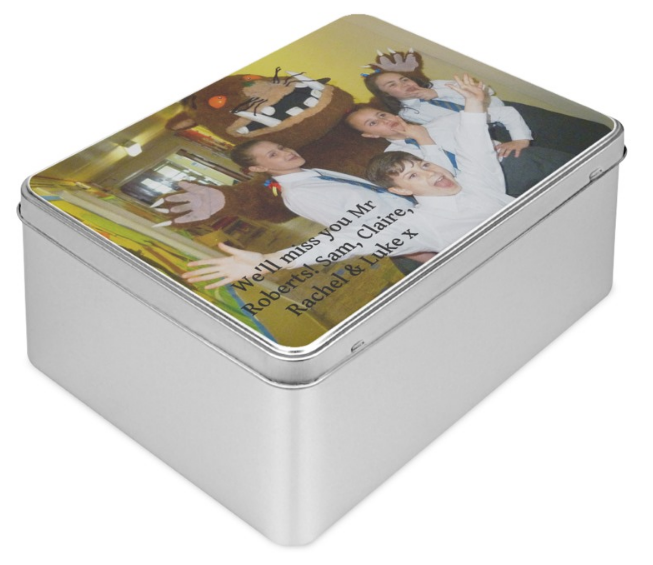 Classic gift ideas teachers receive year after year can get boring, so transform this humble biscuit tin into something more original. As they tuck into their favourite snack – Team Bourbon or Team Custard Cream? – they'll be reminded of all the memories and smile, no matter how much stress your child caused them! It's a perfect addition to the staff room, but personally, I'd take it home. Sharing is NOT caring when it comes to biscuits. As a little extra surprise, fill your custom biscuit tin with treats and turn it into a totally sweet personalised gift for teachers.
6) Purse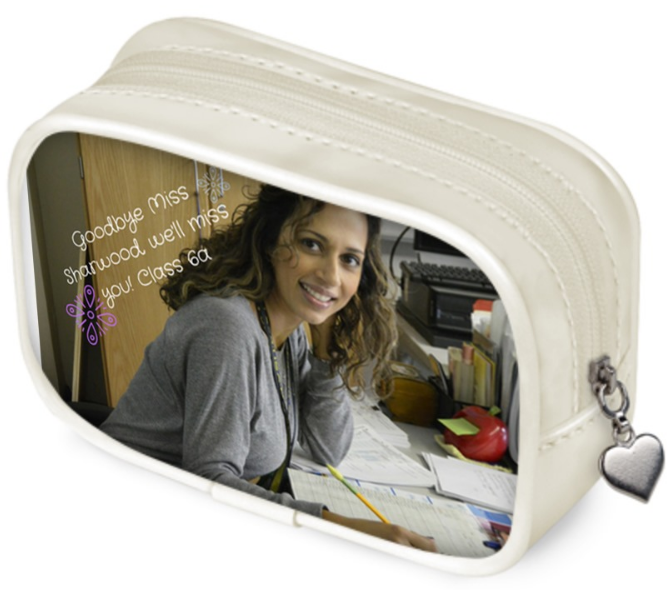 Joint personalised teacher gifts from all the class are brilliant as they show camaraderie, friendship and teamwork; 3 skills that primary school tries to develop! Organise for your child and their friends to give their class teacher a thoughtful leaving present that proves all the early mornings, late night marking and daily tantrums were worth it. A unique purse printed with a personal message from all the classmates will no doubt pull at even the strictest teacher's heartstrings.
Leaving Secondary School
7) Acrylic Photo Block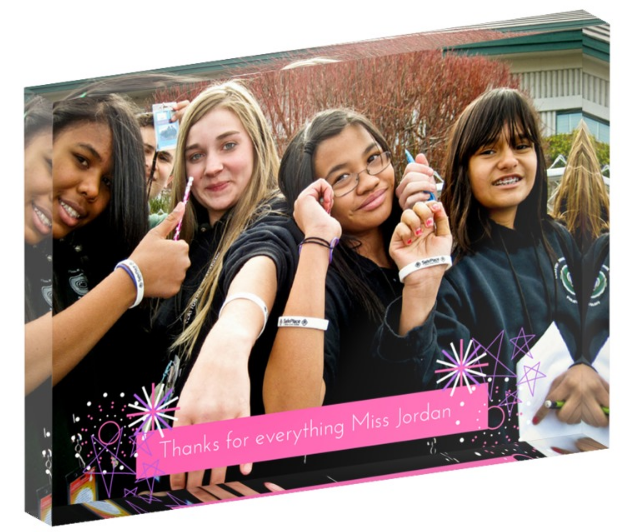 You don't always have to think of unusual teacher gifts to make a big impact on your leaving day. These acrylic photo blocks bring the traditional photo frame up to date with contemporary, modern style. Some groups develop a special bond with a particular teacher through extracurricular activities, private tutoring and other one-to-one sessions. Print a photo of your group into a solid, crystal clear photo block for a super special desk ornament. As new faces come and go, there'll be a constant reminder in the classroom of how appreciated your teacher is.
8) Scrapbook Album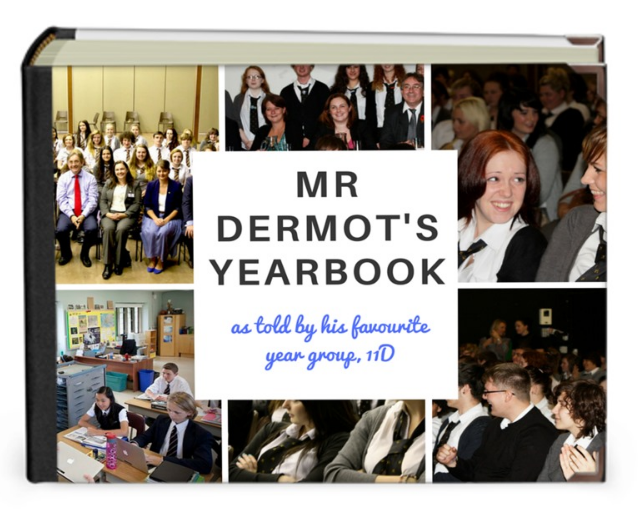 For art, drama and design teachers, it's all about creativity, so get your teacher personalised gifts that tell more of a story, like scrapbooks. You can give them their own yearbook, filled with memories and photos from the years you've spent together as a form group. I know not everybody gets along in secondary school, but as you're preparing to leave, you should encourage your form to come together and do something memorable for your form tutor.
Funny, nostalgic and totally unique, scrapbook gifts personalised for teachers shows gratitude for all their patience, wisdom and advice.
9) Pen Tray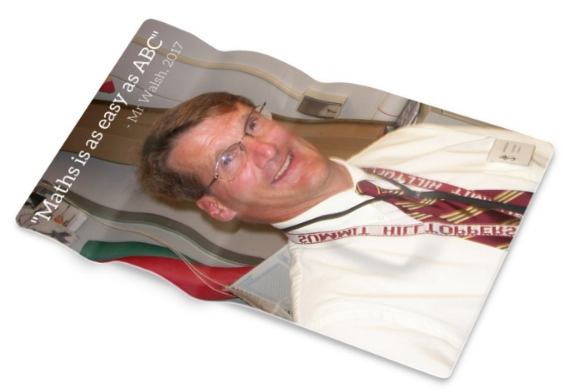 As you're reaching the end of your secondary school days, there seems to be a relaxed vibe in the air, where teachers are more lenient and for once, you can throw a bit of banter around. If your favourite professor has ever said something 'legendary', why don't you print it onto unusual teacher gifts as your final wisecrack? It could be a funny quote, something ironic like the above, or a catchphrase that became the school's own meme. Believe it or not, teachers are human and do in actual fact possess a personality. So, take advantage of their laxed attitude during this period and design a funny leaving present like this pen tray.
Leaving University
10) Photo Card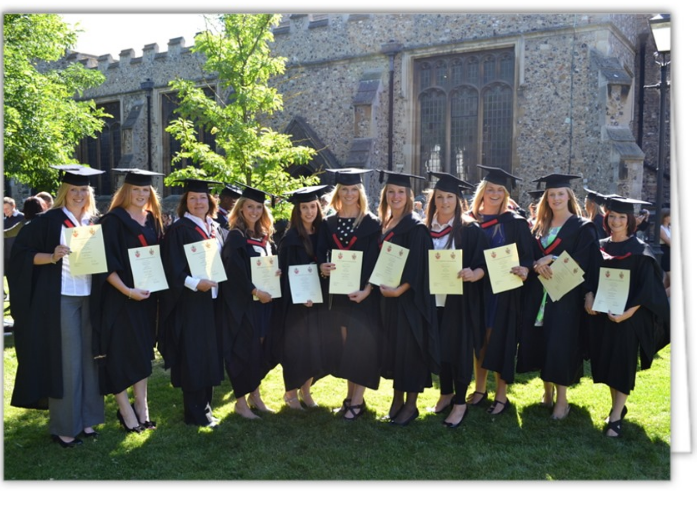 University tutors give us the tools to succeed without us really knowing it. They instill confidence, force us to think for ourselves and dispel the kind of knowledge that can only be gained through experience. So repay the favour with a special leaving present. Personalised teacher gifts can be understated rather than over the top, simply letting the design speak for itself. For example, print your graduation picture onto a photo card and type your message to appear inside.
A lot of effort, many sleepless nights and a total disregard to your health all plays a part in earning a degree, but save your last bit of mojo to create a wonderful personalised teacher gift.
Feel Inspired? Browse Our Range and Design Personalised Teacher Gifts!