What do your clothes say about you?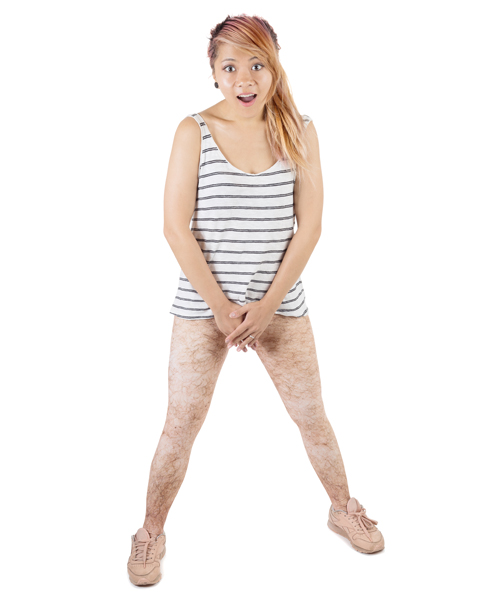 Statement clothing is something that has been around…well…since fashion began really. Your clothes can either be just that – something functional to cover you up, or, they can say something about you.
If you have been on the internet over the last couple of weeks, you might have spotted a certain, hairy chest swimsuit. Whether you laughed at it, were repulsed by it, or shocked by it, one thing is for certain. If got a reaction from you.
Anyone who walks around the beach wearing that swimsuit is bound to get noticed. Whether in a good way or a bad way, you will get looks. At Bags of Love, we weren't really that shocked by the swimsuit to be honest. Why? Because we have thousands of incredibly talented, creative and sometimes downright bonkers customers, who create the most amazing designs for their own customised clothing.
Yep. You name it, we have seen it. And we have (mostly) loved it!
Hairy leggings are just the start of it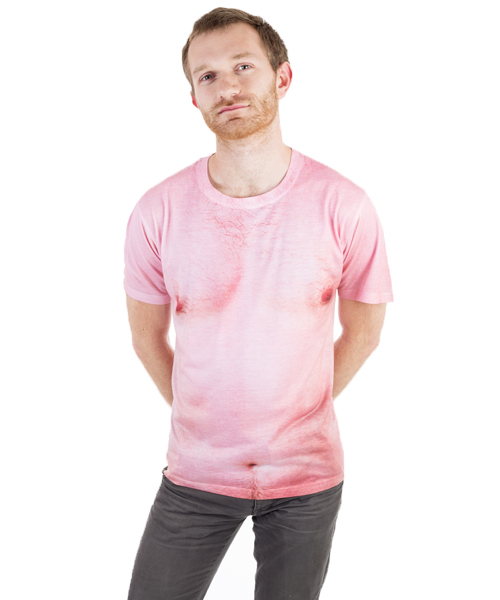 As a print on demand company, we put the creativity into our customer's hands. Our skilled fashion technicians and design team work hard creating a range of customised clothing, that will appeal to all tastes, shapes and sizes. When the customer is able to take these key fashion pieces and turn them into statement pieces, well, then our day is well and truly made!
Let's face it. Fashion is meant to be fun. There is no point taking it too seriously. Yes, there are trends which are made to be followed, but fashion choices are subjective. If someone wants to design a pair of hairy leggings to wear, then good for them!
Think about it. How many times have you gone to the shops with a clear vision in your head of what you are looking for? A certain design, a specific print, a beloved character…and you haven't been able to find it? You don't have to be a fully fledged fashion designer to create your own clothing to suit YOUR taste. Print your own crazy designs and have fun creating statement looks that no one else will have.
Normal is boring. Go for the shock factor
Because our customers are such a super talented bunch, we wanted to share some of our favourite "shocking" designs with you! These replicas show that pushing the boundaries in fashion, style and design, are the perfect way of showing off your design skills, your personality and your confidence.
Hairy Leg Leggings

How cool are these amazing hairy leggings? This design shows an incredibly realistic pair of hairy legs, with an even hairier crotch…and bottom! The designer for these leggings created them in different skin tones, so everyone can rock a pair of hairy leggings. As our model shows, they look great – although perhaps even more shocking, when worn with just a top. For a more subtle approach, style them under a skirt or pair of shorts. Skip shaving your legs in comfort and wear your hair loud and proud!
Printed on our beautiful custom made Lycra leggings, have a go at designing your own pair!
It's What's On the Inside That Counts Swimsuit

Now this design is just beautiful, in our opinion! The designer has combined science and fashion by putting what is on our insides on the outside! With an incredibly graphic yet fascinating design of the human anatomy, including a portion of skin to help create the illusion, this standout design will get people looking, questioning and talking!
This design has been printed on one of our custom swimsuits. Available in different Lycra's, and, of course, hand printed and sewn by us.
It's Getting Hot in Here T-Shirt

If you are prone to a spot of sunburn, then why not cover up safely, while poking a bit of fun at yourself? This customer decided to create a design of a naked torso, which perhaps could have done with an extra layer or 2 of sun cream! With incredible definition and details, including nipple hair and a smattering of hair on the shoulders and leading ALL the way down the back, this t-shirt design is not for the faint of heart.
Fancy designing one yourself? Opt for our custom made cut and sew t-shirt and have a go at creating your own.
Show us your Muscles Leggings

If you've been hitting the gym, working on your squats, lunges and all those other terrifying exercises that give you legs to die for, then show off your hard work! This customer decided to create a pair of leggings, depicting the muscles in the legs, and bottom! With realistic muscles, sinew and bone, these leggings will give you muscles, even if you are lacking in them!
Printed on our custom made leggings, which are available in a variety of Lycra's, and sizes. Create your own and stand out!
Have we shocked you? Remember to always have fun with fashion. If you have a vibrant personality, unique design skills or just eclectic taste in style, then you need to start designing your own clothes! Click the button below and let's get started.