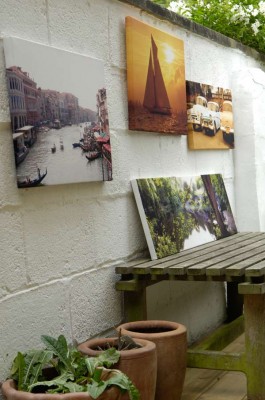 Garden Lover Personalised Gifts
Many of us take great pride in our gardens and try to spend as much time out there as possible. If you know someone like this it is a great idea to give them personalised gifts for the garden. If a garden is taken care of and decorated in the right way the garden can count as an extra room – at least during the summer months! And the garden lover is aware of this. The right furniture, art and accessories can turn a garden/patio into a peaceful haven for relaxing and entertaining so give personalised gifts for the garden this summer!
Personalised Deckchairs
These flexible and stylish outdoor seating options make excellent personalised gifts for someone's garden. They can be personalised with elegant patterns, photo montages, graphics, text or a single photo. The personalised deckchairs are ideal for tanning on sunny days, lounging in the shade reading a good book or having a refreshing drink, as a love seat for a couple or as chairs when hosting a BBQ.
Canvas Prints
As our canvas prints are hard-wearing and waterproof they can survive even in an outdoor environment. But do store the canvas prints inside during the winter months for ultimate protection! And when summer comes bring out the furniture, hang up the canvas prints and plant the flowers once again. Hang canvas prints on the garden/patio walls to create a cozy and personal atmosphere even outside. Use nature, landscape, beach, ocean and holiday photos.
Photo Placemats And Photo Coasters
For those lovely breakfasts, lunches, dinners, BBQ's and late night drinks in the garden you'll need great-looking table accessories. If you know someone who loves throwing parties give them personalised gifts such as photo placemats and photo coasters which they can use for entertaining or dining on their own. Images or photos on glossy placemats and coasters will be highly appreciated by the party planner.
BBQ Personalised Gifts
For the ultimate BBQ chef – the one who would even BBQ in the summer rain – give them personalised gifts they can use in their garden whilst cooking away on the grill. Personalised aprons are superb personalised gifts for the BBQ lover as they help the masterchef stay stay protected from the heat and the meat! Add a photo of the BBQ chef in action and a cheeky bit of text to amuse the meat king or queen.