Luxurious Leather Gifts
Leather happens to be the 3rd-anniversary theme and what is more luxurious than leather bags as 3rd wedding anniversary gift ideas for her? When you need 3rd-wedding anniversary gift ideas for her– a friend, family member or your own wife – leather goods is the one and only choice. Leather gifts will last a lifetime and can be used for so many different occasions.
Makeup bags
These little leather gems are fantastic gift ideas for women any time of the year but even more so for an upcoming anniversary. Add flattering wedding photos to make the makeup bags statement pieces for 3rd wedding anniversary gift ideas for her. She can use the makeup bags throughout the day with pride knowing her and her husband are displayed on it. The makeup bags are flexible yet roomy enough for her cosmetics and to keep in her handbag.
Wash bags
Equally stunning as the makeup bags, these slightly larger wash bags make perfect gift ideas. The wash bags feature additional benefits such as the waterproof inner-lining. These leather bags are ideal for trips to the gym, SPA and for going away on holidays. They also make great good consistent storage bags in the bathroom. Again, add a flattering wedding photo or several in a photo montage.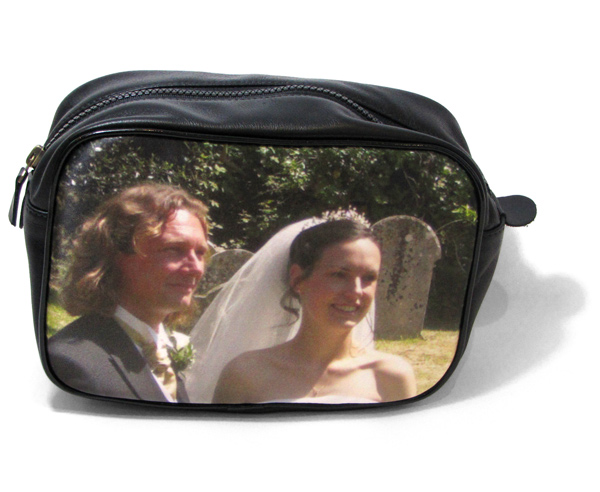 Holdall Bags
Roomy and sturdy hold all bags is a great companion for women. When women need to carry heavier items on a daily basis or for weekends away they need leather bags which will hold more without risking the bag's structure. Leather holdall bags are ideal wedding anniversary gifts if she commutes daily with many items.
Give your wife a photo handbag made from soft Nappa leather with fabulous details. It really is one of the most perfect 3rd wedding anniversary gift ideas for her. Add a picture with the two of you from the special day or perhaps a snap from your honeymoon.