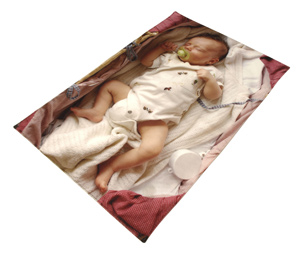 Perfect baby gifts should be snugly and comfortable. And what's more snugly than a super soft baby blanket? Give the parents our fleece baby blanket which you personalise totally after your taste, so that they can wrap up their precious baby in a snugly personalised blanket that will keep the little one warm and protected. If you need new born baby gifts – this is the one!
Photos of the baby's life so far are great to put on the blanket. Montage blankets are ultimate new born baby gifts! Or just a single snap of the adorable baby will look super cute on this 100×65cm blanket. You can also choose from our set of patterns – exclusive to Bags Of Love baby gifts. A pretty drawing or illustration can also be added as well as text by your choice.
This baby blanket is perfect for when mummy and daddy take the baby out walking in the buggy on a chilly autumn day. It's also ideal for sleepy time as it keeps the baby warm and comfortable. If the whole family goes travelling it is a light and small blanket to bring with you for all sorts of activities whilst away. When it's time to hang out with family members or cuddle with daddy, the baby can lie on the delicate soft fleece baby blanket.