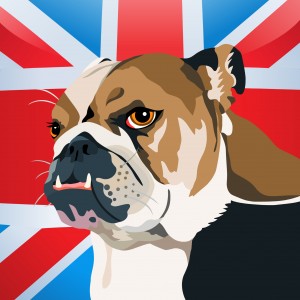 A few years ago items covered with the Union Jack flag was seen as cheap plastic rubbish only purchased by tourists who would bring back gifts for friends and family and memories from their London vacation. These days it's a different story. Shops and department stores (high end and high street) are filled with home interior and fashion items covered in our very own Union Jack flag. From cushions, photo canvases, tea cosies and armchairs to handbags, shoes and Iphone covers – the print is everywhere!
Italian domestic appliances brand Smeg even does a fridge in a 50's retro style with the Union Jack print! And the latest addition to their Retro Style range is a fridge with the English flag on it. UK kitchen appliances brand Falcon have a Union Jack cooker at £4,999. So the Union Jack print can pretty much grace your kitchen walls from top to bottom! Personalised gifts for the home from Bags Of Love with the Union Jack print suits everyone in the family. A Daily Mail article says this about the Union Jack craze;
"Perhaps it's a desire for tradition and spirit-lifting patriotism in these difficult times or, perhaps, it's simply that we all love a blast of bold red, white and blue in our homes."
Difficult times, such as the past recession could have made us Brits more patriotic indeed and this home interior craze is a perfect example of that! With the help of Bags Of Love you can create your very own personalised Union Jack items. Personalised gifts covered with the Union Jack print is great for patriotic and/or trend following friends and family. A Union Jack holdall to use as a gym bag is perfect for your boyfriend, a cool Pop Art photo canvas will surprise your dad on his birthday and a Union Jack laptop case for your mum will make her the coolest mum on the block!