Father's Day is nearly upon us!
OK, it doesn't get as much hype as Mother's Day but those lovely dad's out there deserve a day dedicated to them and we have been thinking about the best ways to make sure they have as fab a day as possible.
That being said, we have come up with the Bags of Love Top 10 Tips of how to give your daddy the best Father's Day ever. Trust us, follow our tips and be extra, specially nice and you will not only treat dad to a great day, but you will earn loads of brownie points, ensuring you will be marked as the favourite. (please note we cannot actually guarantee that your dad will like you best…especially if your sister or brother does something even more amazing for him on Father's Day, like buys him an Aston Martin!)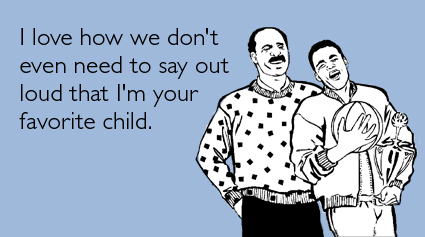 1) Let dad have a nice long lie-in, without making him feel guilty that it's 10:30am and he's still in bed. For one day at least, we'll allow it!
2) Still in bed? Why not bring him breakfast, made by yourself (or a bowl of cereal and toast if your're feeling particularly lazy) and the newspaper while you are at it.
3) Give him a card and a present while he is enjoying his brekkie. If you are still stuck for inspiration, then we have a lovely Father's Day gift page, where you will be able to find a whole load of gorgeous goodies, which you can personalise yourself!
4) Are you the artistic or wordy type? Why not create his card yourself and/or write him a little poem or letter, saying how much you love him and what he means to you (the sentimental types will LOVE this and you might even get a few tears…good ones mind you not the bad sort!
5) While he is getting up and dressed, why not wash his car (or bike or skateboard if he is a cool skater kind of dad) so that it is all shiny and sparkling when he sees it – makes a great surprise!
6) Present him with a book of promises, e.g. I promise not to bug you when football is on. I promise to give you a hug when you are having a rotten day. I promise to not get stroppy and throw a diva fit when I don't get my way. Trust us…he will love this!
7) Plan a fun day out. Figure out what he likes to do best and plan a day centred around it. Fan of the footie? Book tickets to a match or grab a ball and go for a kick-about in the park. Dad's a foodie? Take him out for a slap up lunch. The smart sort? A day at a museum or gallery would be amazing!
8) Spend the day as a family. It's not always easy to dedicate a whole day to the entire day, but do it for him.
9) Cook him an amazing dinner when the day is done. Plan the meal ahead by asking what his perfect dinner would be and (as best as you can) try and make it for him. He'll be blown away by the thought and effort you put into it and (if you are a good cook) the taste! Even if it tastes a bit rubbish, he'll pretend to love it because he's your dad! Another reason to spoil him a bit.
10) Above all else, tell him that you love him.
We hope you enjoyed our top ten tips for giving your dad the best Father's Day ever! Let us know in the comments below what you have planned to make his day extra special.
Bags of Love x