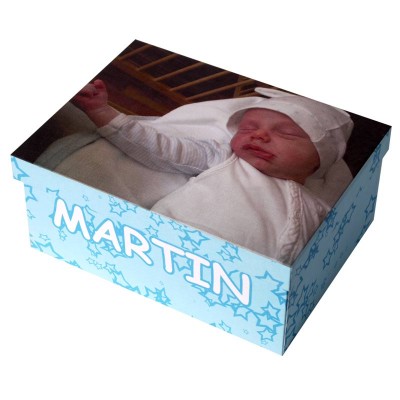 Time For Baby Gifts?
When someone in your family or one of your friends have been blessed with the arrival of a child, baby gifts are mandatory. To show your love and support to the new parents give them new born baby gifts that are useful and that have a high level of emotions and memories. The first couple of months of being new parents are the most exciting and a lot of things in their lives will change. This is a time in their lives which they will want to remember forever and by giving the parents personalised new born baby gifts with photos and text they can. There are many ways of storing memories – one is to add photos to the gifts or create memorabilia gifts in which memory items can be stored.
Practical New Born Baby Gifts
Those first snaps of the baby in the hospital, the first couple of weeks at home and formal events like the Christening or name giving ceremony can be immortalised on new born baby gifts for the parents and baby. If you are considering getting the new parents and baby practical baby gifts there are a few marvellous options to personalise. The baby blanket and baby sleeping bag are ideal. Both items are useful for the first stages of the baby's life when they need care and comfort. The blanket and sleeping bag can be personalised with a 20 image photo montage or with our exclusive personalised designs which features a baby pink or baby blue colour with the babies name scattered all over the item.
Baby Memorabilia Boxes
Other fabulous new born baby gifts are baby photo boxes. It is popular to buy baby storage boxes for parents to keep items in, like a memorabilia box, and what's better than a personalised baby box? Add one or more photos, patterns and text (perhaps the name and date of birth or a short greeting) to the high quality photo box to let the parents start collecting memorable items. If you want to give something special to your wife/girlfriend or if you are a friend of the mum you could make her a "yummy mummy" box with photos of her before and during pregnancy and fill it with items especially for her like scented candles, beauty products and gift cards. Same goes for a yummy daddy!