Creative gift ideas from your photos
Are you planning on going to one of the great events for Bonfire Night all over the UK tonight?
Yes, it is Guy Fawkes Night again, the 5th of November. Do you remember?
Bonfire Night in a nutshell: Bonfire Night originates from the events of November 5th 1605, when Guy Fawkes, a member of the Gunpowder plot, was discovered guarding explosives beneath the House of Lords in London. He was arrested for being one of the conspirators who failed to fulfill their original plan to blow up the House of Lords and, above all, the Protestant ruling king to replace him with one of their Catholic Men.
Ever since, Bonfire Night is celebrated annually on the 5th of November as a public event with bonfires and firework displays throughout the UK — even though the origins of this night are not well known to many people. So if you are going out tonight to see some of these amazing fireworks, don't forget to take your camera and catch some great impressions.
You can create and design some truly creative gift ideas from your photos.
Photo Calendars with your best firework shots
Photo Calendars are the perfect way to show off your best photos of the last year and turn them into wonderful gift ideas. Each photo calendar can be designed very easily and on your own computer. You just need to select your preferred template for your photo calendar, your desired calendar size, and then just start uploading your images. Every single page, and even the cover for the photo calendar, is waiting for you and your photos or designs.
If you wish you can also add your own text to each side of your photo calendars.
Don't forget to upload your best photo of the fireworks on Bonfire Night for November!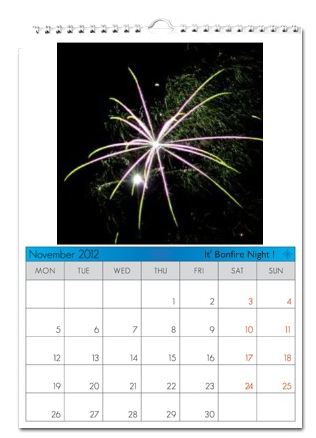 A firework full of gift ideas
Let me tell you a secret about the photo calendars: Order two of them and you'll get a third one for free! Isn't that great? You decide whether you want to have the same design for all three photo calendars or different designs and images for each one.
Remember remember the fifth of November
Gunpowder, treason and plot.
I see no reason why gunpowder, treason
Should ever be forgot…
There are so many things in life that should never be forgotten. One of them is Bonfire Night, another one is the wide range of gift ideas opportunities with your photos!
There is a whole firework full of gift ideas you can find: colourful, sparkling and each personalised gift idea truly unique…