He is back!! And this time for real.
Ladies and Gentlemen….I Give You Spider-Man.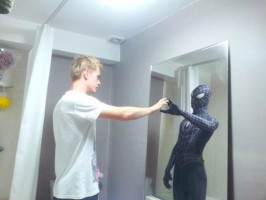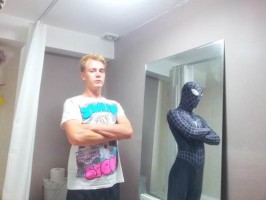 It's just unforeseeable what people can design these days. We @BagsofLove were very happy to receive an order to print a Spider-Man suit, but not the typical red and blue spider-man costume rather the black Spider-Man suit. Not sure how much you remember that scene where Tobey Maguire aka Peter Parker from Spider-Man 3 turns a bit evil after wearing the new black suit but does manage to charm the ladies. 😉
Obviously, printing the fabric was not an easy task but our production team gave their best shot in creating the suit to its specifications and we're happy to receive a positive response from our loyal customer.
"Hello Bags of Love team. Thank you for the print. It look just like I expected. I can't believe I did not know about your company. I appreciate all the effort you have put into this order, I believe I owe you guys at least coffee from the corner cafe. . The suit has done a great job. Everyone enjoyed it, I felt like a superstar 🙂 The fabric was ok it held up, I had to re-stitch a lot of places. It would have been better to have the lycra pre-dyed in black. In parts like fingers material looked very worn. Anyway thank you for your help. My little dream came true. I will come again with a better design some time 🙂 "
What superhero would you design?