As some of you may know, last week was Graduate Fashion Week where the world's best and brightest designing talents emerge from the labyrinth corridors of higher education with dazzling effect across a 4 day premiere fashion show.
Naturally, being one of the UK's leading suppliers of custom printed fabrics, Bags of Love is always delighted to attend such events and witness the final vision of our customers come to life. Among them, Amy Johnson is a BA Hons Graduate from The Manchester Metropolitan University School of Art whose vivid designs enraptured audiences and set pulses racing with their summery fervour.
Favouring Crepe Jersey – a highly versatile knitted fabric with decent stretch yet also able to hold its form smooth and flat – and the illustrious Suede Vision, Miss Johnson was able to produce 5 sensational outfits for the runway.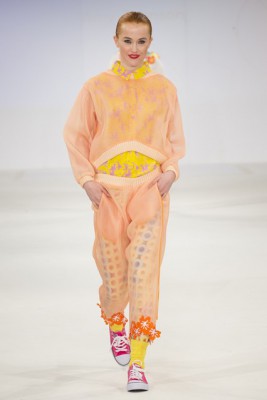 These loose fitting designer garments are irrepressibly brilliant, bursting with light and colour in every step. Walking on air, the pieces embody a carefree summer of love, finished with tropical twists of multi-coloured flora. Despite plainly being cutting edge design from the fashion of tomorrow, there is a distinct retro feel hidden amidst the folds, particularly prominent in the green-red-black-and-blue leggings shown here with a white jumper and a flowery neckline reminiscent of a livery collar.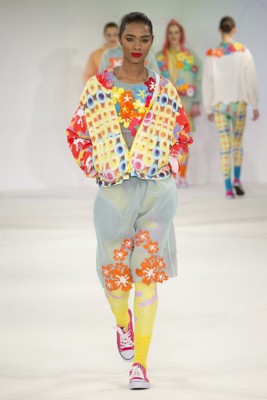 We would like to congratulate Miss Johnson for her outstanding quality of work and wish her every success for the future. In this day and age we understand how it is so very hard to create eye catching designs which don't sexualise the female form or break the mould only by being obscure and impractical. Miss Johnson's summer collection exemplifies feminine ideals without a thread of suggestiveness, providing tasteful yet shocking real world wear, sure to turn the head of every passer-by for its carefree splendour which tastes like a refreshing blast of lemon sherbet.