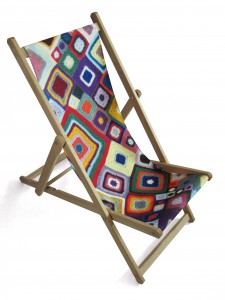 Summer is here and the weather is just perfect to enjoy life outdoors!
How about a picnic in the park? Or maybe reading a book by the beach? Or even, how about that weekend barbecue with friends? Whatever you choose, we have the perfect seat for you.
We have introduced the idea of personalised deckchairs a while ago and it proved to be a great success. Immediatly people started sending in their ideas. The results are fantastic!
As you see ont he right, the picture shows crochet printed on our canvas deckchair. Patterns work really great for this kind of artwork but, of course, there are no limits for creativity! You can also go fashion with the Photo Pop Art treatment we apply on photos. It is gorgeous and eye-cathing.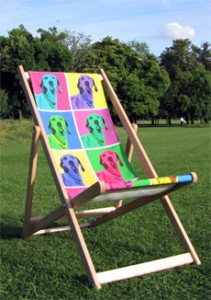 The canvas is water resistant and the print will not flake or scratch off. This is where creativity meets technology. The inks are impregnated deep into the fibres of the canvas making the print on canvas very durable. Furthermore our practical tests included machine washing flat prints (full cycle) five times with no colour change to the naked eye. You simply can't rub colour off.
The designer deckchairs are also eco-friendly! The European Beech wood is sourced from FSC -certified suppliers and its lightweight provides easy mobility. Not to mention you can fold and store with very little space.
So be inspired! Send us your ideas and we will turn into reality! Wether as a gift to friends or just a treat to yourself the truth is that you can't go wrong with this designer deckchair.