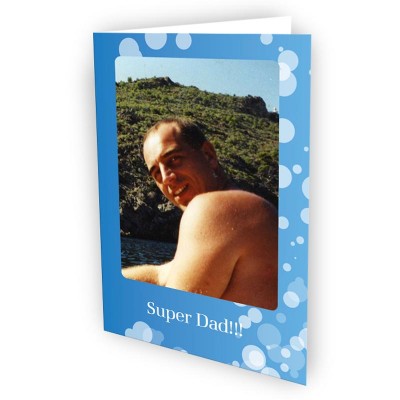 Make Daddy's Day Extra Special
To ensure that dad's has a very special day on Fathers day we now offer a free fathers day card with every order. Alongside gift ideas from your photos or images your dad deserves a personalised card on which you can express your love in your own words. Fathers day gifts which are emotional yet useful will be appreciated by dad but greeting cards are also an easy way of scribbling down words of your own to make the whole fathers day gifts experience supreme.
Gift Ideas And Greeting Cards
Gift ideas like cushions, aprons, coasters and bags make ideal fathers day gifts as they are items dad can use at home, at work or in his spare time. They are covered in photos and sometimes also finished off with a bit of text. Adding greeting cards to those fathers day gifts complete the package of making dad feel truly loved and appreciated on his day. The greeting cards have the options of being left blank for you to fill it out yourself or to add text during the order process which we print straight onto the card for you.
Order Fathers Day Gifts Now
If you haven't ordered fathers day gifts now is the time to look at your options. Bag items like the hold all, laptop cases and iPad cases are perfect for the busy dad. Aprons, coasters and cushions will be adored by the home loving dad. And you can never go wrong with canvas prints gift ideas! Find great family photos to stick onto these magnificent fathers day gifts and then place the order alongside your free fathers day card!