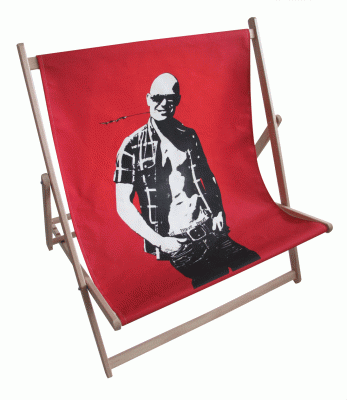 Personalised Furniture Make Excellent Fathers Day Presents
You might not have considered that personalised furniture make ideal fathers day presents but when you think about it they truly are. These personalised gifts can be used around the house and improve the home interior immensely. If your mum and dad's house is in desperate need of some fun items, personalised furniture are perfect. There are so many possibilities with personalised furniture. You can use any of our artwork options from the photo montage to the Che-style treatment. A photo of your dad, the whole family or even the family pet can be put on fantastic personalised furniture pieces like the personalised deckchair.
Cheeky Personalised Gifts For Dad
Personalised gifts for dad's home should be useful, comfortable and cheeky. Liven up your parent's home by giving the old man quirky fathers day presents for the house. Seating furniture is ideal for the dad who loves to spend his time off relaxing around the house. The most superior comfy seating option of them all is the glorious bean bag. Let dad sit comfortable in this flexible polybeads stuffed seat fit for a king. Due to the large size of this item a photo montage is a brilliant option for the exterior. Collect photos of your dad's life so far so that he can take a trip down memory lane whenever he's seated on his throne.
A Personalised Deckchair for Dad
The personalised deckchair is an ideal gift for dad as he can use it in his living room, garden or on the beach. He might just love it so much he'll take it with him everywhere he goes! The deckchair is made from strong wood and a high quality canvas seat with the same great printing as on our popular canvas prints. With the personalised deckchair you can really let your imagination run wild. Use one of our Pop Art treatments for example. The Che-style or Andy Warhol-style treatments are ideal when customising fathers day presents. Your dad will love a photo of himself printed in a cool style on this comfy and useful deckchair.