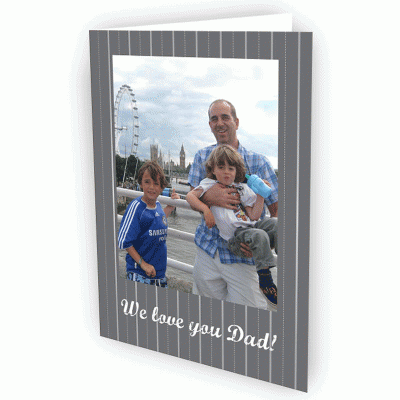 A Picture Is Worth A Thousand Words
Gift ideas for important people in your life, like your mum and dad, need to be sentimental and full of love. Like Bags of Love. And you can give loved ones bags of love by giving gift ideas using your own photos personalised by yours truly. Father's day gifts and Mothers day gifts are important gifts for mum and dad which you should put some time and effort into making. And when we say making we don't mean actually making them yourself with your own hands, but choose an item and how you want it to look and then we take care of the rest. A picture is truly worth a thousand words and that special photo can be turned into Father's day gifts in the shape of gift items and greeting cards.
Personalised Father's Day Gifts And Greeting Cards
Dad's day is coming up soon and he should be celebrated with Father's day gifts smothered in photos. That photo of you and your dad is worth more than any expensive watch or digital gadget because it holds a precious memory that you and your father have shared. Gift ideas for dad should include those precious moments and what is better than actually having that photo on the gift? With the help of Bags of Love you can have great items printed with your precious father memory in time for Father's Day. Everything from home gifts and bags to greeting cards can be personalised and made into Father's day gifts.
Photo Greeting Cards
Our greeting cards can be personalised for occasions all year round, including Father's day. They are high quality greeting cards with stunning photo printing, cute text options and innovative designs. As always we create design patterns especially for occasions which will suit the receiver. The Mother's day pattern design was a great success and now we bring you the Father's day greeting card designs. And as before you pick the design you want, choose the personal message you want to add and of course the precious photo memory which will grace the cover. We've developed designs dad will find amusing and attractive so take your pick and start customising!