Personalised Prezzies for Grandpa's Birthday
Who says grandparents are hard to buy gifts for? At Bags of Love we offer a wide variety of personalised gifts to show your Grandpa you care.  Perfect for birthday presents, personalised gifts are a thoughtful way to share your love and show your respect for your caring Grandad.  To help you with your gift hunt, we have complied a short list of our favourite gifts for Grandpas nationwide.
1) Keepsake Boxes for Family Memories

First up are our personalised keepsake photo boxes. Each box is made to order at our London facility using your own photos.  Add images of your extended family, the man himself, or your Grandpa's favourite things for a gorgeous birthday present.  We offer three sizes of box; A5, A4 & A3 – all are plenty big enough for your Grandad to keep his mementos safe and sound.  When personalising your box, add images to the lid and choose a colour template for the side, there are more than 15 templates to choose from! Plus we offer a variety of colours for the lining.  Each box can be made in the style of your Grandad for a truly personal birthday gift.
2) Personalised Photo Aprons
Next up we have personalised photo aprons – both waterproof and weatherproof.  Perfect for Grandads that like to spend their free time in the garden or the kitchen.  Available in two sizes – standard and large, the aprons from Bags of Love are ideal for Grandpas of any size or shape.  With the option to add multiple images, text, and back ground colours, you can design a practical and personal gift for Grandpa's next birthday.  Each apron is printed and sewn to order in London, and is ready within 1-2 days! No more excuses for late birthday gifts, or messy Grandpas 😉  Our aprons are fully machine washable and are guaranteed to last!
3) Personalised Director's Chair
Finally, we have our personalised director's chair for a birthday present with a bit of fun.  Add your own photos to the canvas back and seat for a director's chair with a bit more flare. Every Grandpa can be seen as 'The Boss' of the family, so why not give him his own chair (throne) to sit on?  An especially fantastic gift for Grandpas that enjoy film or just enjoy directing 😉  Add images of his favourite films, or favourite moments from life for a chair that reads like a biography, and is cherished for years to come.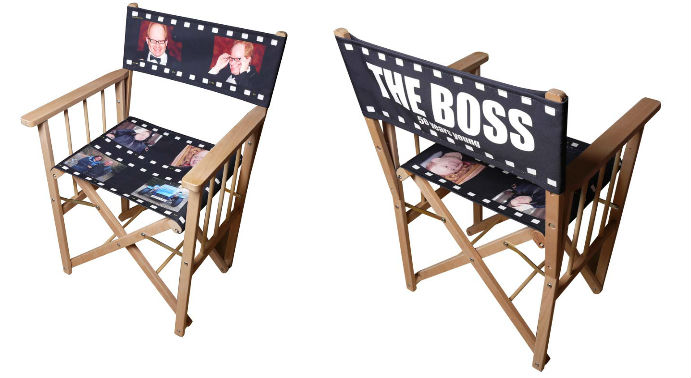 What present do you think your Grandpa would like this year?