CRUNCH TIME! Back to the grind and the holidays are over. At Bags of Love, we offer a wide variety of personalised gift ideas, to help you squeeze every single moment from your holidays. Simply upload personal photos or images, and we will print them onto pretty much any product you can think of, in high quality too! We know from experience that our loved ones have truly enjoyed personalised gifts we give to them, and we're sure yours will too.
Bags of Love HQ have created lots of lovely products to make your holidays easier
We don't just want to tell you about our new products – we want them to tell you all about themselves! So, in their own words, let us introduce you to the first of our new products!
Our first new product interview is with our rather wonderful Personalised Travel Wallet.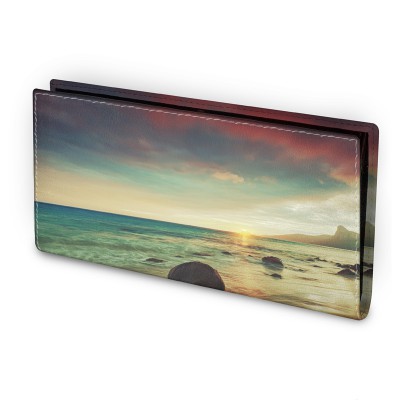 Interview with a travel wallet
Bags of Love: Hi there Personal Travel Wallet, thanks for letting us interview you! How are you today?
Personalised Travel Wallet: I'm great thanks! Really excited to be here.
Bags of Love: Well, first things first, should we call you Personal Travel Wallet, or is there something else you prefer to go by?
Personalised Travel Wallet: That's fine, but some folk call me a Leather Travel Wallet or a Customised Travel Wallet and in fact, someone just called me a Leather Travel Folder…never been called that before…
BOL: Hmmm…maybe we'll just stick to Personalised Travel Wallet then!
PTW: Good idea.
BOL: While we're on the subject of what people call you, why don't you let us know exactly what you are used for.
PTW: Sure. The production team at Bags of Love made me because a few of them really wanted something to keep their travel documents safe and sound when they went on holiday. But of course, being Bags of Love, it couldn't just be a bog-standard wallet. It had to be a bit special, so naturally, they made me personalised!
BOL: And what are your main features?
PTW: Well, I'm made from lovely leather. Also when you open me up, I have lots of useful compartments for cards, coins, banknotes, tickets and all sorts. I even have a really useful zip pocket to keep your passport secure and safe. I have a popper fastening, which makes it really easy to open me when you need to get to your money or ticket quickly.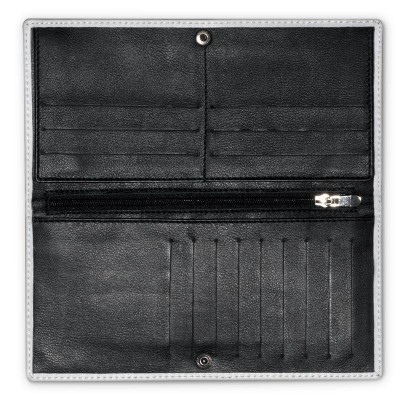 BOL: Wow! You sound amazing! And so useful too. Did you say you were made of leather?
PTW: Awww thanks! Yes, I'm made of leather. The production team here are Bags of Love print and then they stitch me together by hand. They're very clever.
BOL: And as you are a custom made wallet, does that mean that people can print whatever they want on you?
PTW: It sure does! They don't call me a Personalised Travel Wallet for nothing! All the customer needs to do is to use the design interface on the Bags of Love website. Theyn they can personalise me as they wish. They can choose a photo, several photos, create a montage, use their favourite design, create some meaningful text…whatever they want really. Whatever they feel would make me personal to them. I'm printed in very high-quality full colour, so I look pretty great too!
BOL: Who do you think would like to own you?
PTW: Well, I think I would make a great gift idea for someone who loves to travel, either for pleasure or for business. I'm particularly good for a parent who has to travel a lot for work, as they can customise me with photos of their family and take them with them wherever they go. Because I have so many useful compartments, I would make a great purse too…especially for those who like to carry a lot around with them! Money, cards, notes, receipts…you name it!
BOL: You really do sound like you would make a great gift or even a treat for someone who is looking to make their travel accessories more stylish. How can our readers get started designing you?
PTW: Just click here and I'll whisk them off to our design interface and we can get started!
BOL: Thanks so much Personalised Travel Wallet, it was great to meet you and welcome to the Bags of Love family!
Design Your Own Leather Passport Covers
As the holiday season creeps closer, travel arrangements need to be made. Everyone will be on the move to share the celebrations with family and friends across the globe. To help you prepare for your expedition, we suggest our personalised leather passport cover to keep things organized and easy. Simply add your own photos online to create the design of your passport cover, with a distinctive style that reflects you personally.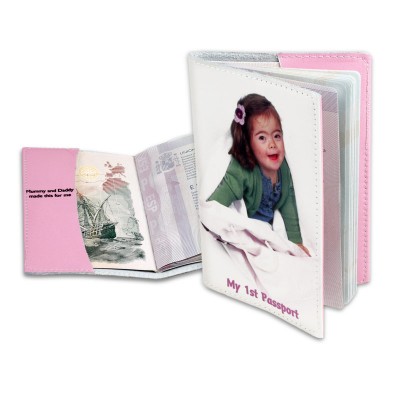 First Passport Cover
If you are travelling with your children, there will be quite a few passports to keep track of.  All you need is your own personalised cover design and then you can distinguish between passports.  For kids that have just received their first passport, a cover will make the document even more special and the cover itself is an ideal memento.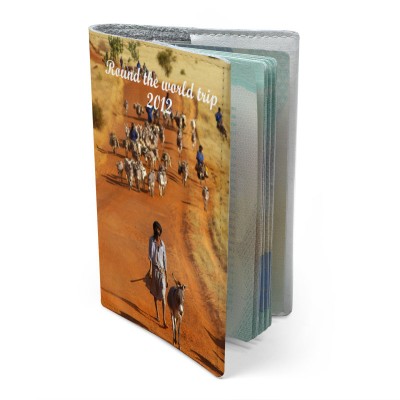 Gap Year Passport Cover
The gap year is a British tradition and is a life-changing experience for many.  To mark the occasion why not treat yourself to a luxury personalised passport cover? Add images of your planned destinations, or pictures of your home, to keep you inspired during your adventures.  The leather case will protect your passport from wear and tear, while also making it easier to sport amongst your other travel essentials.  Get creative with your design and create something that both reflects you and also embodies your spirit of adventure.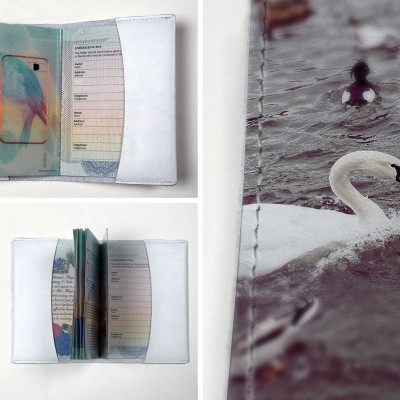 Quality Leather Passport Cover
Each passport cover is handmade at our London facility with the greatest care. We print the leather with your own images, then stitch to fit your passport.  The cover is tight, without being too snug to take out at a moments notice.  CLICK HERE to learn more and to begin designing.
Travel in style – Weekend holdall with photos
Personalise your weekend holdall with photos
Are you one of those people who just love to get away on short trips? Off for the weekend to discover new cities or even other countries. Just like to have a nice weekend with friends in a lovely cottage outside of town? Does that sound familiar for you?
Or could it be that you are one of the busy mums, combining a job and a family in perfect harmony and always carrying around everything in a large bag? Or do you happen to know one of these mums or dads?? Well, if you want to travel in style, from town to town or from home to the playground, then a personalised holdall with photos could be just the right thing.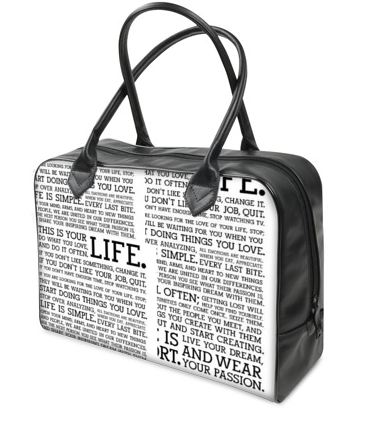 Fantastic design made with your photos and text
Designing your own holdall couldn't be any easier. Just choose your size and the material (either leather or sturdy canvas) and then start with the design by uploading your images.
But you're not limited to uploading images. You can also scan your own designs, written texts or any other design you are thinking of and then upload it to the design page for the holdall. Once you are happy with the design, just proceed and we can start with the production as soon as you have placed your order.
Turn A Holiday Photo Into a Jigsaw Puzzle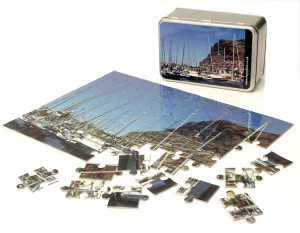 A great way to use your holiday photos in a creative way is to make a photo jigsaw puzzle. Simply use a favourite snap! It's also a great gift idea for anyone. Gift ideas from your photos make an excellent birthday, anniversary, christening, mother's day and father's day gift.
It's also a great way to give someone a special message. You could propose to your girlfriend for example. Try giving her a puzzle and make her put it together which will expose the hidden special message! Thank You, Happy Birthday, Happy Valentine's Day or simply I Love You can be put on the photo jigsaw puzzle.