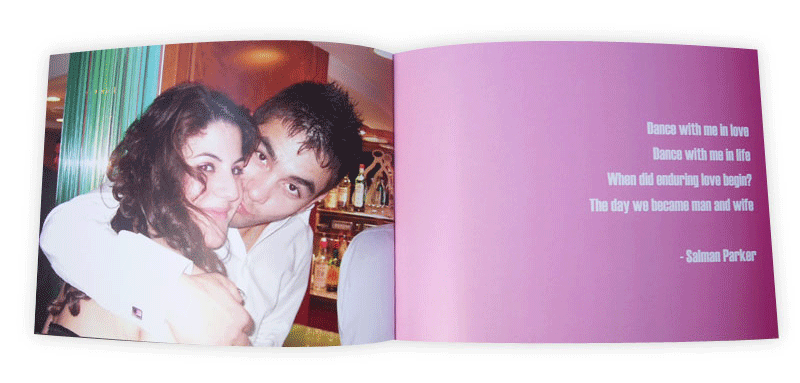 Creative Proposal Gifts
As we are all about love here at Bags of Love why not start a lifetime of love with our help? We offer many beautiful anniversary and wedding gifts but why not try out our proposal gifts? Gift ideas items like the book of love, the photo jigsaw puzzles, personalised tins and personalised banners are perfect proposal gifts when you want to pop the question in an unconventional way. All you need to do is choose the item, choose photos and add "will you marry me?" and then hope that she answers yes!
The Book Of Love
These romantic book gifts are popular gift ideas for wedding anniversaries and Valentine's Day. 11 photos are printed in a book alongside a page of text for each photo. Choose 11 photos carefully and then add suitable text for each page. You can add text which related to the photo or find romantic texts from poems and love songs. This will take her on a trip down the memory lane of your relationship. And on the last page of the Book of Love add a photo of the engagement ring and add "will you marry me?" on the text page. Super creative!
Photo Jigsaw Puzzle – Standard And Heart Shaped
This is the ultimate in surprise proposal gifts as the text on the photo jigsaw puzzles won't reveal itself until the puzzle is completed. Again these are popular gift ideas for Valentine's Day, especially the heart shaped photo jigsaw puzzle which comes in a cute pouch bag. Love messages are often added to the heart shaped photo jigsaw so add the big question on this gift and watch her put the pieces of the puzzle together. The standard shape photo jigsaw puzzles come in personalised tins and they also work well as proposal gifts.
Personalised Banners
If you are planning to pop the question at home over a romantic surprise dinner then try our personalised banners. Proposal gifts should have an element of surprise but they should also be a grand gesture. So make sure that she is totally unaware of your plans and make personalised banners asking for her hand in marriage. When she opens that door to see what you've done she can't answer anything but yes! Personalised banners can be personalised with photos and text so that you can make the most out of these proposal gifts.