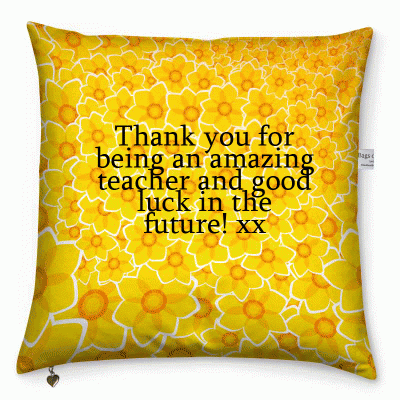 The Season Of Goodbyes, The Season Of Leaving Gifts
As the school term once again is coming to an end there might be emotional goodbyes on the horizon. Teachers can play such an important role in kid's lives as they become a vital part of their everyday lives. Especially for students who struggle in school, the right teacher can have such a huge impact. If your child has had a teacher who has been special take the opportunity to give him or her leaving gifts. The perfect gift ideas for teachers are all about expressing your appreciation through photos or text. The teacher will be extremely thankful for gift ideas with a personal element, reminding him or her of the student forever.
Personal Gift Ideas For Teachers
Flowers or a card just doesn't cut it when you need to show appreciation to the teacher who basically restored your son's interest in education! For someone who's been this important to your family you need gift ideas for teachers that are on an emotional and thoughtful level. Making personal leaving gifts is easy really. Chose gift ideas items the teacher will have use of or what reflects their personality. Your child might know the teacher quite well by now so they'll know about the teacher's hobbies and interests. But if you're not too sure about their personality make them a beautiful gift using nice colourful patterns and a personal message. You can't go wrong with that!
Personalised Leaving Gifts
If the teacher has been with your child for many years it is likely that there are photos of the class and teacher together on school trips and class gatherings. These photos are perfect to place on gift ideas items to create really personal gift ideas for teachers. A photo montage can be placed on excellent items such as the photo canvas, luxury handbag, laptop bag and photo cushion. The photo cushions are ideal gift ideas for teachers as they can be placed in their home. Chose one photo, a photo montage or a lovely pattern or image to create beautiful leaving gifts for their living room sofa. Say thank you and wish them good luck for the future with a message on the cushion using your own words.