Ok, these gift ideas probably won't literally change your life but they surely will make it smoother and more peaceful as the people around you will love you even more (if possible) for giving them such wonderful xmas presents this year. Here you will find some creative gift ideas, made with your very own images, designs and texts, and above all, designed from one of the best designers in the world : YOU! Don't be afraid, it is a task you can take on – design personal xmas presents for the people you love with your photos and you'll see how much fun it is!
These gift ideas will change colours.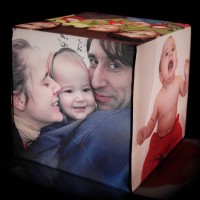 Every photo gift you order from us is available in a number of different colour options. Keep your photo in colour as it is, change it into black & white or even Sepia to enhance special details of your image or to adapt it to the existing colour scheme in your living room or your wardrobe, depending on the product you wish to order.
However please let me remind you of one thing: There is one gift idea in particular I think of when it comes to changing colours: the photo light cube. Our photo light cube is one of the best xmas presents for anyone who wants to spice up their lives with some colours! Have your photos, 5 of them in total, printed on a stretch micro fibre which will then be sewn into one snug fitting cover for a 40 x 40 cm photo light cube. From green to red, blue and purple, yellow and orange and all the way back, the handy remote controller allows you to take control…or the lucky person who receives such a brilliant and colourful xmas present, of course.
These gift ideas will keep your baby safe and warm.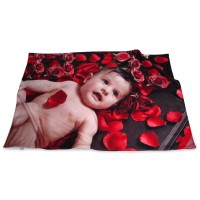 Do not say I haven't warned you. Be prepared for many admiring looks from other people, parents in particular, when your baby is wrapped up in a cuddly baby blanket or a sleeping bag with its name on it, or if you are about to take a stroll through the streets with your baby in a pushchair and a lovely Buggy Bag of Love. When creating any of our photo gifts, we use only the best materials for all baby gifts, every single photo gift for babies is made from scratch and finished in our premises.
Personalised Gift ideas will look adorable and keep your baby safe and warm at the same time!
These gift ideas will change your life.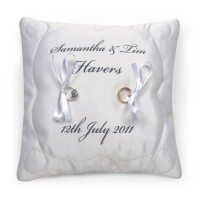 Are you sure that you are still looking for the one gift idea that will change your life?
The ultimate xmas present just has to be the wedding ring cushion. Why the wedding ring cushion you might wonder? Well, having your partner standing in front of you while you go down on one knee, conjuring a magical atmosphere while holding the wedding ring cushion in front of you, with the question of all questions on your lips and your names printed onto the cushion – the big question Will you marry me? (combined with the expected answer!) will definitely change your life.