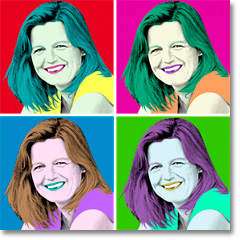 What does Pop Art mean?
Pop Art is quite a common term that has definitely been heard or read about by everyone. People use this term but it's not clear that everyone actually knows what it means! So what exactly does Pop Art mean? Where did the term Pop Art originate and, above all, what does it signify when we talk about creating unique Christmas Gift Ideas with your Pop Art photo?
The history of Pop Art
In a few words, Pop Art is an art movement that emerged in the 1950s independently in Britain and the US at the same time and coined itself in the following years to the most prevalent forms of artistic expression. Pop Art spread rapidly in various forms of art; abstract forms, striking-shown figures and vivid colours (mainly the primary colours) dominated the image of Pop Art and drew a connection line through the work of different artists. Ever since, Pop Art has consistently been one of the most popular forms of art, and now you can create unique Christmas gift ideas using this innovative technique!
How to create your own Pop Art
We admire Pop Art and took various artists as models and inspirations to create our unique Christmas Gift Ideas made with your very own Pop Art photo. Whether it's Banksy, Warhol, Che or the Posterize Effect, the diversity of our unique Christmas Gift Ideas with Pop Art gives you loads of opportunities to create your very own personalised gifts. Our designers will take your photo and create a unique Pop Art photo in your chosen style, so let the unique Christmas Gift Ideas come…
Unique Christmas Gift Ideas with your Pop Art
A Pop Art photo will look incredibly good on many of our photo gifts. Popular products include the personalised cushions which look just perfect with a Pop Art photo. You can have each of your photos printed onto personalised cushions – you can even create your own montage with our straightforward and self-explaining Upload and Preview system. Have a go and get ready for Christmas – create unique Christmas Gift Ideas and personalised cushions with your photos!