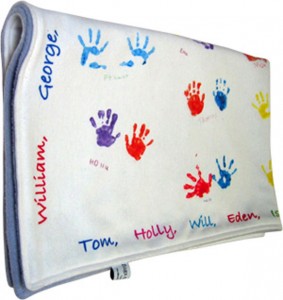 Bags of Love offer practical, cute and comfortable new born baby gifts . Perfect to spoil your new baby with soft personalised gifts or give as a gift to someone else's little toddler. Instead of buying baby gifts from a retailer why don't you design your own so you have have it just the way you want it.
The baby changing mat is light and easy to fold. It's made from soft fleece and have a waterproof back stitched onto the fleece. A photo or several photos can be printed on.
Choose from three cute designs and even add the childs name to create the baby's very own 50×50 cm comfort blanket.
The baby blanket is made of thich fleece for ultimate comfort. This baby blanket is perfect for playing and cuddling with the child at home or away. Choose photos to make it personalised.
Designed my mums, the light and easy to use baby sleeping bag come in two sizes. 0-12 months and 12-2 years. Need a baby gifts for twins? Why not design two sleeping bags.
These new born baby gifts are all machine washable and you can add on your child's foot and hand prints to any of them as well as photos and text of your choice. Why not make a baby blanket with pink foot and hand prints as a baby gift for girls and a baby changing mat with blue footprints as a baby gift for boys!