Mothers Day is coming up quickly, but don't worry, we have a great selection of personalised photo gifts that are guaranteed to thrill Mum and make her feel exceptional. All of our photo gift products are made in the UK at our London address and shipped directly to you. After all, it is her special day, why not pamper her with personalised photo gifts that she can show off and express her love?
Mothering Sunday UK
The origins of Mothering Sunday UK lies in the Christian faith – the importance of going to church. Children who had gone away from home to work elsewhere were given a day a year to go home to worship in their 'mother church' as well as see their family. It was an opportunity to be reunited with mother and children would pick flowers for her on the way back home to their church and family. Today we might not be away working for the whole year but other obligations stand in the way of quality time with our mums. Work, University and our own family life now put a time limit on the time spend with mum. Mothering Sunday UK is a perfect day to show your mum appreciation with Unique Mother's day gift ideas.
Personalised Photo Gifts
For the avid reader and lover of gadgets, the perfect photo gift would be a Personalised Kindle Case ready to be custom printed with a photo and/or text. You can't go wrong by giving Mum a Luxury Photo Handbag, with its classic style and sturdy quality, printed with a personalised photo or a montage of the pictures she loves. Now, she can show off her children or a drawing by the kids to the world through a stylish item personalised just for her. Even get her a Personalised Photo Cushion so that she will be reminded of memorable moments every time she sees it. If one of these does not sound particularly like your mother, we have countless other personalised gifts that we know she will love.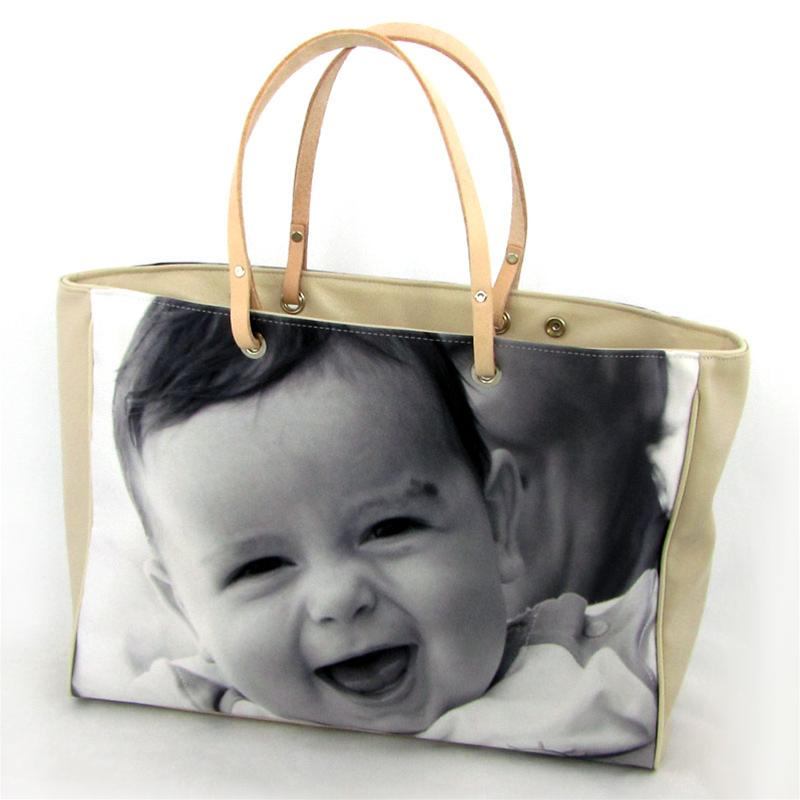 With Mother's Day just around the corner, it's time to start thinking about what to get your mum or mother figure to show her, she really means the world to you!
Take it from us, as lovely as a bunch of gorgeous flowers, a good book, a meal out etc all are, we reckon you can do better when it comes to finding your mum a thoughtful and unique Mother's Day gift. This is where the beauty of personalised gifts and photo gifts come in. You can give a gift that is not only beautifully made to order, but you can also give one, which has been designed purely by you! Choose to upload photos from your mum's life, which will make her well up! Baby photos – great! Wedding photos – amazing! Family holidays – fabulous! All these memories captured in photos will help make your personalised gift for Mother's Day all the more special and memorable.
From new mums and mums-to-be to experienced mum's and grandmas and all mother figures, Mother's Day is a special time to show your appreciation for all she does for you.
Personalised Gifts Chosen Based on Mum's Interests
Are you ready to celebrate all that is wonderful about your mum? Well, we are 🙂
Using the photos she loves, create gifts she will treasure. At Bags of Love, we have hundreds of gorgeous, handmade personalised gifts – something for everyone really! Whether your mum loves her accessories or pottering in the kitchen, enjoys decorating her home and loads more, you can be sure that you will find something at Bags of Love, which will make her Mother's Day truly one to remember.
All of our gifts can be personalised with your photos, designs and text, so not only can you upload photos, which will make mum well up, but you can also add a little message, to show her how special she is to you. Get ready to win child of the year!
To help you choose the right gift for your mum, we have selected a few of our favourites and put them into categories, to make the photo gift creation process even easier for you!
For The Stylish Mum
For mamas who love their accessories, why not design her, her very own personalised handbag, make up bag or silk scarf? We have loads of stylish personalised gifts to choose from, which we guarantee she will love! Have a look at a few of our faves below.
For The Gourmet Mum
If your mum is a bit of a foodie and a real whizz in the kitchen, then treat her to her very own personalised kitchen essentials, to make her favourite place in the house even more special. From photo aprons and tea towels to personalised trays and oven gloves, we've got what she needs to get cooking.
For The Sentimental Mum
If your mum loves nothing more than flicking through family photos, then treat her to a gorgeous photo canvas or photo book, which she can display proudly at home. Or how about her own Personalised Compact Mirror, so she can show you off whenever she wants. Mums like to do that sort of thing 😉
For The Cosy Mum
Does mum love wrapping up in cosy blankets on the sofa, or cuddling up to cushions on the couch? We're pretty sure she will love our Personalised Cushions and Photo Blankets. Super soft, cosy and of course, handmade by us, our personalised soft furnishings have a special place in our hearts. Upload meaningful photos and give mum something extra special to hug – besides you we mean!
For The House Proud Mum
If your mum loves to fill her home with gorgeous bits and bobs, then your house proud mama will love our personalised home gifts selection. From handmade clocks and doormats to photo acrylics, personalised coasters and loads more, you might have trouble narrowing it down to just the one gift!
Mother's Day Gifts from the heart
The freedom of personalised gifts from Bags of Love by being able to use any images on our products means that you can make your mum mother's day gifts from the heart. Because not only do you choose the image (can be a photo, print, drawing or collage) you also choose the colour, optional print and text. So choose your mum's favourite colour and a print you think she would like to make those gifts extra thoughtful – straight from your heart. A bit of text is the icing on the cake as you can express yourself in words.
Looking for Inexpensive Mother's Day Gift Ideas?
You probably wish you could give your mum a new house or a car to show your appreciation on Mother's Day but for most of us that won't really fit our budget. And if you are a teenager or a student you are probably short on cash most of the time and this time of year is no exception. Bills, socialising and booking summer holidays probably eat up your money and there's not much left for gift ideas for loved ones is there?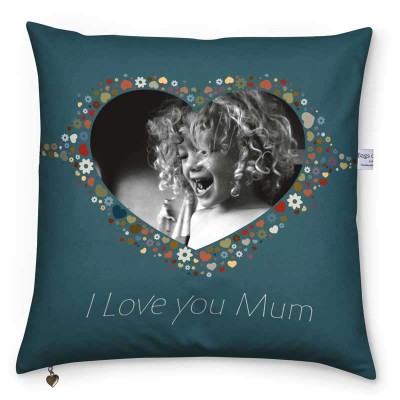 Mother's Day Gift Ideas For Every Budget
Don't fret; even though your cash flow is low you can still get your mum fabulous mother's day gift ideas without breaking the bank. And besides your mum doesn't really need a new car or a new house and to her gift ideas with thought and emotions to them are simply the best. Whatever your budget is for Mother's Day 2011 you can most certainly find something suitable within your price range from Bags of Love. Let us show you what gift ideas you can get at different prices…
Under £20:
There are plenty of amazing gift ideas options if a 20-pound note is all you got to spend. An individual Mother's Day card is a great place to start. Simply choose a design, upload your photo and add text and we'll create a fabulous card for your mum. The most inexpensive gift of them all is our fantastic free photo calendar. Upload a photo and add a line of text and we place it on our calendar template and then we e-mail it to you so you can print it in your own time. This is totally FREE of charge! Our poster prints start at 12.95 and they are a great way to display photos. And right on the £20 note is the gorgeous heart-shaped jigsaw puzzle; a cute puzzle with a personal photo and line of text that comes in an adorable pouch.
£20-£30:
The Bags of Love personalised books range is perfect if you've got between £20 to £30 to spend. The address book and notebooks are ideal mother's day gift ideas for the mum who likes to stay organised or is creative. The journals are perfect for sketching, drawing and writing. You add a photo to the front cover to make these books extra personal. The pouch purse is also great for any mum. The pouch purse can hold her mobile phone, digital camera, money, keys or smaller make-up items. Choose from leather or vinyl material and pick the colour that suits your mother best!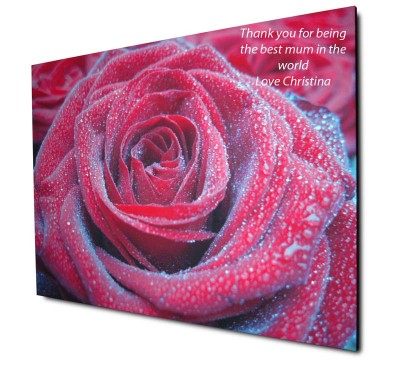 £30-£40
When you reach the £30 to £40 limit you can try out our famous photo canvas prints. Starting at 12″ x 12″ you can give your mum a compact high-quality photo canvas print. We receive a lot of praise for our photo canvas prints so with this one you really can't go wrong! The high quality of these prints means your mum will have a memorable photo on canvas for a lifetime. Now that is worth £30 to £40, isn't it? In between £30 and £40 is the amazing photo apron. This is a fun kitchen gift that mummy will appreciate.
£40-£100+
If you really want to spoil your mum this Mother's Day (and your budget allows it) you really have a wide selection of gift ideas to choose from. When you get to the higher price mark we have gifts like luxury photo handbags, designer bedding and Pop Art photo canvas prints to offer. The extremely soft fleece photo blanket is a truly luxurious gift. Use family photos to create family memorabilia for the home by placing a photo montage on the blanket. It will look stunning hanging on the side of the living room sofa.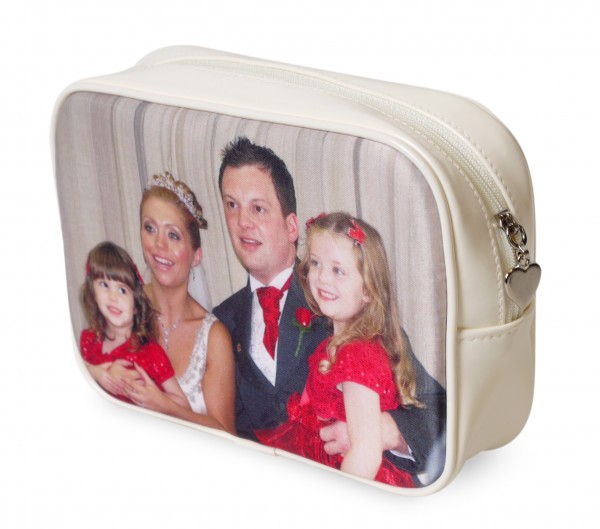 Mother's Day is almost here!
Greeting cards never fail as personalised gifts on big occasions and mother's day is no exception. In good time, ahead of occasions such as Christmas and New Years, Valentine's day, mother's day, father's day and Halloween we are bombarded with greeting card choices. The question is, do these greeting cards in the shop really cut it? Will your mum look at the greeting card on Mother's day and see the thoughtfulness you've put into the card? If the answer is no then you need to find alternative options.
Personalised greeting cards are the perfect option. Instead of simply choosing the card that nearly displays your love for your mother, might we suggest that you create your own card so that you can display exactly how you feel? Mother's Day gifts need to display a personal level of love and personalised gifts are the way to do so. With our personalised greeting cards, you have the liberty of choosing the card design, photo and text.
Sometimes, a gorgeous personalised card means more than any present ever could. You can choose whatever you want to feature on the card, be it a special photo, a montage of special photos or even a design, created entirely by yourself! Trust us, mums appreciate more than anyone, when something has been designed specifically for them, using photos, which mean the world. So why not make her Mother's Day even more special and design her, her very own personalised photo card?
Why not have a go at creating a personalised photo card for mum this Mother's Day, with our easy to use online design system? At Bags of Love, we have personalised photo cards available in standard A5 size, impressive A4 and super special luxury A3! Perfect for every special mama out there!
As well as personalised cards. we also have hundreds of other photo gifts, which will make wonderful presents for Mother's Day. Have fun designing something for her, which she will treasure always.
Individual Personalised Mother's Day Gifts
Like we've said before we all know that mums are all different. Each and every mum is individual, she has her own interests and personality. Being a mum isn't simply being a 'mum' it's about the kind of woman you are too. Celebrating your mum's individuality and personality on Mother's Day is a must. Therefore you need personalised mother's day gifts to match your mum's individuality. The red roses from the supermarket don't really tell her she's individual, do they? But personalised mother's day gifts do. When you get her something thoughtful and personal that matches her personality she will truly feel special and appreciated.
It's not complicated at all to buy your mum mother's day gifts that suit her individuality and personality. You just need to think about what makes your mother stand out and what her interests are. Interests are often connected with someone's personality. If you have a caring and down to earth personality you are likely to have interests like cooking and helping out in the community. If you have an eclectic and outspoken personality you might like to paint or do performing arts. There are great personalised gifts for any personality basically!
Make your own Personalised Mother's Day gifts
Craft gifts have always been popular for children to give to their mothers on Mother's Day. And many people make soaps, cookies and cards to give to friends, family and acquaintances as thank you gifts. The whole point of craft gifts is that you are giving away something that you've made yourself. For mother's, it's always special to get personalised mother's day gifts rather than readymade ones from shops. Just because you are an adult doesn't mean that you can't give your mum gifts you've made yourself, they just might not include glitter and glue anymore! Using your own photos to create personalised gifts is equally special as the hand-made collage you did as a child.
Personalised Mother's Day gifts from your photos
With the help of your own photos, you can "create" personalised mother's day gifts in a more modern way. It doesn't involve getting your hands dirty but it still means that you have to take the time to create these personalised gifts. Taking the time to go through decades of photos will mean a lot to your mother. By choosing heartfelt and precious photos from your mother and child relationship to go on items like photo books, you will bring a smile to her face and perhaps even some tears! With your busy schedule as an adult, she will appreciate the time and thought you've put into personalised gifts using photos.
Looking for perfect Personalised Mother's Day gifts?
Have you scoured the web and high-street to find perfect personalised mother's day gifts? Read countless blogs and magazine features about the best mother's day gifts? But do you feel bored and uninspired with what you've seen so far? Look no further, Bags of Love has just what you need. Our well-established range of photo gifts has a lot of options when it comes to personalising gifts for Mother's Day. High-quality personalised gifts by a company who does it all with love are what you need for Mother's Day. Have a look at the list below of Top 20 Personalised Mother's Day Gifts
 20. Custom Printed Apron
If your mum loves cooking up a storm in the kitchen, then she will love having her very own Personalised Apron – designed by you! Forget those horrible plastic aprons, our beautiful, handmade aprons are made from soft fabric, and we print your design deep into it, creating a stunning, permanent print. We also print edge to edge, so you are left with a gorgeous all-over print – no ugly white spaces! Upload photos, designs and text. If you are a dad helping your little one with a present for Mother's Day, then why not scan their drawings and upload them onto the apron? Mama will love wearing it and looking at it.
19. Customised Compact Mirror
Perfect for women everywhere, our beautiful Customised Compact Mirror will make a fabulous Mother's Day gift. Our Personalised Photo Compact Mirrors have a stunning polished chrome finished and can be personalised to feature a photo on the front. We will print your photo onto a white, sparkly base colour, which will give it a subtle "twinkly" effect. Very pretty and we are sure mum will love it. It is the perfect size and shape for her to pop into her handbag, have a quick touch up and be reminded of you at the same time. Ahhhhh!
18. Personalised Makeup Bag
Give mum the gift of beauty…well…a gift to carry all of her beautifying bits around with her! Our Personalised Make Up Bag is a real winner when it comes to personalised gifts for Mother's Day. Choose your colour and material and then create a design for the front of the make up bag. We will print it into the fabric, creating a stunning, permanent print. The zip has a sweet heart-shaped charm and there is room inside for items such as mascara, lipsticks, eye pencils…all the essentials a make-up loving mama needs!
17. Custom Printed Heart Shaped Tin
Give mum your heart this Mother's Day with our adorable Personalised Heart Shaped Tin. Our gorgeous heart-shaped tin makes the perfect little trinket box, which mum will love to put on display in the lounge or keep it close to her on her bedside table. We will print your special photo onto the surface of the lid, creating a permanent reminder of your love and appreciation for your mum.
16. Personalised Photo Frame
Instead of giving mum just one photo in a photo frame, why not create her a personalised photo frame? These amazing photo frames have been created, so you can design the actual frame with your photos. Why have one photo on the inside, when you can have a photo montage decorating the outside? Fill mum's frame with all of her favourite photos of you and the family. The photo frame has a lovely, glossy finish and we will even throw in a free photo print of the photo of your choice to fill the frame.
15. Personalised Leather Purse
Treat your mum to something really special this Mother's Day. Our Personalised Leather Purse is a stunning photo gift, which mum will really appreciate. If your mum loves her accessories, then she is certain to love our beautiful Italian leather handmade purse. Not only are those all plus points, but it can also be personalised just for her! Upload a special photo, design and even a loving message and we will print it onto the exterior of the purse. This leather purse has lots of useful compartments and pockets for all of her important bits and bobs. She will love using it and admiring it.
 14. Personalised Photo Blanket
Let mum wrap up in your love with our soft and cosy Personalised Photo Blanket. Our Photo Blanket is a real favourite of ours here at Bags of Love. Soft and made from snuggly polar fleece, our Personalised Blanket makes the perfect Mother's Day gift. Choose one photo or design to make a statement blanket, or opt for several and create a stunning photomontage. You can even choose the size and backing colour of your blanket, to make it totally customised for your mum. Personalised, printed and handmade by us to order.
13. Custom Printed Cushion
Handmade by us at Bags of Love HQ, our Personalised Cushions will make a treasured Mother's Day gift, which mum will fall in love with. Soft, plump and perfect for propping up on the couch, on her bed and great for cuddling! We will print your design edge to edge, creating a flawless and seamless finish. You can choose the shape and filling of your cushion as well as creating a stunning design. Choose to personalise your mum's cushion with photos, prints or text. Upload one image or several and create a gorgeous photo montage.
12.  Luxury Photo Handbag
It's Mother's Day, so spoil your lovely mum with our stunning, handmade Luxury Photo Handbag. This stylish personalised handbag is available in 2 sizes and 4 colours and you have the option of Italian leather or patent vinyl. Your photo, or photos, will be printed onto the satin finish, creating a beautiful permanent print. Mum will love wearing her personalised handbag out and about and showing off what a fabulous child she has! Well done you!
11. Photo Boxes
If you want to give your mother practical gift ideas that she can use and enjoy around the house we've got some excellent home gifts to choose from. The gorgeous and useful photo boxes are brilliant. You can stretch your imagination to the maximum when designing photo boxes using photos, prints and text to create a beautiful photo box. You could try one of our Mother's Day designs like the box above. Personalised tin boxes are great for smaller bits like memorabilia items.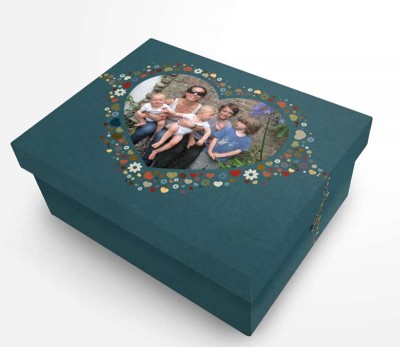 10. Pouch Purses
Another option is to give mother gifts that she can take with her when she's on the go. A busy mother who works, look after her kids, exercise and socialise needs items which can keep her organised whilst looking beautiful. The personalised pouch purse is ideal for make-up, money or electrical gadgets.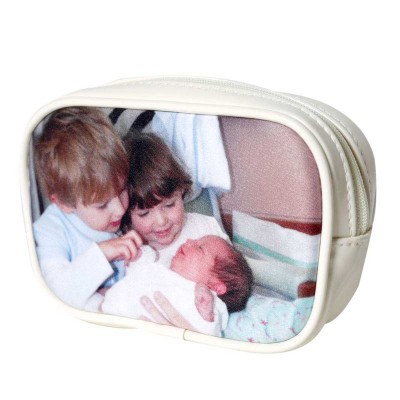 9. Personalised Jewellery Photo Box
The ultimate mother's day gifts are those that have a touch of luxury, femininity and emotion. Those things can truly be said about the stunning jewellery photo box. The elegant suede felt material throughout the jewellery photo box makes it look and feel luxurious. And by adding prints and photos to it you can really create something absolutely gorgeous and personal. Add photos all over the box (the top cover, lid, components and sides) or mix it up with prints and colours. Add a further emotional touch by choosing a message for the inside of the lid.
8. Bedding
Soft and cuddly bedding items are perfect last-minute personalised mother's day gifts for Sunday. Mum will love top-quality custom made bedding she can use in her bedroom and living room, they are really unusual and unique gifts. The smooth velvety material and excellent printing reproduction of the photo cushions make them superior personalised gifts. A cute photo of the kids is the cherry on the top of this luxury gift for her bed or sofa. Other designer bedding items like the photo blanket and pillowcases are also great. Choose one stunning photo or several to create a photo montage for the blanket or pillowcases. The softness of the photo blanket is hard to describe you simply have to feel it for yourself. Mum will be over the moon with lovely designer bedding items like these.
7. Personalised Photo Books for Mother's Day
You can display dear memories of you and your mum in gorgeous hand-bound 80-pages photo books to thrill your mum on Mother's Day 2011. Choose from A3, A4 or A5 size with either gold or silver corner protectors for stylish and thoughtful personalised mother's day gifts. A great idea is to create a timeline of your love from the day you were born up until today when you are an adult. Your first birthday, your first holiday, your embarrassing teen years and the day your mum held a tearful speech at your wedding can be displayed beautifully in a photo book, telling a story like your mum never seen before.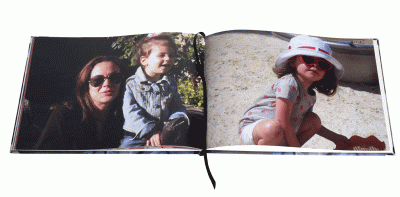 6. Mother's Day Book of Love
If you like these new designs we have a range of items to put them on. Our personalised greeting cards, a box of love and mother's day cushions are great choices but the ultimate love gift featuring the new mother's day designs is the Book of Love. The A5 book has 22 pages (11 photos + 11 pages of text) which you personalise using photos and personal phrases. Express how you feel and/or add Mother's Day quotes. The front cover is personalised with a photo of your choice alongside one of the stunning mother's day designs Surrounded by Love or Beautiful Yellow. The Book of Love comes with a matching gift envelope that will feature the same design pattern you choose for the cover of the book.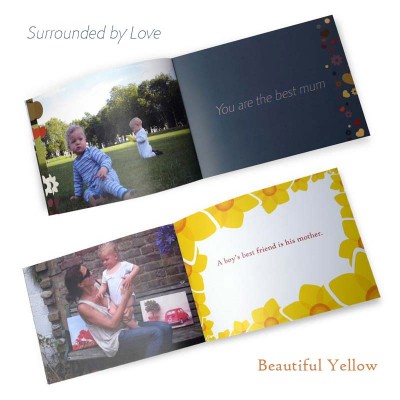 5. Shopper bag
For those busy days full or errands, school pick-ups and work your mum needs a personalised bag to get her through the day! The hard-wearing leather or vinyl material will hold all her essentials and more and come summertime, this shopper bag can be used as a beach bag! No more paperwork or lunch boxes, simply sunscreen and bikinis!
4. Sausage cushion
This quirky sausage cushion will make a statement in your mums living room or bedroom. The creative font style on these continental cushions can spell out your mum's name or a message like "I love mum". You could also add a photo montage to the photo cushion using several of your own photos.
3. Photo Calendar
The personalised photo calendar has it all. A personalised cover and a personalised inside. You choose 13 photos in total – one for the cover and 12 for the 12 months of the year. Find photos that represent each month perfectly. Christmas photos, holiday photos and photos from events will look stunning in a personalised calendar.
2. Personalised Deckchair
As we are slowly approaching a warmer season we can finally start looking forward to spending hot days in the park and in our garden. And every mum needs a comfy chair for lazy days in the garden with a good book. A personalised deckchair is an ideal mother's day gift that welcome spring and summer.
1. Photo Cubes
For the ultimate display of your family photos, you'll need the photo cubes. Your mum can enjoy six different photos on six sides of the firm foam cube which can be moved from room to room as ever you wish. The photos print beautifully on the cushion fabric – a real treat for the whole family really!
Let Her Create The Perfect Photo Gift
Pressed for Time? Are you in a pinch and need Mothers Day gifts? No problem! Mothers Day gift vouchers are available for same-day dispatch or we can even email you a printable card for Mothers Day. Save both time and the environment by printing the voucher yourself for our personalised photo gifts on one sheet of paper.  The recipient can redeem the voucher with us through the unique code on the card. This way, Mum can get the perfect photo gift for herself whether it is a Photo Canvas Print of your baby picture or a Photo Blanket of the grandchildren.  Either way, you choose, you will be able to find quality mothers day photo gifts.