Yes, we know, everyday should be Valentine's day because you're meant to show your love every minute of every hour blah blah blah. But sometimes we forget to look lovingly into our partner's eyes and declare our undying love. Why? Because it's 8pm, there's an interesting documentary on and quite frankly, reciting a Shakespearean sonnet is a lot of effort right now. Don't judge.
So, if you're anything like us, February 14th is the perfect excuse get cuddly on the sofa or kinky in the bedroom. In case you haven't guessed, this post is all about the latter. Be inspired by the humble boxer short and design your own valentine's day underwear for men.
Funny Boxers for Men
This is an ideal theme for couples who are so over being romantic (but still want to get under their partner from time to time). Personalise a pair of boxers with a relevant Mr. Men character to represent your boyfriend's…erm…trouser snake. Mr. Bump is an obvious one, but you can really get creative here and invent your own. Take an existing Mr. Men character but give it a different name to boost your hubby's ego. However, if you really, truly, are done and dusted with any romance, be super cheeky and poke fun at your man's stamina with a Mr. Lazy or Mr. Rush inspired design. After all, it's just a joke, right?
Sexy Boxer Shorts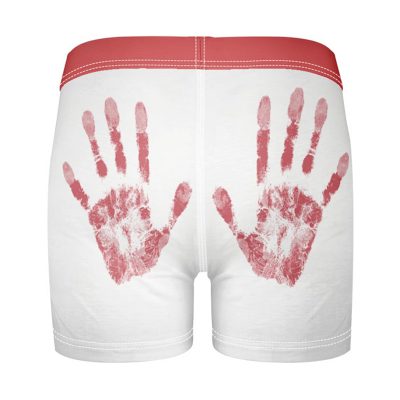 Put a night of passion on the cards for your fella and surprise him with some sexy boxer shorts, personalised with his manhood's pet name. (If you haven't got one just include words like 'big' and 'manly' and you'll be fine). With his package nicely packed away, all that's left now is for you to unwrap your Valentine's day present…
Another way to personalise your man's Valentine's day boxers and get their heart racing is to print your very own handprints. It takes a bit of craft, but he'll appreciate the effort (he should do anyway!)
Dip your hands in paint
Print them onto plain paper
Take a good, quality photograph of each handprint
Using a photo app or your computer, cut out the background
Upload each handprint onto our design tool and position wherever you like. Et voila!
Property of 'You' Boxer Shorts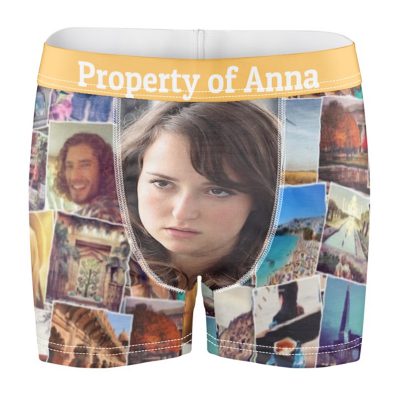 Not that we are in any way implying that your partner will present his manhood to another, but one can never be too careful. Show him who is boss and design a pair of Valentine's day boxers that tell any trespasser who this package really belongs to! Printed with your sternest facial expression and the words 'Property of [Your Name]', you can rest assured this pocket rocket won't be going into galaxies unexplored.
Superman Boxers
Ah, the classic Superman boxers; an easy way to tell your boyfriend he is 'super' in bed and that yes, he is indeed a man. Masculinity is fragile in today's society so be sure to protect your man's cargo from any emotional damage! Jokes aside, this is a staple design for valentine's day boxers, and you can customise a pair with their own name and initial in the logo, just to reassure them you're not secretly wishing he was Clark Kent (even if you are).
Download the Superman logo with different letters here.
Batman Boxers
Turn your boyfriend's childhood dream into a reality and let him be The Dark Knight, for one night only. Personalise Valentine's day boxers with the classic superhero's symbol and get ready to be taken for a ride in his Batmobile. With the addition of a kinky quote such as to 'To the Bat Cave!', these customised boxer shorts might just cause your partner to run out of bat fuel.
Groom Boxers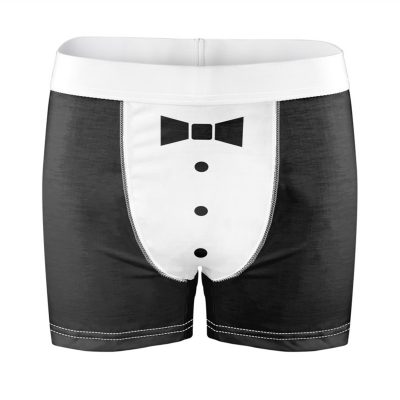 Design a pair of personalised groom boxers for your hubby-to-be for Valentine's day and give him a sneak preview of married life. Well, married life whilst it's still in the honeymoon period… Tease him with candid, but classy photos of you in some personalised cute knickers, or a silky personalised kimono. Leaving something to the imagination will make wearing them all day without giving in to temptation that little bit harder. Pun obviously intended.
Your sexy surprises don't have to end there though. Imagine whipping off your wedding dress (after a good 30 minute struggle whilst he unties ribbons and you detangle your legs from several underskirts) and there to greet him is a pair of personalised bridal knickers, printed with Mrs. [New Surname]. Cue fireworks.
Design Your Own Valentine's Day Boxers
It's fun, simple and a great way to show your man how special and unique he is to you on Valentine's day.