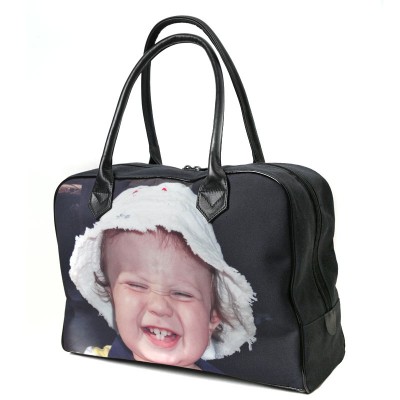 Personalized Gift Ideas For New Dads
If your husband and boyfriend became a father just recently, this might be his first Fathers Day, then you might want to give him Fathers day gifts from his baby. And personalized fathers day gifts from baby are the best. With the help of photos you can personalize many of our gift ideas that are perfect to give to him from your child. And as a new arrival in the family brings many photo opportunities there will be plenty of photos to chose from. Gifts from his baby on Fathers day will bring him to tears no matter what he gets but there are a couple of items that are just perfect fathers day gifts from baby, like the holdall bag.
Photos For Fathers Day Gifts From Baby
Choosing the photos for the personalized fathers day gifts might be hard because there are just too many cute one's to chose from! There's that one of your husband holding the baby in the hospital, that one of the three of you on your first holiday or that photo of your baby boy or girl looking too cute for words. Once you've decided on that one photo you want on the gift it's time to chose the actual gift. Might we suggest that for a busy dad there are no greater gifts ideas than useful gifts like a holdall bag, laptop bag or wash bag. For running around with the baby doing errands and what not it's great for dad to have a personalized holdall bag with that cute baby face on it!
Pop Art Treatments And Text On Fathers Day Gifts
Take these gift ideas for the new dad one step further by adding text, alternative colouring or Pop Art treatments. The photo in question might be in colour but you feel like a holdall with the photo in black and white or sepia will have a greater impact, no problem, we'll change that for you. Or a Pop Art treatment like the Andy Warhol or Banksy styles will put a modern twist on the bag – and the baby! Your precious baby will be made into a piece of art, how cool is that? A personal message on the bag is also ideal. "From Daddy's Favourite", "With Love From James" or "Yummy Daddy" will add an even more personal touch to these fathers day gifts.