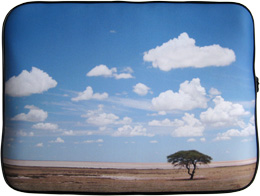 The digital age is quite clearly alive and kicking and virtually all of us know somebody that could be considered a computer geek; the kind of person that just can't leave their laptop at home. Maybe you're one yourself, in which case you'll understand the appeal of the laptop – primarily, that's the fact that you never have to be without it and you can take it everywhere.
Photo laptop bags are the perfect personalised Christmas gifts for the computer geek that never leaves home without their laptop. It can be personalised with any photograph or image on one side or it can include different images, one on either side; the choice is yours. Fortunately, most laptop bags are a standard size offering sanctuary not only for what can often be a hugely expensive piece of kit but also for the many peripherals and bits of hardware that are also required.
You have complete control over the image or images that are included on the photo laptop bag. You could add one or two images of the gift recipient creating truly personalised Christmas gifts or you could opt for a photograph or image of any item, person, or place. You could even use artwork or a message if you want.
The beauty of personalised Christmas gifts is that they give you a genuine opportunity to offer a unique gift at Christmas. You no longer have to rely on the giving of money or gift vouchers thanks to personalised gifts and the customised laptop bag is just one such item that we at Bags of Love offer. We have many other items that would make ideal personalised Christmas gifts.