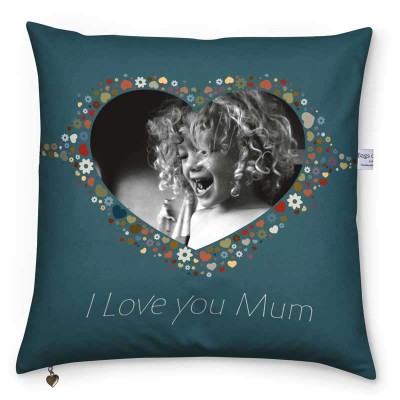 Personalised Gifts for mum: Personalised cushions
Finding personalised gifts for mums for any occasion of the year can be a hard one. For Christmas you want to give her something she can enjoy but also perhaps something that suit the season. On her birthday it's all about celebrating her life and achievements and on mother's day you want to show her all the love you have for her. Personalised gifts by Bags of Love are ideal for any of these occasions. Use personal photos on gifts such as our range of personalised cushions to create mother's day gifts filled with love.
Mother's Day Gifts from the heart
The freedom of personalised gifts from Bags of Love by being able to use any images on our products mean that you can make your mum mother's day gifts from the heart. Because not only do you choose the image (can be a photo, print, drawing or collage) you also choose the colour, optional print and text. So choose your mums favourite colour and a print you think she would like to make those gifts extra thoughtful – straight from your heart. A bit of text is the icing on the cake as you can express yourself in words.
Range of Personalised cushions
What's so great about giving personalised cushions as mother's day gifts is that you give your mum something super personal for her home. The cushions can include photos, images, prints, colour and text and they come in many shapes and sizes. The photo cushion, floor cushion, love cushion, sausage cushion and pillow cases are all ideal as mother's day gifts. We have also created a special mother's day cushion which is available in two different styles for you to choose from.