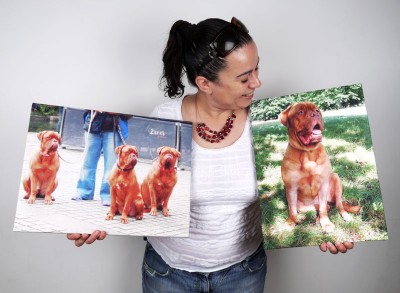 What is your name?
Patri
What is your role at Contrado?
I am SEO exectutive.
What does that involve?
I take care of the Spanish website, www.fotoregalosoriginales.es. I add new products to the website, write blogposts, search keywords, and I do the work on our social media. I try to raise the profile of the company and I absolutely love the products! I also do customer service, which I love doing because I believe the gifts that we offer can improve people's lives.
The thing you most like about working here?
I love my colleagues. It's fun to work with them and they are very competent. There is a lot of brainpower around me but there is a good sense of humour as well. Again, the products speak for themselves.
Your favourite product?
In the picture I'm holding canvas prints, but to be honest there are many products that I absolutely love. I think my next conquest will be the photo blanket.
Why?
Because after getting many orders, I have grown to love it. Now I can really see what they all love about it – it's a pretty fabulous item! Also, I have loads of pictures of my dog and I need a big surface to print all of them. So the blanket and the photo quilt would be absolutely perfect – there is something really special about wrapping yourselves in your own images, if that makes any sense!
Any distinguishing features?
I'm passionate about people, I love loving my job, and I am persistent. But, on the downside, I am a perfectionist.
What's on your iPod at the moment?
I don't have an iPod, but I love classical music – even though it sounds like I'm making that up, I'm not! I love musicals – all sorts of musicals. Young and old, my favourites being 'Mary Poppins' and 'Oliver'. I don't really like much more than that!
Favourite food?
Don't ask me that now because I turned vegetarian 5 months ago, so I'm going through a major shift at the moment! Ask me in 2 years time and then I'll answer you.
Most desired superpower?
To be able to find out if life is real or not.
Nice choice! Anything else?
I love it when customers call me and talk to me directly. I know this is an online company but there is something very special about being able to help someone create a gift they will love. So feel free to contact me through Facebook and Twitter (@regalosfotos).