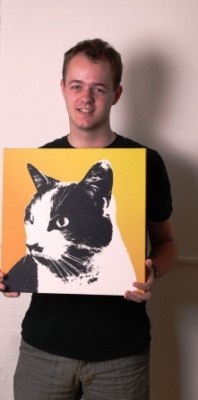 What is your name?
Matthew, Matt – I'm cool with either!
What is your role at Contrado?
I'm Web Content Editor at Bags of Love.
What does that involve?
That involves creating all the cool pages you see for the plethora of gifts we have to offer at Bags of Love! I also work closely with the team on our sister site, http://www.photo-canvas.com/. Perhaps that's why I love the canvases so much! I'm responsible for the content on the websites and for writing blog posts that detail certain features of each product. I'm the youngest member here but I am determined and I love being able to work with such a creative group of individuals.
The thing you most like about working here?
I'd definitely say the atmosphere. It's not often that you can actually wake up in the morning and say that you are looking forward to the day ahead. In my office there are 2 German girls, a Spanish girl, an Argentinian guy, and a Texan girl – I just love the different linguistic and cultural customs that I witness whilst I work. I study modern languages (Spanish) at university, so this is a fantastic environment for me. Being the only one in my office who was born and bred in London, so I'm also delighted that we make and send our personalised gifts in our London premises.
Your favourite product?
Che Pop Art canvas prints!
Why?
Because they're so bold and visually impressive! Just imagine walking into the living room or hallway and seeing one of these on the wall – wow.
Any distinguishing features?
I'm colour blind – does that count? It can get quite difficult, working at a photo imaging company… Perhaps I picked the wrong career! Occasionally I have to ask someone to clarify, but in truth problems are very infrequent.
What's on your iPod at the moment?
I love mellow, acoustic stuff because that's the kind of music I like to write myself. James Vincent McMorrow features about 5 times in my top 25 most played songs!
Favourite food?
Paella – I love the Spanish culture!
Most desired superpower?
Telekinesis. How awesome would that be? I once read a joke that went something like 'How many of you believe in telekinesis? Raise my hand'.
Anything else?
I'm always thrilled to get feedback from customers because I love socialising across the web with happy recipients of our gifts. Especially when they receive Che Pop Art canvas prints! So feel free to contact me through Facebook or on Twitter (@BagsofloveUk) – I'll get back to you asap.