At Bags of Love, we are lucky enough to have some of the nicest customers in the world! Sometimes our lovely customers get in touch and let us know how much they love their Bags of Love products, and sometimes they go one step further.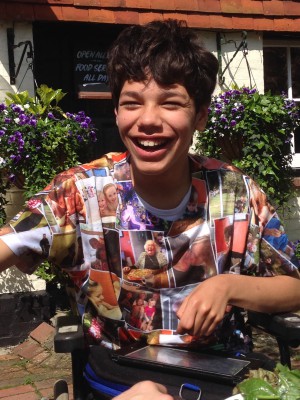 Meet our new friend Nathan, this cheeky looking chappy with the infectious grin!
Nathan's mum, Susie, and we got chatting on our Facebook page and after hearing a bit about how much her son loved his Bags of Love products and how much they mean to him, we decided we had to find out more about him and the family. When we asked if she would mind us writing a blog post about Nathan, her lovely response was; "I'm so thrilled to be given the opportunity to tell you guys how brilliant you are for Nathan and us!"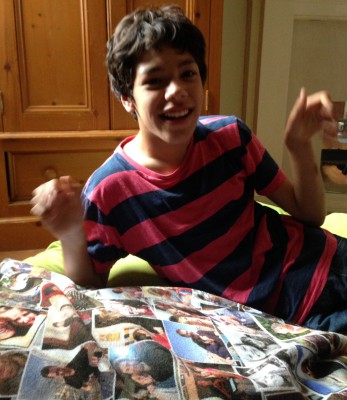 Nathan was born with a condition called Microcephaly and has Global Developmental Delay. His parents discovered this when he was just a baby and they were told by doctors that he would always have difficulties. Now, at nearly 16 (and with a younger brother and sister in tow!) Nathan has severe learning disabilities and restricted mobility, with little understanding of spoken language and no speech at all. This makes it very difficult for Nathan to communicate with other people, which is so hard as according to mum Susie, he is a very sociable and happy boy (made very obvious to us by his ever present smile in his photos!)
This has also made things tricky for the family when it comes to buying presents for Nathan for Christmas and his birthday, especially as he is a bit of a stickler for things he likes and things he doesn't like. However, Nathan has always had a love of photos. Susie told us that he loves looking at photos of people he knows, characters from TV and sports personalities. Nathan's two main loves in love are sport and photos. With that in mind, Susie and her husband Ricky found themselves buying sports annuals and making photo books for him, however, these never lasted very long.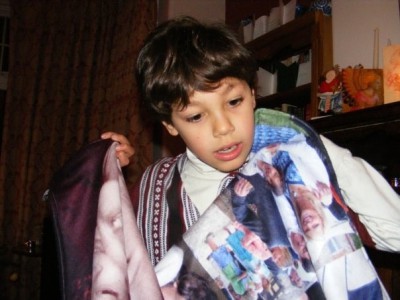 It was around this time that Susie happened to find Bags of Love. She immediately spotted our cosy photo blanket and she; "Felt like jumping for joy! Finally Nath would be able to take his photos out anywhere with him. He couldn't spoil them in any way and I could even wash them (something any parent of a disabled child needs to regularly with everything!) I'll never forget Nath's reaction the day he opened his first Bags of Love present, it was priceless! As the wrapping paper came undone, his eyes widened with disbelief then he grinned and let our the most enormous shriek of delight! He spent hours studying every picture on the blanket and kissing it."
Because Nathan can't talk, he is unable to start conversations, but when he has his blanket with him, he is able to take people's hands and point to a picture on it. Susie tells us that this puts both him and the other person at ease, as they can share the experience together and the other person can talk to him about the photos.
We love how this shows just how powerful a photograph can be and that by displaying them on personalised gifts, such as his beloved blanket, Nathan is able to communicate with others , in a way he wasn't always able to before.
He loved his blanket so much, that Susie and Ricky have also bought our pillow cases, t-shirt and wallpaper borders, so now Nathan has built up quite a collection of our photo gifts!
He understands and recognises familiar people, so his little brother Cian and little sister Holly and other close family members and friends are all present on the products – "He's so proud of his siblings, so he particularly loves pointing at them and having someone talk to him about them when they are not around."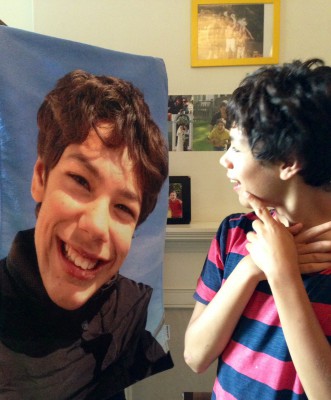 When Susie told us that Nathan is turning 16 soon and the family are off to France for Susie's brother's wedding, we jumped at the chance to send a special present out to Nathan to say thanks for being such a great fan of Bags of Love. Susie chose a towel for Nathan, covered with all of his favourite photos of friends and family, which he was able to take on holiday for him. Our day was made when Susie sent us a photo of Nathan seeing his new towel for the first time. I think it's safe to say we have all fallen in love with him!
We are so happy that our products can make such a difference to people and can bring so much joy and happiness, not just to the recipient of the gift, but to the gift givers as well. It makes us very proud and strive to create even more lovely products, which could hopefully help more people and bring more smiles to even more faces.
A huge thanks to Susie for allowing us to share Nathan's Bags of Love story and a special hello (and we hope you are enjoying your summer holiday) to the rest of the gorgeous family – Ricky, Cian, Holly and of course our new friend Nathan.
Bags of Love x