We hear from our customers all the time, telling us the story of their Bags of Love products and how they have made an impact on their lives.
Some people choose personalised gifts to surprise friends and family with news or an announcement, such as a proposal. We've all gone "Oooh" and "Ahhhh" when happy customers email us to let us know how their proposal went, using our products to do the deed! So, that got us to thinking about starting a new series on the Bags of Love blog, a "How to" series to be precise. We want to share ideas with you about how to do certain things in life, such as "How to Propose," "How to Renovate your Home," "How to Throw a Surprise Party" etc.
First up, is a particular favourite; "How to Announce you are Pregnant!"
Now, when it comes to announcing something as amazing and life-changing as "We're Pregnant!" you need to put in a lot of thought. Some people choose to be more casual and relaxed about the announcement, whereas other couples prefer to have some fun thinking up clever and funny ways to share their happy news with friends and family. If you fall under the latter category, then we have come up with some cute and unique ways to announce to the world, "we're having a baby!"
There are 2 big announcements really, when it comes to pregnancy. First is the actual revealing of the pregnancy and second is if mum and dad choose to find out the baby's sex and announce it to friends and family. There are ways to have a lot of fun with both of these. First, let's have a look at some of our favourite ways, using Bags of Love photo gifts to surprise your nearest and dearest with the news that you are expecting.
 Don't Just Say It, Wear It!
At Bags of Love, we have a growing collection of gorgeous customised clothing, which can all be personalised by you! Why not share your happy news by uploading a fun "Baby on Board" logo onto our handmade Customised Dress or our Cut and Sew T-Shirt?  Imagine the scene: you've planned a dinner party with your nearest and dearest to announce to them your big news and instead of saying anything, you pop on your Baby on Board customised dress and let your clothing speak for you!
Surprise!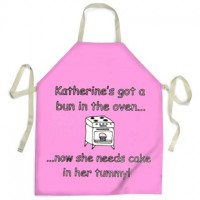 Don't fancy saying it with a dress? How about showing off that you have a bun in the oven? We think our Personalised Aprons are perfect for this (and very appropriate!)  If you have people coming round for a spot of tea, or are going round to family and offer to help wash up, simply pop on our Personalised Apron, complete with your very own design and watch their faces light up with excitement!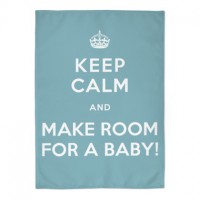 Speaking of helping out in the kitchen, what kitchen is complete without tea towels? Our Photo Tea Towels are a fun and subtle way to share your happy news. When your parents come over for a cup of tea, have the personalised tea towel hanging up in the kitchen ready to be used, with your announcement displayed on the front!  We particularly love our "Keep Calm" tea towel for this. "Keep Calm and Make Room for a Baby" will go down a treat…along with another cup of tea and a few biscuits to celebrate!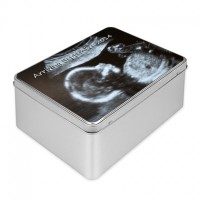 Don't like tea towels? Then why not serve the Custard Creams in your own Personalised Biscuit Tin – complete with baby scan and due date. Cute!
What's Hanging?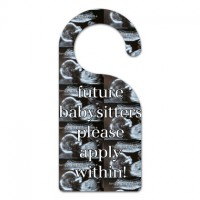 Or a personal favourite, our Personalised Door Hanger. Design it with the words "Future Babysitters Apply Within" and hang it on your front door to greet your guests! That will really catch them off guard.
The Greatest Surprise of All
If you are thinking of surprising your other half with the news that you are going to be parents, you might like to make him on of our Personalised Books of Love.  These gorgeous photo books can be personalised with your photos and words. On its pages, start by uploading photos of the two of you together, through dating to holidays, special occasions and holidays and end it with your exciting new chapter and perhaps a photo of your positive pregnancy test. The reaction will be truly priceless, and it will be a keepsake he can keep forever.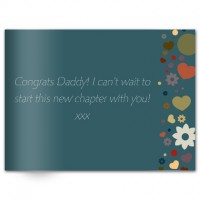 Pink for a Girl, Blue for a Boy!
Now, if you are planning on finding out what you are having, a little girl or a baby boy, then why not share it in a sweet and memorable way? We love the idea of using personalised gifts to make the announcement. If you're having friends and family round to share the news, then our Personalised Cake Stand is a fun choice! With it's 3 tiered design, choose to design the first and second tier with "Girl?" and "Boy?" on a pink and blue background and then on the bottom tier, tell the world…"We're having a GIRL/BOY!" Is there a sweeter way to make this amazing announcement?
Or how about using our stylish Personalised Flip Flops or comfy Personalised Socks to share your news? Simply design one pink, with "GIRL" and one blue with "BOY" printed on them and have fun while everyone tries to guess.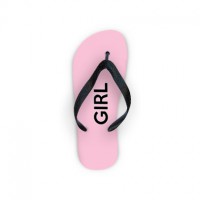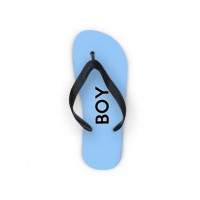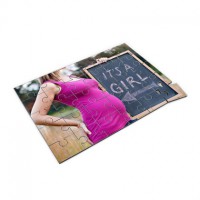 There's room for one more idea we think. Our Personalised Photo Jigsaw Puzzle is a fun and unique way to tell your loved ones what you are having.  Simply create the design displaying your news and upload it onto our design interface. Once you have your photo puzzle, mix up the pieces and invite your friends and family to put it together, and watch their faces when they reveal the news! Priceless.
So there you have it. We hope that you have found some inspiration with our ideas on how to announce you are pregnant. We'd love to hear from you if you try any of these out, or if you have another fun way of sharing the news! Let us know in the comments below.
Bags of Love x