Who knew a basic personalised t-shirt could go viral? 
You might have read a story today about a girlfriend, who designed a personalised t-shirt for her boyfriend to wear, when he went on holiday to Ibiza without her.
Abbie Bartlett, seemingly a somewhat possessive girlfriend (but actually a girl with a pretty cool sense of humour), made her boyfriend of 6 years Leon, a very "special" custom printed t-shirt for him to wear when he goes to the party capital of the world. Abbie designed the t-shirt with a montage of photos of the couple, with the text "I love my girlfriend Abbie, I hate the girls in Ibiza, so please stay away from me!" Wow!
Although we don't really recommend creating customised t-shirts for that reason, it does go to show that you can have a lot of fun (and possibly create a viral hit!) with a personalised t-shirt.
If you fancy creating your own customised t-shirt, we have 2 gorgeous versions to choose from. Our All-Over Printed T-Shirt allows you to produce your design on the front and back of the entire t-shirt. We don't use transfers, which crack or peel off, our t-shirts are printed all over, deep into the fibres, so the print in permanent, looks fantastic and can have an edge to edge design. With a choice of 6 sizes, you can design one for your girlfriend or boyfriend! 
Our second option is unique custom Cut and Sew T-Shirt. These t-shirts are made to order in every detail. You can customise every part of this beautiful t-shirt, from top to bottom, front to back and even the sleeves, neck tape and label! Again, we print your designs deep into the t-shirt's fabric, leaving a beautiful and permanent print. This really is a one of a kind customised t-shirt, and you can put your mark on every part of it.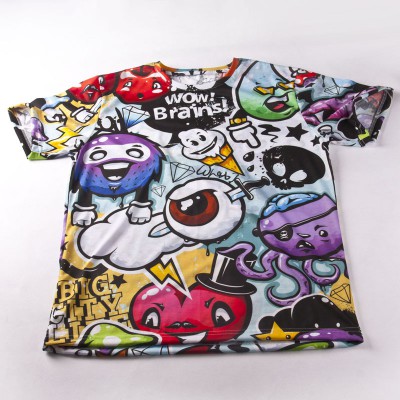 So there you go! If you are looking to create your very own personalised t-shirt, or something else from our customised apparel collection, just click here to get started…and good luck in Ibiza Leon!
Bags of Love x