Photo Montage for Canvas Wall Art
Bags of Love offers a range of photo montage options for your personalised canvas print. We have some lovely montage styles available for you, so you can create the perfect photo montage canvas. This blog will talk you through the differences between the montages and how you can create them yourself! It's quick, fun and easy to do – and it's free to try.


Create Your Own Tile Montage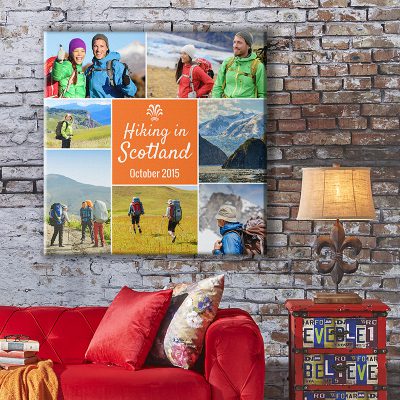 This classic style of photo montage is created by the customer online, using our simple design system. All you need to do is upload each picture individually into the design system and then resize and move the images around to create a neat and balanced montage. The key feature of this style is that the images keep their original orientation. You can only shift images by 90 degree turns, so while you can have upside down photos, you can't actually rotate them from side to side. This feature creates a distinctive and super stylish tiled look, with all corners and edges aligned. It is free to try this online for yourself and is a really lovely, polished way to present a number of photos together.


Automatic Scatter Montage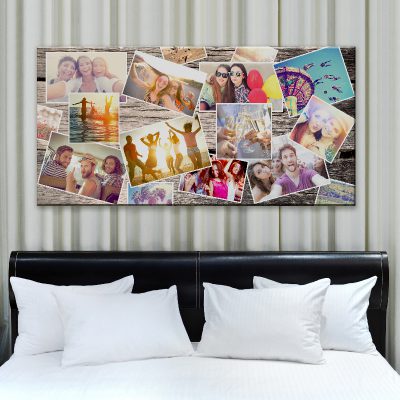 Another style of montage we offer is the random scatter montage. This displays your photos in a fun, scatter effect with your pictures automatically and randomly dispersed over and around the canvas. Each image features a thin, white border frame, overlapping and overlapped by the other photos in the montage design. The final effect is more striking and perhaps more vibrant than the tile effect photo collage canvas because the lines of each image are intersecting, which draws your eye across and around the canvas over and over again.


Photo Frame Montage
The final type of montage you can create, features image overlap with a main photo as the canvas background. In this style, you can choose one of your images as the background and all of your other photos will be placed on top, with, or without, accompanying text. You can also use images from our image library. This is a very sophisticated style and is very popular for wedding photos and as anniversary gifts.


Visit our Photo Montage Page to find out more on the styles available and how to order and if you need any help or advice, call, email or use the online chat to talk to our customer service team.
Bags of Love x