Following on from our previous designer interview, from our Summer Daze competition, we would now like to introduce you to one of the winners of our Blooming Marvellous floral print t-shirt design competition, Eerika Leino. 
Bags of Love: Hi Eerika, can you tell us a little bit about your design?
Eerika: My Blooming Marvellous design was inspired by a trip to Kew Gardens, where I photographed exotic plants and flowers and combined the imagery in a digital print. The dark blue, purple and pink print combines the elegance and femininity of the flowers with the mystery of the dark jungle. As the print is so large-scale on a t-shirt, it gives out some Hawaiian shirt/90's vibe – well…for me at least! It would look great paired with some plain skinny trousers, funky sneakers and a backpack.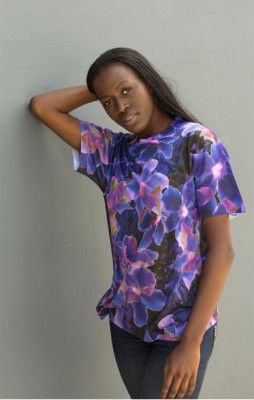 Bags of Love: What is the inspiration behind your design? Is there a story, which accompanies it?
Eerika: The print was part of a collection trying to encapsulate the "adventurous mind," hence I looked at tropical nature, foreign landscapes and mysterious rainforests. I wanted to create statement designs, which would draw people into them and inspire them to find such moments in their everyday life – to feel alive, confident and ready to step out of their comfort zone.
Bags of Love: Do you have a website or online store, which we can share with our readers?
Eerika: You can find me on Twitter @velorous and an online store may follow later…watch this space!
Bags of Love: What do you plan to do with your prizes?
Eerika: I am making 2 pairs of cycling shorts and a pair of leggings out of the printed Lycra. The t-shirts are for me to wear in my everyday wardrobe and the printed cushion, which is currently sitting on my bed, will be given to my grandma as a present!
Bags of Love: How would you describe your style of design?
Eerika:  Colourful, relaxed and cool! My designs usually celebrate little funky moments, journeys or adventures, which make up our days. I specialise in digital prints and work primarily from self-taken photographs. My camera and Photoshop are my best friends! I can see my designs working best with casual apparel and lifestyle brands.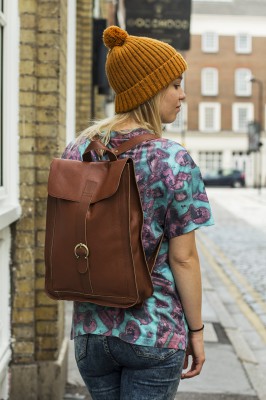 Bags of Love: If you could design any product on the Bags of Love website, what would it be?
Eerka:  I would design trendy printed leggings for those with an outgoing lifestyle – those who love to cycle, run or just enjoy a casual and comfy style of dress.
Bags of Love: What product would you love to see on the Bags of Love website (if it doesn't already exist)?
Eerika: I'm loving the choice of apparel that has recently come onto the website and I would love to see even more! Shorts, jumpers, crop tops, cycling shorts…
Thanks so much to Eerika, for taking the time to talk to us.
Make sure you stay tuned for more designer interviews, and remember, if you would like to be featured, check out our competition page, where we will be launching our next competition, very soon!
Bags of Love x