Clock watching is hardly fun, is it? Staring at the hands for what feels like an hour, only to realise just 2 minutes have gone by. Actually, clocks in general are pretty mundane. But, not anymore! These funny clock designs are a total game changer. From a clock that shows you what your boyfriend is thinking about all day, to another dedicated to the #BasicBitch lifestyle, they put the 'fun' back into 'fundamental household item'.
Check out the designs and then have a go at creating your own with Bags of Love. You can use pictures or keep it simple with some plain text. These funny clock designs have been printed onto our Round Clock with No Dial face, but there's also the Square and Rectangle Clocks, if you're feeling a little, 'edgy'. I used a free design tool, Canva, to create the cartoon style clocks, and then uploaded the image into the Bags of Love design interface. But obviously you can create a masterpiece without using a tool – you just need the idea! Design your own now and make an original gift for late mates, predictable Percy's and busy mums.
#1 New Mum o'Clock
I can only imagine that having a baby is incredibly stressful, sprinkled with a few rare joyous moments like when the baby is asleep. Joking aside, I also imagine that this funny clock design is probably fairly accurate of how a new mum spends her time. Long soaks in the bath are a thing of the past, and you can forget about painting those nails! Whilst this might serve as a torturous reminder that 'Me Time' needs to be squeezed in between feeds and nappy changes, it also shows just how much love and affection you're giving to your little human. Cute!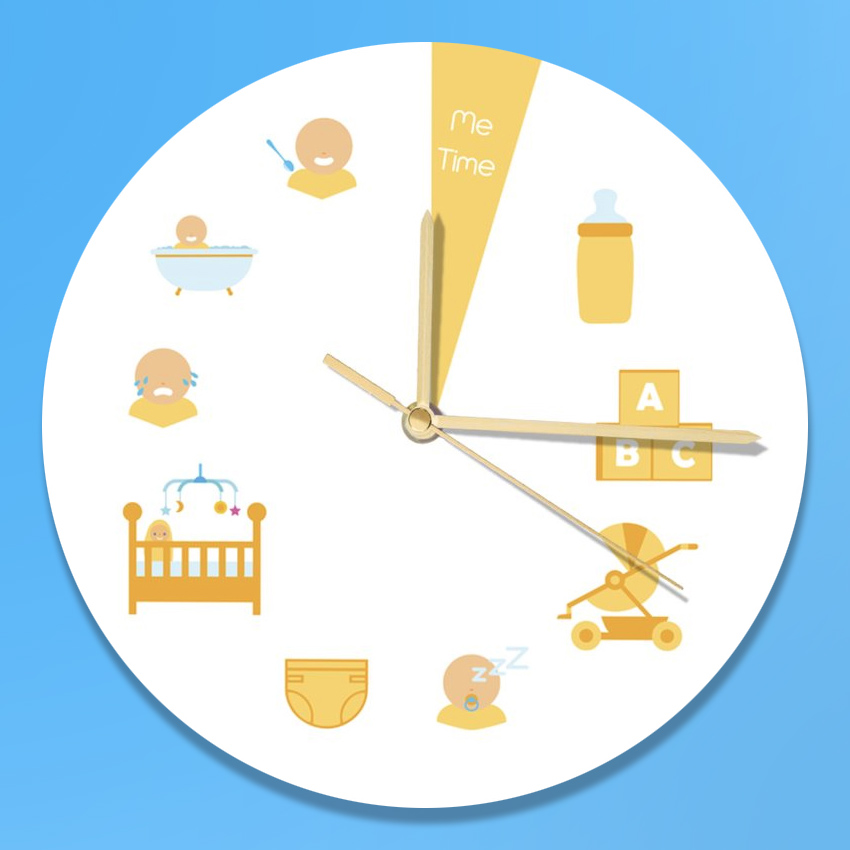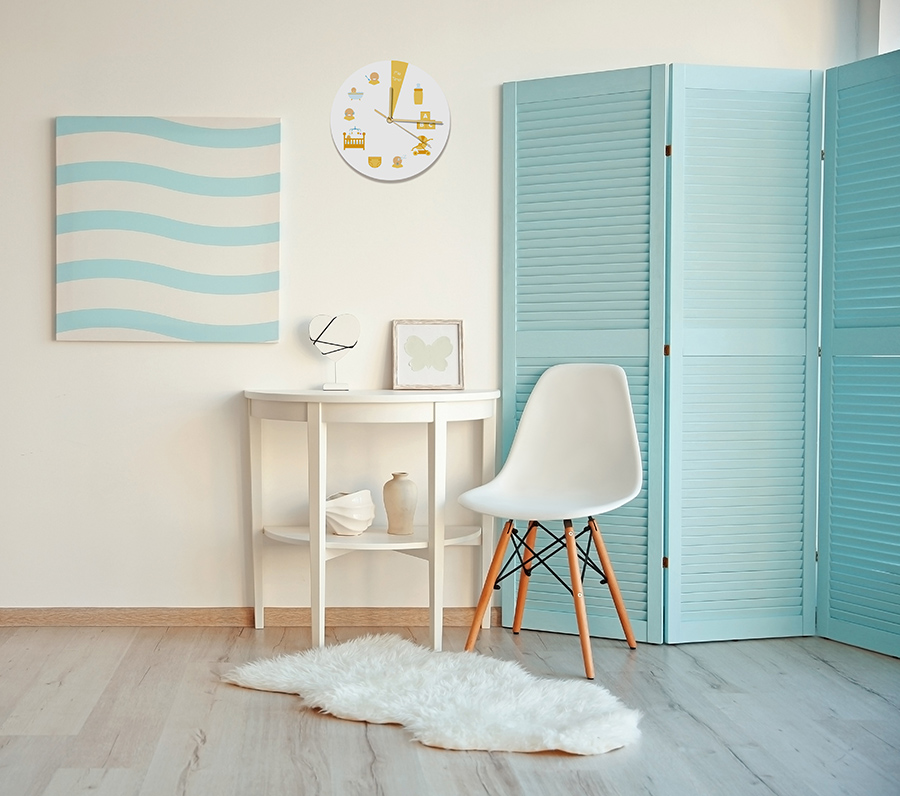 #2 Basic Bitch o'Clock
Is your best friend a walking cliche? You know who I'm talking about. Starbucks in hand, Snapchat dog filter profile picture, a Mean Girls quote for every situation. There's nothing wrong with being a Basic Bitch, and those that identify as such will *totes* agree. This funny clock design will ensure your basic mate doesn't forget to post a fire selfie or go to brunch just for the Instagram pics. I've added a cool background and chosen the stereotypical Basic Bitch routine. You can copy this of course, but you can also create your own!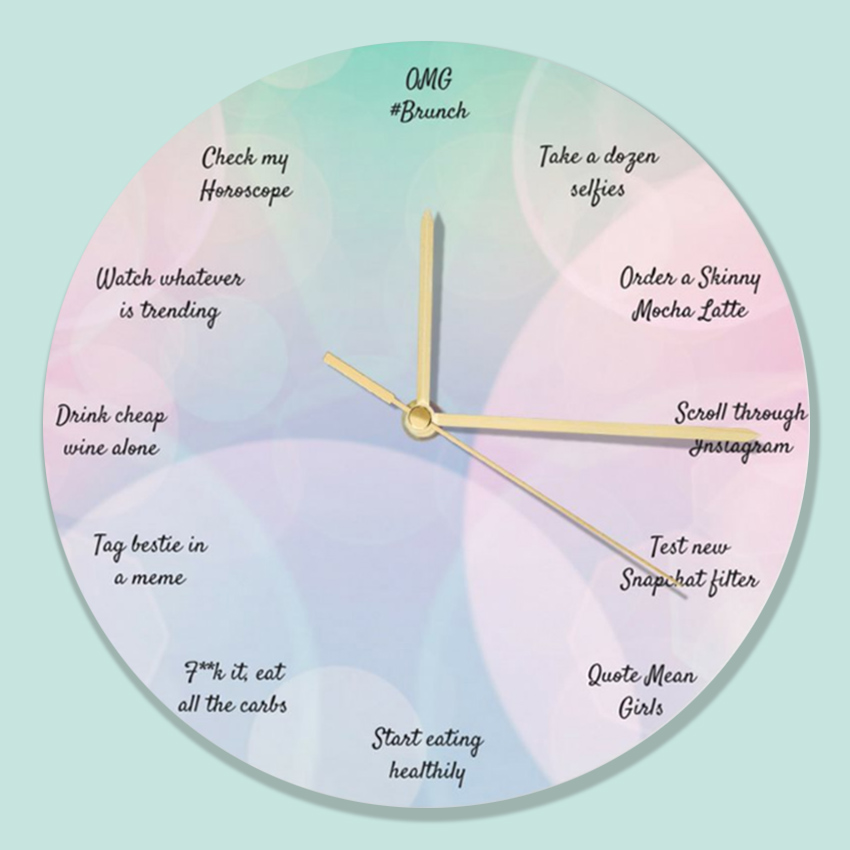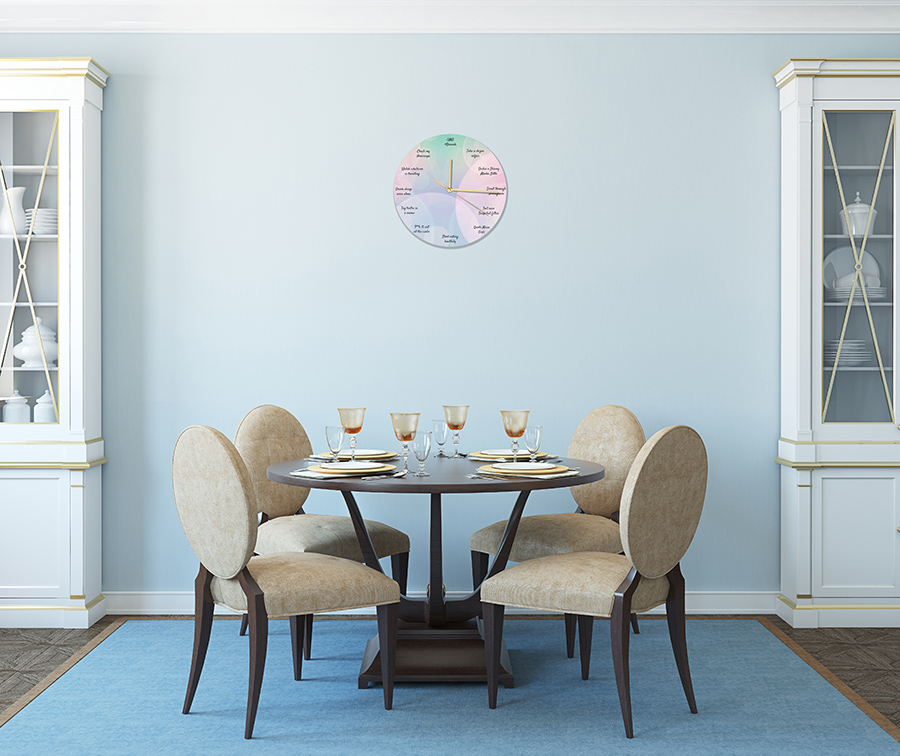 #3 Boyfriend's Brain o'Clock
It's scientifically proven that the male brain is less complex than females, and it doesn't take a PhD to guess what's going on in there. You might be thinking 'but where's Sex represented on this clock?'. Well, that would take up the whole thing, so let's just say it's a given that Sex is always there at the forefront. If your other half essentially dumps you when the new Fifa comes out and would trade you in for a Five Guys, then this clock is for him.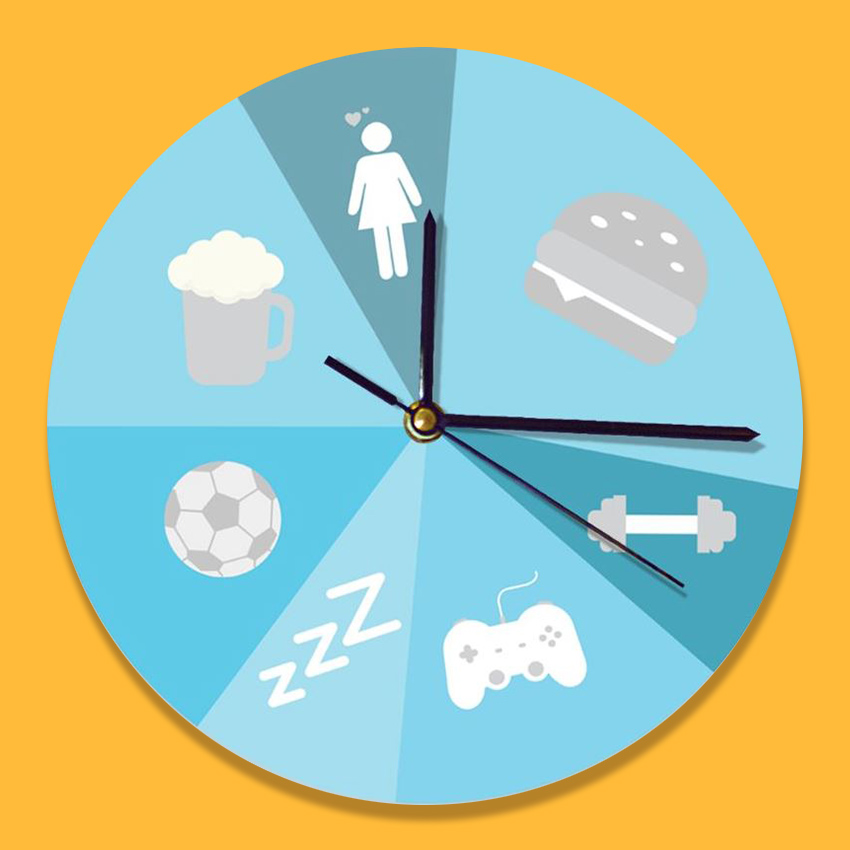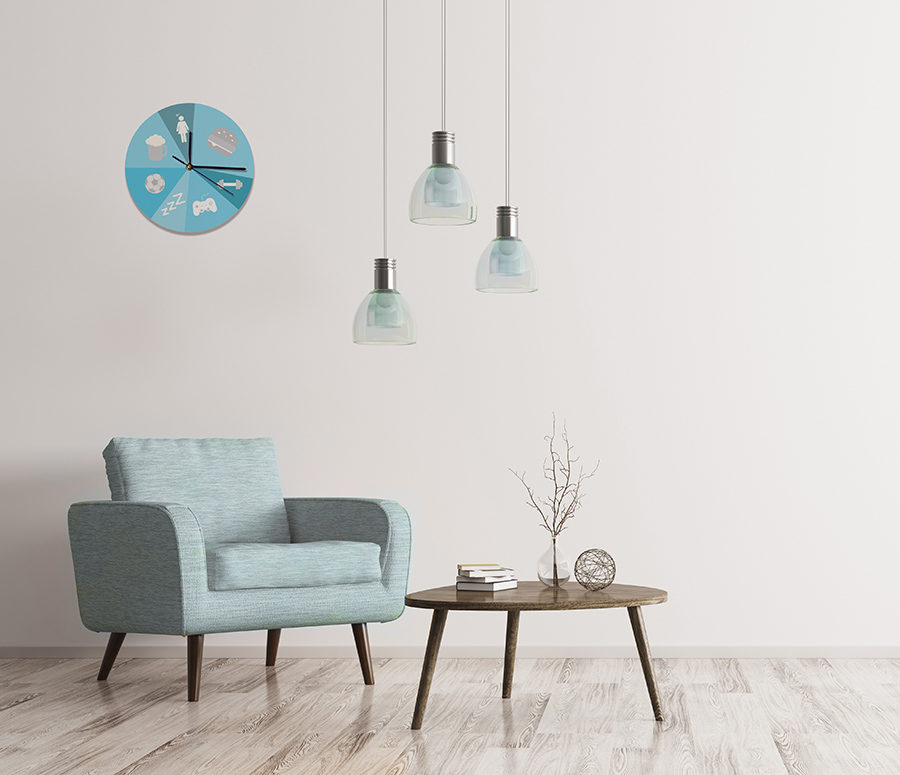 #4 Girlfriend's Brain o'Clock
Okay, if I were to design a clock that featured every single thought a girl has each day, I'd need a bigger clock. Puppies, wine and your ex-girlfriend are daily ruminations, and for some (not me), dreaming up the perfect proposal. Obviously, being strong, independent females, we also think about our careers. (But mostly it's just about how much we need a puppy.)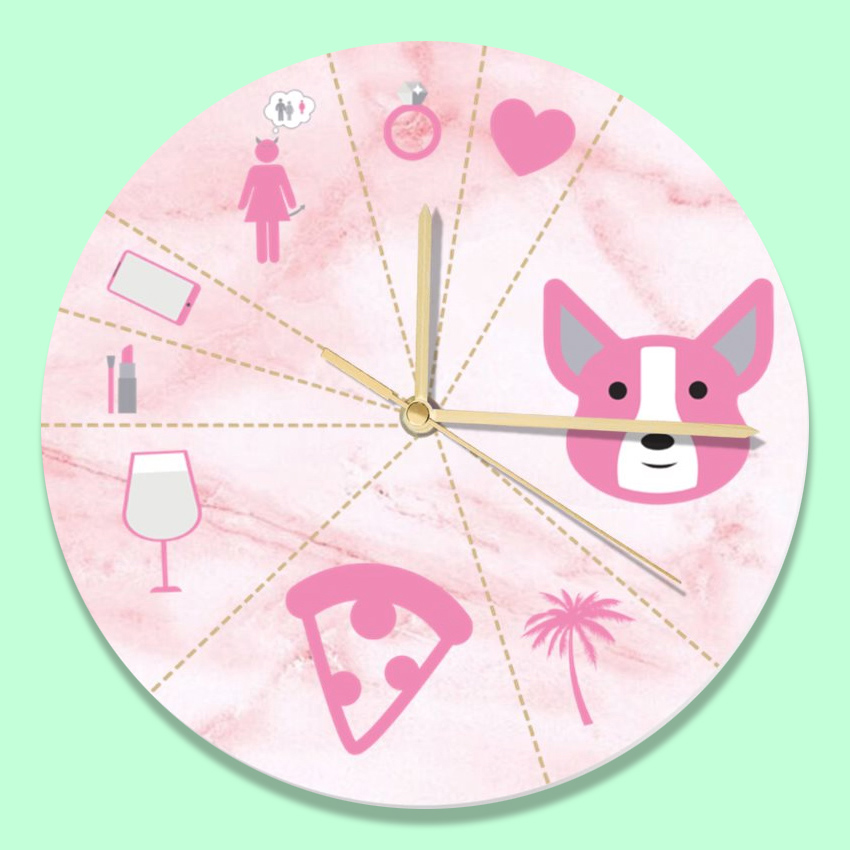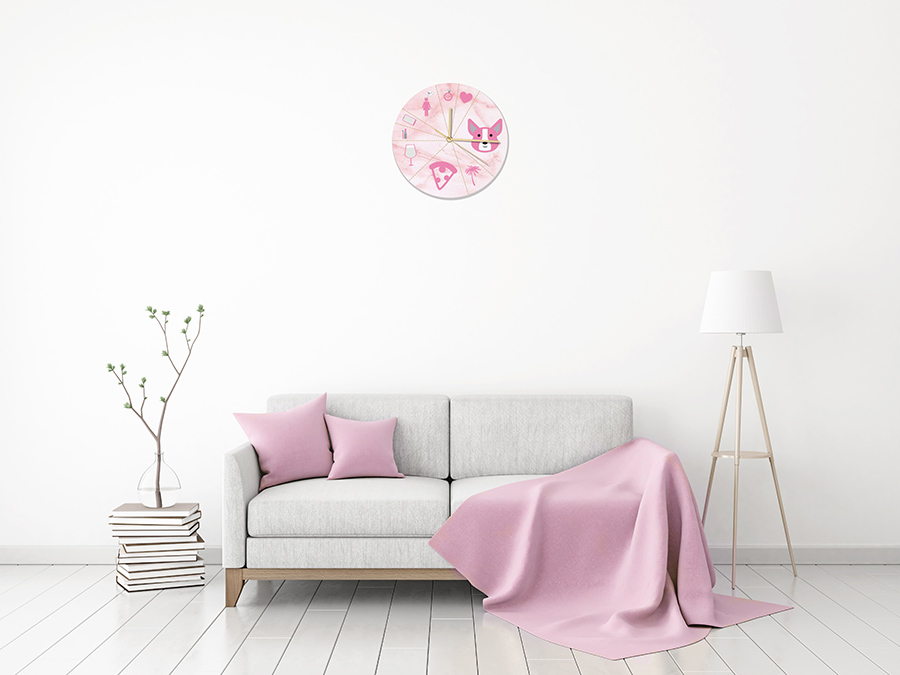 #5 Late o'Clock
Within every friendship group and family, there's always one person who has no perception of time. "Yeah, I'm on my way" means "I've just got in the shower and need to cook dinner so I'll be another hour". When it comes to late people, I think there are 2 types; those who are always rushing but genuinely attempt to get there as soon as they can, and those that are completely aware of their lateness but make zero effort to hurry themselves along. I fall into the former category. I can start getting ready for something earlier than usual, but my brain sees that as 'extra time'. Before I know it, my attempts to be somewhere early have faltered, and I'm still putting my shoes on as I'm going out the door. The latter, however, you are all just selfish.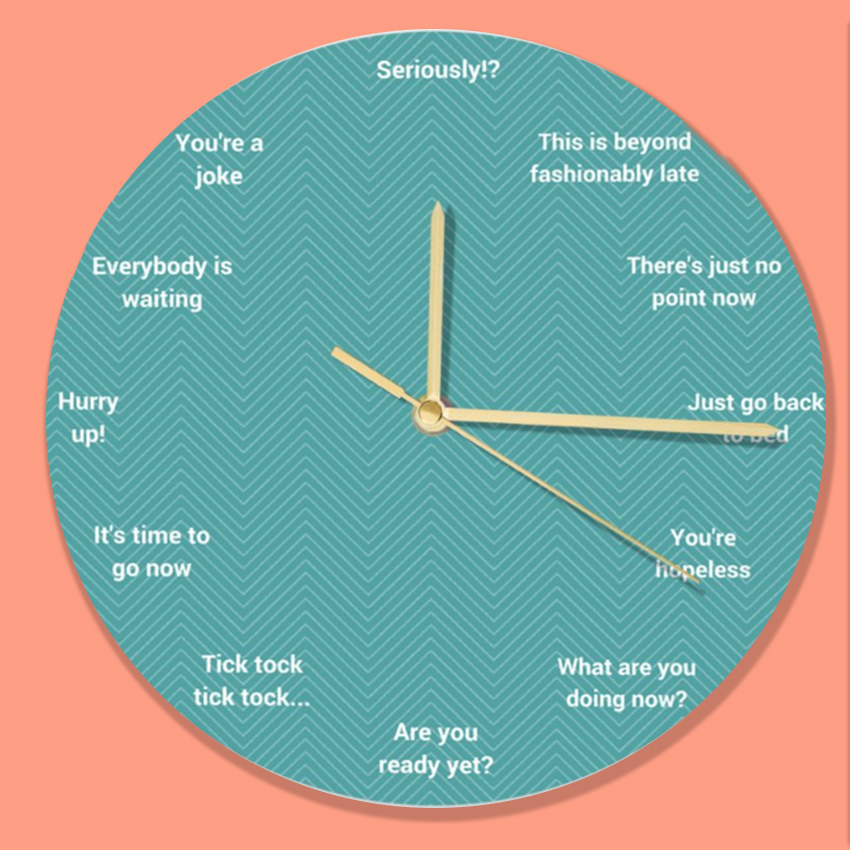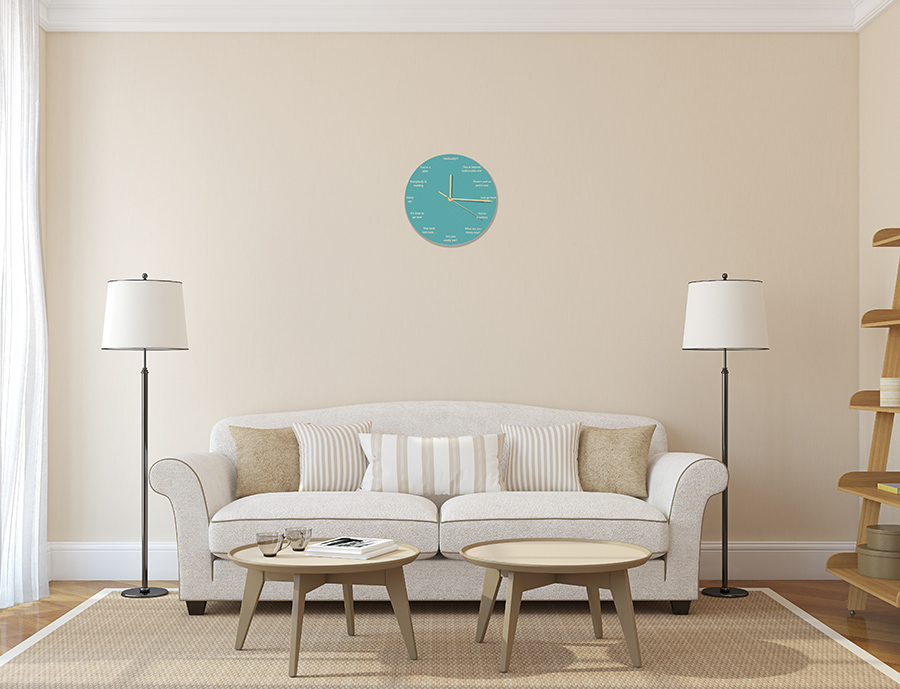 #6 Golden Oldie o'Clock
Getting old is inevitable, but it seems as you enter your golden years, you adopt a few new habits too. If you've been fortunate enough to be close to your grandparents, it's likely you've seen the same behaviours practiced at the same time everyday like clockwork. There's nothing wrong with routine, and as humans we need some form of structure. It's just the older generation are absolute pros at it! For grandparents who don't mind to poke a little fun at themselves, design a clock featuring all their habitual quirks.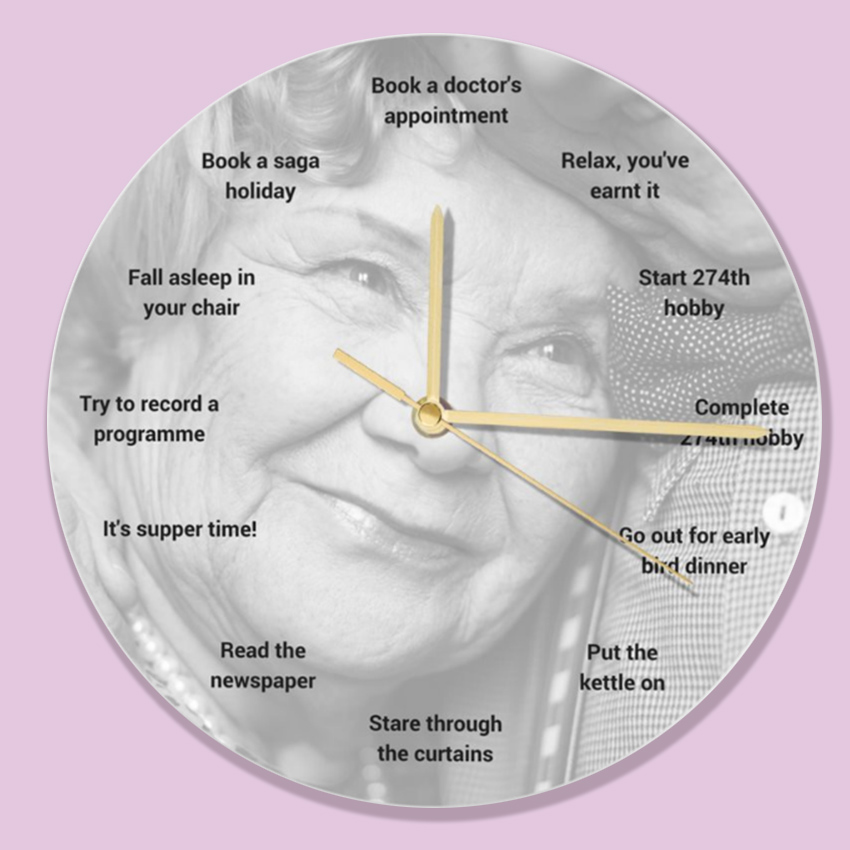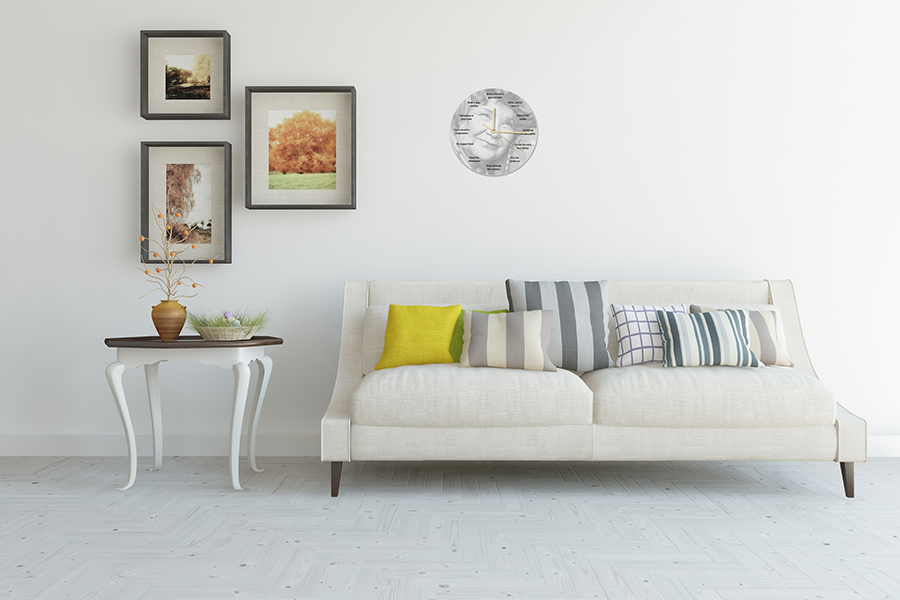 Create Your Own Funny Clock Designs
You know what time it is – time to design your own hilarious clock! Upload your photos, add text, images and give someone a clock that tells the time in their own, unique language.