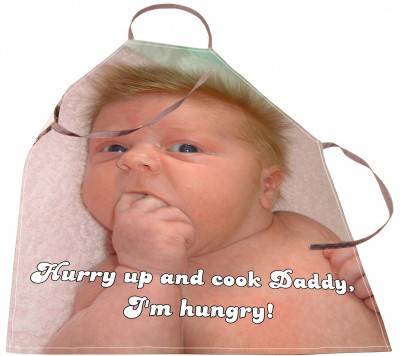 Personalised Gifts From Baby To Father
Your little ones can't tell their dad happy Fathers Day themselves, and they can certainly not buy him fathers day gifts, but you can for them. Fathers day gifts from baby are the sweetest gifts a father can ever receive so make him smile this Fathers Day by getting him personalised gifts that are from your baby. Your baby can't tell you in words how much he or she loves their dad but their actions can so use photos and text to create personalised gifts to express the love from child to father.
Fathers Day Gifts For New Dads
Your husband or boyfriend will absolutely love fathers day gifts from his baby as he might not be expecting any fathers day gifts as he is a relatively new dad. This is a great opportunity to strengthen his commitment to his new family. Surprise him with useful and fun personalised gifts like aprons, bags, calendars and designer bedding so that he will feel truly appreciated by baby and mum on his first Fathers Day. Photos of just the baby or of the proud dad and his baby are perfect for fathers day gifts from baby.
Add Wit To Fun Gifts For Dad
Again your baby can't tell dad how much he or she loves it when he feeds her and holds her but personalised gifts can. As these gifts are fun and cute it is ideal to add a bit of wit them. A cute photo and a bit of text is all you need. You can make him fathers day gifts with funny messages on them like "Hurry up and cook daddy, I'm hungry" or "Sorry for screaming through the night dad". Perfect for the photo apron and designer items like cushions and blankets. These personalised gifts will make him laugh guaranteed!