Following on from our previous designer interview from our Inspired by…dress design competition, we would like to introduce you to our next winner, Hrafnhildur Jona Jonasdottir.
Bags of Love: Hi Hrafnhildur! Can you tell us a little more about your design?
Hrafnhildur: Quite simply, I first and foremost thought about what I would to wear and how I could transfer that to your custom printed body con dress.
Bags of Love: What is the inspiration behind your design?
Hrafnhildur: My inspiration was gorgeous, happy flowers in bright colours, featured on a classic little black dress!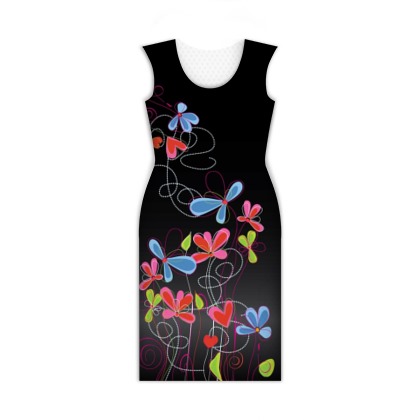 Bags of Love: Do you have a website or etsy store, which we can share with our readers?
Hrafnhildur: As I am an Icelandic designer, mainly designing handbags and home decor, I only have a page on Facebook. However, I think this suits my needs, as many of my customers use Facebook on a regular basis, so as it stands, I find it much quicker to get my creations out to the public this way.
Bags of Love: What do you plan to do with your prizes?
Hrafnhildur: The reason for my entry was to, if I could, win the dress to place in an auction to raise money for an Icelandic charity called Lif. They work towards getting better conditions for mothers when giving birth, in the Icelandic National Hospital.
Bags of Love: Wow, what a great cause and we wish you lots of luck with it. How would you describe your style of design?
Hrafnhildur: Bright, colourful and cheerful!
Bags of Love: If you could design any product on the Bags of Love website, what would it be and how would you design it?
Hrafnhildur: Home decor, for sure. I love everything about designing for the home. Cushions, duvets, tea towels…the list is endless!
Bags of Love: What product would you love to see on the Bags of Love website (if it doesn't already exist?)
Hrafnhildur: I'm not sure really…you pretty much have it all!
Thanks so much Hrafnhildur for taking the time to talk to us and we wish you lots of luck with the charity auction.
Make sure you keep those eyes peeled for our next designer interview, which will be launched very soon!
Bags of Love x