Our online competitions are always one of our favourite things to plan here at Bags of Love! We love it even more when we get to sift through all of the amazing entries and choose our winners!
Our most recent competition was a returning favourite of ours; celebrating Towel Day. Entrants had to create a graphic design for our Personalised Beach Towel, with the theme of travel as inspiration. We chose our winners last week – trust me, it was a really hard job – and we were blown away by the talent shown in the gorgeous designs. We loved them so much, that we decided to reach out to our overall winner, Tyler B, to ask him some questions about his beautiful winning design.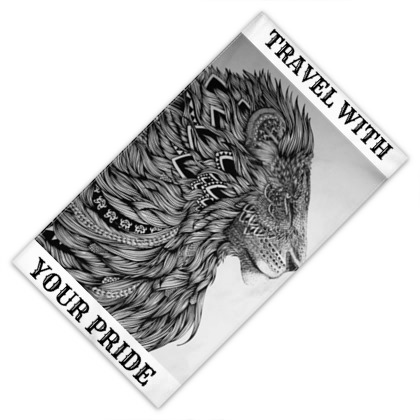 So let's meet Tyler!
Bags of Love: Hi Tyler, congratulations on being our first place winner! Can you please tell us a bit about your design?
Tyler: Hi guys! My design is a tribal inspired black and white drawing of a male lion. I chose this because although it is simplistic, I think that it is really effective visually. There is also a story about the lion and travel theme that I went with, but that's another story!
Bags of Love: It really is a very gripping design. Can you tell us about your inspiration and the story behind the graphic design?
Tyler: My design was actually inspired by the film, The Lion King and a friend of mine who I always go on holiday with. Her favourite animal is a lion and, let's face it, The Lion King is just a classic and beautiful movie, both visually and musically! My inspiration also comes from what I see on social media. The number of young people and children who seem to have 2 or more holidays a year, but don't always appreciate the privilege of experiencing another culture, country and language. The phrase that I use on my design "Travel With Your Pride" is a play on the image – you should always be proud of where you come from, you should bring pride to the place where you are from when you travel and you should always travel with those who mean the most to you – your pride!
Bags of Love: How would you describe your artistic style?
Tyler: I have various art styles, which are different but work really well together. My style of art has always been expressive and not primed and perfect, although I do like things to be neat and in the right place. My artistic expression is mostly simplistic, with lots of visual and graphic design texture.
Bags of Love: Where do you get your design inspiration from?
Tyler: I'm not inspired by one particular art movement, but as a former art student, I have studied my fair share of artists, art movements and different art styles; from analytical sketching to expressive ink paintings. So many art students will know that no matter how much the design looks finished or perfect – it very rarely is! I had so many designs and ideas, that I wanted to enter into your online competition, but in the end, I went with my most simplistic design, which is true to my artistic style.
Bags of Love: Do you have a favourite art print, canvas print or painting?
Tyler: It is a piece by Rosemary Colyer – an outstanding portrait of a fox using oil pastels on paper. I absolutely love it!
Bags of Love: Towel Day came about because in The Hitchhiker's Guide to the Galaxy; "A towel is about the most massively useful thing an interstellar hitchhiker can have." What is the most important thing, which you cannot live without and why?
Tyler: I can cope without a lot of things to be honest. Some things, that a lot of people deem to be necessary in life, aren't that important to me. The thing that I cannot live without, and this will sound cliche, is people! Without the ties and relationships you have with certain people, your memories wouldn't be that memorable!
Bags of Love: If you could design any personalised photo gift from the Bags of Love website, what would it be and how would you design it?
Tyler: I would say the Personalised Espadrilles. I have designed some to see what they would look like and I have used Japanese influences and text to create the online design. A simple black and white line drawing of a Japanese garden building with cherry blossom would be applied to the front of the designer shoe, black and white paint splatters would adorn the sides and back and "peace" written in Japanese would decorate the centre of the heel. I've put a lot of thought into this! Or possibly some retro 90's Pokemon themed personalised shoes would look great, or even the modern Marvel characters…there are so many options available when you have the option to print your own clothing!
Bags of Love: What product would you like to see on the Bags of Love website, if it doesn't already exist?
Tyler: I love your personalised swimwear collection! To be able to design your own swimwear is such a cool idea and I would love to see your custom swimwear line extended even more! Board shorts, Speedos, retro designs etc – I think they would be really amusing to design.
Bags of Love: Thanks Tyler! Before we let you go, do you have a message for our readers?
Tyler: Hello to all the readers of the Bags of Love blog! I hope you enjoyed my design and hearing some more about it. I thought that there were some amazing designs from the competition, which were deserving of first place, but I am so thrilled to have been awarded it! Thanks for the votes and thanks to Bags of Love.
Thank you so much Tyler for taking part in our designer interview! We hope you all enjoyed it. If you would like to be interviewed by us, then why not enter our new online competition? Click here to visit our competition page and enter our new Euro 2016 T-Shirt Design Contest.
Bags of Love x