You might be aware that we are currently running a competition to create a winning design for our Custom Printed Bodycon Dress.
The brief for the competition was a simple one – create any design you want, as long as it has a fashion theme. When we say a fashion theme, we mean anything related to the fashion industry – current trends, classic trends, prints, designers, street style, fashion houses…you name it!
The competition closes at midnight on the 12th October, so there is still time to enter a design if you haven't already, and be in with a chance of winning one of the top 5 prizes.
Although the design competition is still running, we wanted to share some of the inspiring ideas we have seen in some of the entries so far. As it stands, we have had 105 absolutely amazing designs entered, and we have been thrilled to see how much effort has been put into them. Although "fashion" is such a general theme, we have noticed some key trends within the 105 entries, which we would love to share with you.
We have created a little mood board, to share some of these ideas with you and to perhaps inspire you, if you are thinking of entering.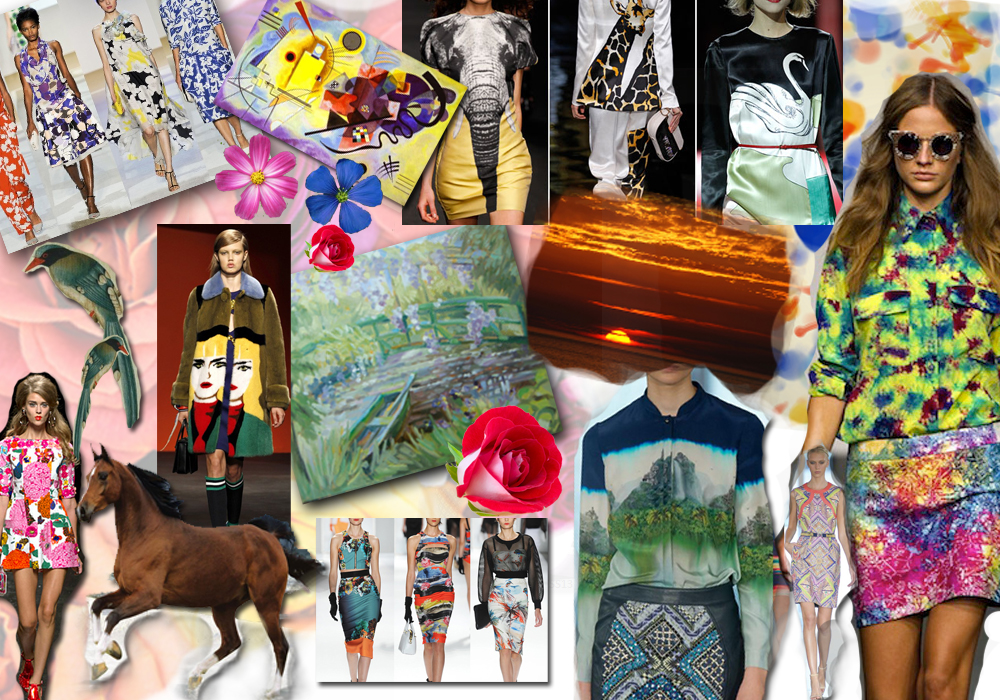 The major themes we have seen so far include: animals, faces, florals, abstract prints, landscapes and weather and art. Let's look at each one  little closer.
Animals
This has been a popular theme so far, and we're not talking generic animal prints, but actual images of animals. Birds in particular seem to be a favourite. Fashion heavy weights such as Christopher Kane is famous for including images of animals on his creations, and this is a popular trend among our designers.
Faces
Imposing faces might sound like an odd trend, but prints like this have been spotted on several catwalks over the years including the likes of Prada. We have had several entries, which showcase this mesmerising and interesting trend.
Florals
Always popular and always a firm fashion favourite, florals have been a real winner in our design a dress competition. Ranging from bright tropical fauna to fields of gentle countryside wild flowers, we have loved seeing this beautiful trend take on so many different styles.
Abstract Prints
The abstract print has been seen on catwalks, all over the world, including the likes of Antoni and Alison, Fendi and Just Cavalli and our amazing entrants have obviously taken note of this exciting and powerful trend.
Landscapes and Weather
From sunsets to frozen landscapes, sunshine to cloudy skies, the natural elements and cityscapes have taken a front row seat in our design competition. Inspired by nature and the cities around us, this inspiring trend has been popular with our designers.
Art
Fashion designers have often taken inspirations from the great masters of art and our entrants are no exception. We have spotted designs, which seem to be inspired by some of the greats such as Kandinsky, Monet and Renoir. We love this trend so much – seeing how some of the greatest art of the past can still be such an inspiration to designers of the future.
We hope these trend ideas has given you some inspiration to enter our competition. If you would like the opportunity to enter and be in with a chance of winning some fab prizes, click here and we will take you over to the contest page. As with all competitions, please ensure you read our T&Cs before entering.
Thanks for inspiring us and good luck!
Bags of Love x