A Guide to Creating Photo Print Collages
Have you seen photo collages before and wondered how you could design one for yourself? Or are you looking for an innovative way to display a large number of photos in a cohesive manner? Now you can! Create your very own personalised photo collage with Bags of Love design tools and suggestions.  Photo print collages are perfect for displaying a large of collection of photos on one item – brilliant for traveling memories or a good friend's birthday present.
DESIGN OPTIONS
To design your collage online, simply visit our site and navigate to the Photo Montage tab in the left side bar.  This page displays the 4 styles of photo collages we offer and highlights the products on which the design is possible.  Choose from a variety of home furnishings, bags, and books, however – please note: not all varieties of montage are available on all products.  For example, our very popular Montage Bean Bag is currently only available with a random scatter collage. You cannot make your own online, nor select the two styles of montage that are undertaken by our in-house graphic designers (the classic overlap and photo frame style).  For these final styles, our designers create the collage with your photographs and send a proof of the design for approval before printing the montage.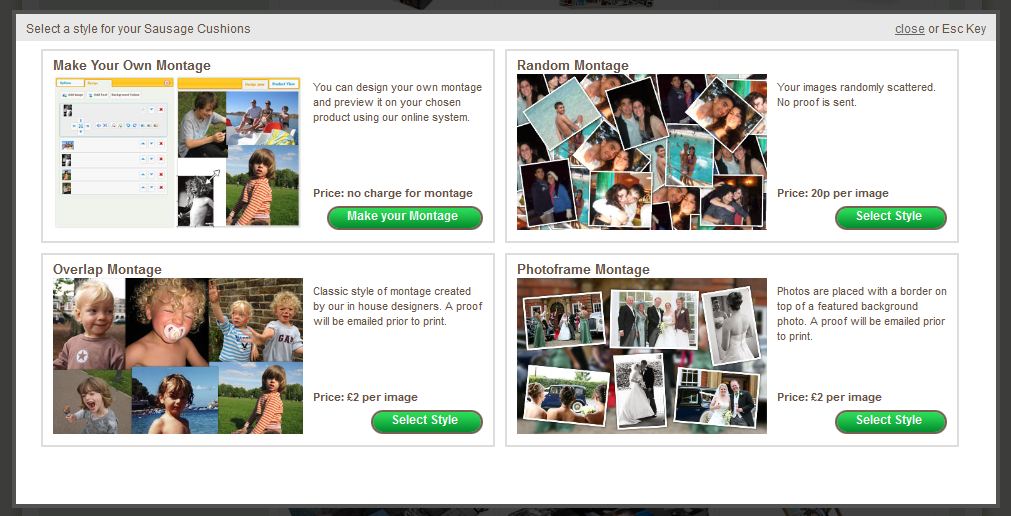 If you would like to make your own photo collage online, then follow these instructions. From the Bags of Love photo montage site, select the product of your choice.
Select the 'Make you Own Montage' option, which will take you to the online collage program.  All you need to do is upload the images you would like to use from your hard drive, and begin to arrange the photos into your desired design.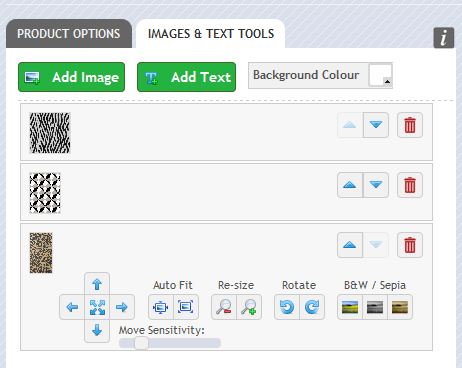 Choose a background colour, add a message, and arrange your images using our simple online design program. This style of collage allows you to rotate your photos with 90˚ turns – if you would prefer your photos at more jaunty angles our automatic random scatter style does exactly that.  Visit our webpage for information and pricing for each photo collage style available from Bags of Love.
PHOTO MOSAICS
For intrepid individuals, why not try to make your own photo mosaic?  The concept is similar to a photo collage, but instead of randomly placed images, the individual pictures create a larger image.  Similar to pixels on a screen, the smaller pictures are coloured squares that form a picture when viewed at a distance.
Bags of Love does not have the online design program to make your own photo mosaic (yet!), but the site Easy Moza offers a free online program.  Several sites claim to produce quality photo mosaics, but we advise caution as some do not give satisfactory results and may charge high fees.  The highlights of using Easy Moza are that is does not require any downloads, and you can create the entire photo mosaic collage online.  You must register to use the program but you are given a low resolution copy of the montage for free– if you require a high resolution copy a charge is applied.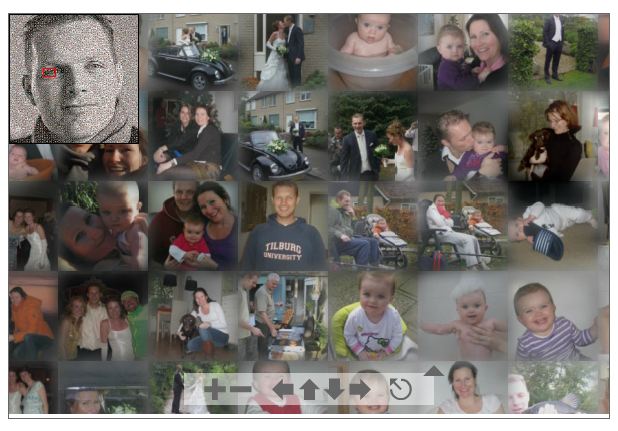 The photo mosaic collages would work brilliantly on many Bags of Love products.  The lower (free) copy woks well on our smaller items, while the larger (paid) copy can be applied to our larger range of products.   Have a play around on the Bags of Love and Easy Moza design systems to create your own photo collage print.  Photo montages are a great way to use a bunch of pictures in one display – the perfect way to exhibit holiday pictures for years to come.
photo: (http://www.easymoza.com/index.php?t=10)