The deckchair is a classic British garden and beach staple.
An iconic piece of furniture, the good old deckchair can be seen in photos from years ago, cheering up British beaches and allowing tired folk in the cities a relaxing sit down during their lunch breaks in city parks.
Both comfortable and stylish, the classic deckchair will make a fun and quirky addition to anyone's garden furniture collection. We here at Bags of Love love the deckchair so much that we have created different sizes, all of which can be personalised by you, for you!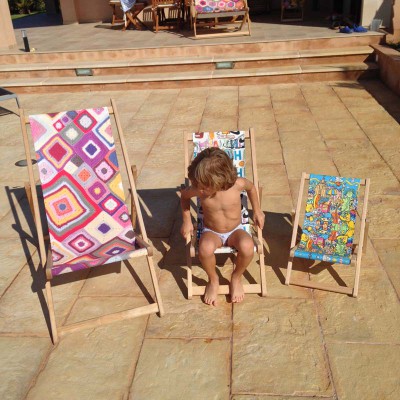 Ranging from an adorable toddler size all the way up to a romantic double deckchair (for those couples who love to cuddle!) the Bags of Love Personalised Deckchair collection can be customised to feature your designs, photos or words and are nice and lightweight, making them easy to carry down to the beach or the park and they are easily folded and stackable, making storage a breeze! If you fancy a snooze, then recline your deckchair back – each one has reclining positions.
Our Personalised Deckchair frames are made in England from durable beech wood and the canvas sling is heard-wearing and durable. We print, cut and sew each one to make it personal to you!
Toddler Deckchair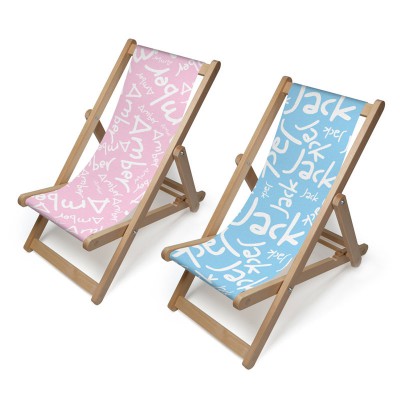 As soon as your little one is able to sit up comfortably and confidently, why not treat them to their very own personalised deckchair? Made especially for cute little ones, these sweet custom deckchairs are fun to make and fun to use. Featuring a one height adjustment, use this deckchair indoors or outdoors to create a sweet style statement. If you fancy treating your little one to their own personal deckchair, click here or on the image and we'll get you started!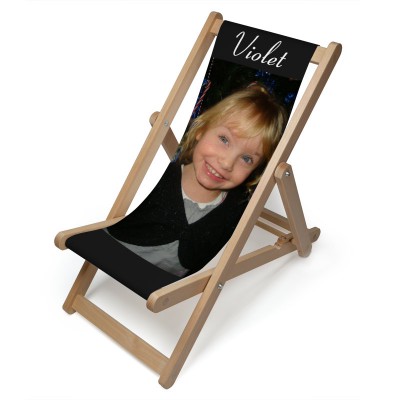 Safe, functional and stylish, our gorgeous customised deckchairs for children look fabulous when personalised with their favourite photos or designs. Why not put their stamp truly on their deckchair by decorating the deckchair with their name? suitable for children aged 3 – 10, these sweet customised deckchairs will allow your kids to feel like part of the party. When the weather changes and the sunshine abandons us for another year, then these deckchairs will look great in your kid's bedroom or playroom, just bring the fun inside! Click here to get started.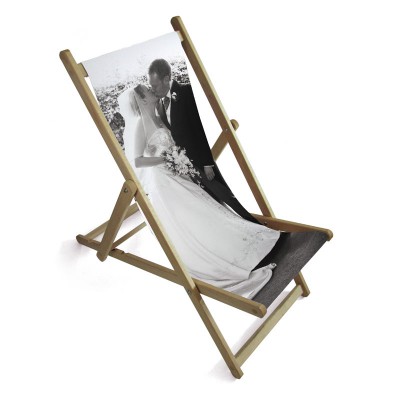 For the grown-ups in the house, create your very own customised deckchair to match the kids! Easy and fun to design, our comfy deckchairs look oh-so stylish displayed proudly in the garden on a warm summer's day. Choose a design, a photo, a photo montage or even some text to make your deckchair personal and special to you. We also offer a Pop Art design option to give your chair an extra special edge. To create a classic British seaside vibe, you can select one of our cute stripe options from our image library. Start creating your dream deckchair here.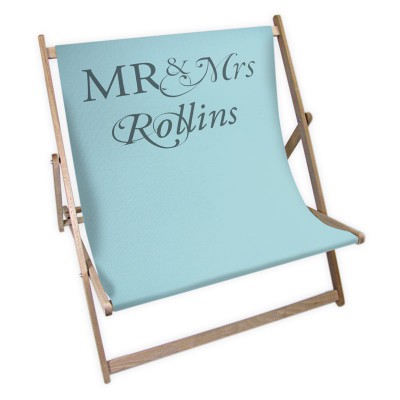 How adorable is our Customised Double Deckchair? If you're one of those sweet romantic types, a loved-up newly-wed or just fancy a bit more room all to yourself, then our double deckchair is for you! The perfect wedding gift, our double deckchair can be personalised with the bride and groom's name, making it super thoughtful and totally personal. If that's not for you then simply choose your favourite photos for a cool montage spread or a design that you love. Spread the love by clicking here.
So there you have it! Now that the summer is well and truly here, get ready to throw garden parties and BBQs with a very special seating choice! No one in the family will be left out with our fun and fabulous collection of Personalised Deckchairs!
Have fun designing!
Bags of Love x