The Bank Holiday weekend is very nearly here and even better, it's a double whammy!
So, 4 days all to yourself with no work to worry about. What will you be getting up to? If you're stuck for ideas and need a little inspiration, then have no fear, Bags of Love is here! We've got the Bank Holiday sorted and have written a little guide of the best things to get up to in London just for you. Have fun and leave a comment below to let us know what you have planned!
1) Kensington Palace Easter Egg Hunt
This is a great day out for the whole family. The Easter Egg hunt is included in the price of the ticket and is aimed at kids aged 7 – 11 (but come on, when chocolate is involved surely age doesn't matter?!) You can discover a trail through the gardens, crack a secret code for a chocolate prize and there will be live performances and story telling over the long weekend. Sound fun? You can learn more here: www.hrp.org.uk/KensingtonPalace
2) Easter at Kew Gardens
Kew Gardens have teamed up with the Roald Dahl Museum and the Charlie and the Chocolate Factory musical to present a super chocolaty Easter! There will be an Easter egg hunt on Sunday 20th April around the Gardens and there will be loads of chocolate and Roald Dahl inspired activities going on. Find out more here: www.kew.org

3) Berwick Street's Record Store Day
Get your groove on on Berwick Street on Saturday 19th April, where a mini music festival will be taking place! There will be an outdoor stage, which will host live acts throughout the afternoon and there will be smaller stages around the areas, with DJs, music quizzes and parties in local shops.  More info can be found here: www.berwickstreetlondon.co.uk

4) Feast of St George in Trafalgar Square
St George's Day will be celebrated in Trafalgar Square on Monday 21st April and will consist of food and fun times, with live music and entertainers and most likely, Morris dancers! Last year there were free tastings, street food, cooking demos and jousters, jugglers and storytelling! www.visitlondon.com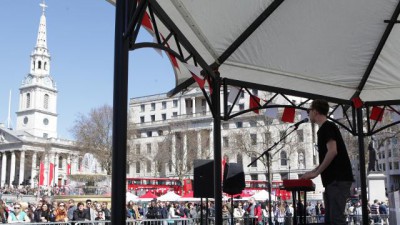 5) A Stroll on Hampstead Heath followed by a film at the Everyman Cinema
If you don't fancy the crowds of Central London, then head to the outskirts. Hampstead Heath is one of the best loved green patches in the city and it is HUGE with loads of areas to discover and explore. Why not finish your walk by ending up at the Everyman Cinema on Hampstead High Street? A fab cinema experience where you can watch your movie from the comfort of a cosy couch while enjoying waiter service. Bliss! www.everymancinema.com

6) Brunch at the Breakfast Club and Vintage Shopping on Brick Lane
The Breakfast Club is one of the uber cool eateries, which you are always hearing about. Well, this Bank Holiday, why don't you try it? Their pancakes and smoothies are delectable and the atmosphere and decor are just amazing (My Little Pony wallpaper in the restrooms! Hello!)  Walk off your epic brunch with a stroll down Brick Lane and Spitalfield's Market and indulge in a little vintage retail therapy. www.thebreakfastclubcafes.com
7) Afternoon Tea in the Capital
If you love cakes and a nice cuppa as much as we do, then you have got to treat yourself to a proper afternoon tea over the Bank Holiday weekend. We love Bea's of Bloomsbury for a more laid back, but extremely scrummy, affair (and their cakes are just awesome). It's a little small so you might need to queue, but it's worth it! The Dean Street Townhouse serve everything from finger sandwiches and scones to scotch eggs and sausage rolls, with a fab selection of tea. For more ideas of where to have tea in the capital, look here: www.afternoontea.co.uk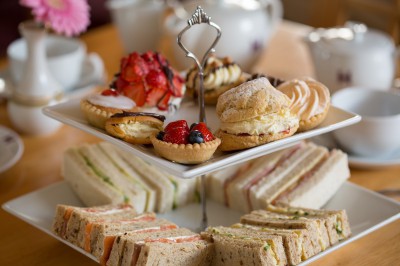 8) Camden Town Schmoozing and Shopping
Camden Town is a great place to visit over the Bank Holiday. Full of amazing areas to discov
er, mysterious and intriguing market stalls and shops and the most tempting street food imaginable! You can wander around the canal, get lost in the maze of market stalls and indulge in some seriously delicious food from all corners of the globe. www.camden-market.org

9) Borough Market
If you are a foodie then you really need to pay a visit to Borough Market over the long weekend. Go hungry and prepare to fill up on food tasters from all of the stalls. From the most incredible cheese to unusual fruit and veg, tasty baked goods to fresh smoothies and hot fish and chips to beautiful cakes, there is truly something for every taste. It gets super busy so make sure you turn up as early as you can in order to sample everything! Discover more here: boroughmarket.org.uk
10) When in Doubt, Opt for a bit of Culture!
London is home to some of the world's best museums, and what's more, entry to most of them is free (although donations are always welcome). Head to South Kensington to discover the exciting Science Museum, the incredible Natural History Museum and the beautiful V&A Museum. If you can't decide which one to go to, why not spend an hour in each? They are all within a 5 minute walk to each other…and then treat yourself to a yummy lunch for being so clever and cultured! www.visitlondon.com

We hope we've inspired you with some some ideas for how to spend your Bank Holiday weekend in the London! Let us know which of them you might try out.
Have a great long weekend!
Bags of Love x