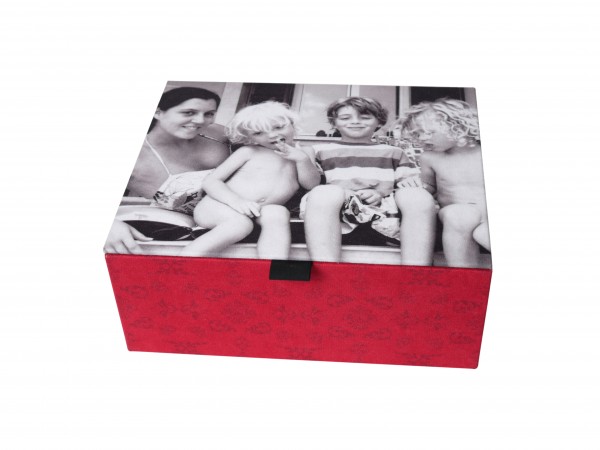 If you want to find the perfect Christmas gifts for the special women in your life – look no further. One of our latest products has everything a woman needs. It is practical, elegant and personal. Can you think of what it might be? It's the jewellery photo box of course! This Christmas gift is perfect for many reasons. First of all it's perfect because if you know a woman who hasn't got a jewellery box, she needs one ASAP. A jewellery box is most precious to a woman as it holds and protects the jewels she's collected throughout her life.
Age doesn't matter in this case. Whether you are a young woman with plenty of new jewellery or a mature woman with jewels from past times – a woman needs a great jewellery box! Secondly our jewellery photo boxes aren't just any jewellery boxes. Ours can be personalised any way you want it. You can use photos, illustrations, beautiful graphics and text. And who wouldn't want a beautiful jewellery box covered in precious photos? And the elegant suede like material makes this box look like a million bucks.
Any woman will love these Christmas gifts as they are stylish and oh so personalised. Your grandmother can put her beloved jewels in a gorgeous jewellery box with black and white photos from her days as a young woman. Your sister will love a jewellery box covered with photos of her and her girlfriends. These are Christmas gifts suitable for any woman, at any age with any amount of jewellery. Start thinking of ideas for colour, photos and text you would want on the box and then order the best Christmas gifts for women ever known to man.