At Bags of Love and Contrado, we love to build relationships with the tutors and talented students studying fashion, textiles, design, art and other creative subjects.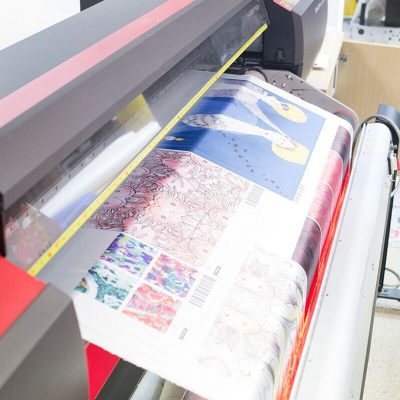 There is so much we can do for students and we pride ourselves on our ability to work closely with them for final projects, coursework and future goals. From a substantial student discount to opportunities to work with us and gain experience during the holidays, we really do see these talented young designers as the future of our industry.
With this in mind, we invited the wonderful first year BA (Hons) Fashion Design and BA (Hons) Textiles and Surface Design students from Bucks New University and 2 of their tutors to the Contrado and Bags of Love studio, to learn more about our fabric printing.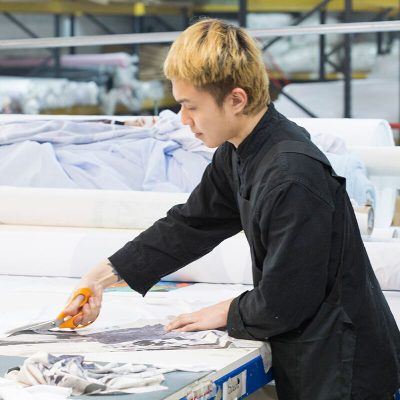 Meeting the team and the products
Course Leader Rosie Cate and her 3rd year students were already fans of ours, and she wanted the opportunity for her first years to get to know us too. 17 students visited the Contrado studio this week, where they were met by our Director Chris. After giving the students an overview of what we do here, our print on demand fabric printing service and our ever growing range of customised products, the students and Rosie were taken on a tour of our facilities.
As everything at Contrado and Bags of Love takes place under one roof, the students were really able to get a well rounded view of how an order comes in, to how it is screened, printed, cut and produced.
The students loved visiting the factory and seeing our printers in action – as well as the amazing collection of huge fabric rolls! They loved going up to the sewing department and seeing how our customised clothing and soft furnishings are made. In particular, our Customised Bomber Jacket really caught their eye and by the end of the tour, they were all asking to be shown how to use our online design interface.
As well as being super keen to get involved with us with our internship programme, a lot of the students were also very interested in opening their own store on our Designer Platform – something which is launching very soon!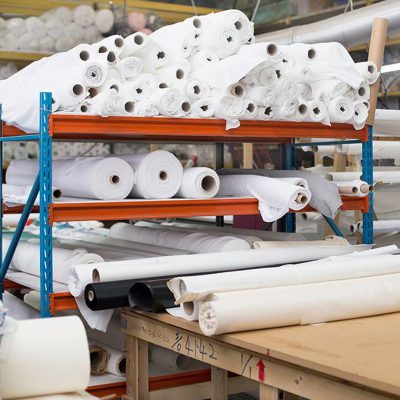 Do you want to pop in for a visit and a tour too?
If you are a student or a tutor and would like to come in and visit us and see how we can work together, then please get in touch and we can organise a tour.