Browse For Gift Ideas Online
If you don't consider yourself a gift ideas wizard and especially not when it comes to gifts for certain occasions, like wedding gifts, don't worry Bags of Love can guide you through the jungle of gift ideas. You might be crap at coming up with great gift ideas for the right occasions because you lack the imagination or you might just not have the time to scour shops and department stores to be inspired. That's why it's so fantastic that Bags of Love's entire shop is online and all you need to do is browse on our website for gift ideas. We truly have gift ideas for all occasions from thank you gifts to wedding gifts and anniversary gifts. We have gift ideas suitable for newborn babies, children, teenagers and adults of any age so that your one and only stop for gift ideas is Bags of Love.
Wedding Gifts Ideas
If someone close to you is about to embark on the wonderful journey that is a marriage you'll need to send them off to marriage land with wedding gifts. Weddings are all about a day of celebrating love in a lavish ceremony and part. If there's one day when you should pull out all the stops it's your wedding day. So show the couple your support with lavish wedding gifts. Nothing is more lavish than hand-crafted personalised gifts like the wedding gift box. Chose from lilac, light umber or turquoise suede for the A5 luxury wedding box lined with ivory suede. Personalise the cover and inside lid of the wedding gift box with text so that the couple can keep and treasure this box forever. The beautiful box in itself is a lovely wedding gift but add a gift voucher with a sum of your choice to let the couple ring in their marriage with personalised gifts of their choice.
Photo Wedding Album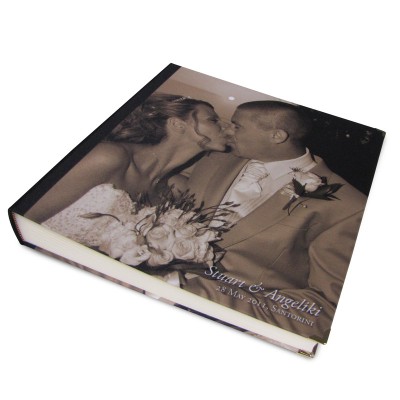 When you need a wedding gift for your partner or a couple you know, and their wedding has already happened, why not give them the photo wedding album? Perhaps you couldn't make it to the big day? Whatever your reasons, the photo wedding album is specially created for the use of many wedding photos. They are great personalised wedding or anniversary gifts which still allow the gift receiver to personalise it further as their own photos can be added to the photo wedding album. The photo wedding album is the biggest in our photo album range at 33×33.6cm with 100 pages. The square shape of this album makes it suitable for portrait or landscape wedding photos.
The photo wedding album is made of Italian thick ivory colour paper with parchment tissue interleaves so they are really luxury wedding anniversary gifts. The satin cover and back of the photo wedding album is printed with a photo of your choice so here you got the chance to impress your partner or the couple with a stunning choice of photo. The Italian pages of the photo wedding album are self mount so the gift receiver applies their own choice of photos in the arrangement that they want – 10×8″, 8×6″ or 6×4″ sized photos can be added creatively.
Other places to keep wedding photos that aren't just photo albums
You might have plenty of photo albums to keep the wedding photos safe, but what about some other, more creative way of showing them to the world (well, more likely to yourself and friends and family but that's more than enough, isn't it?).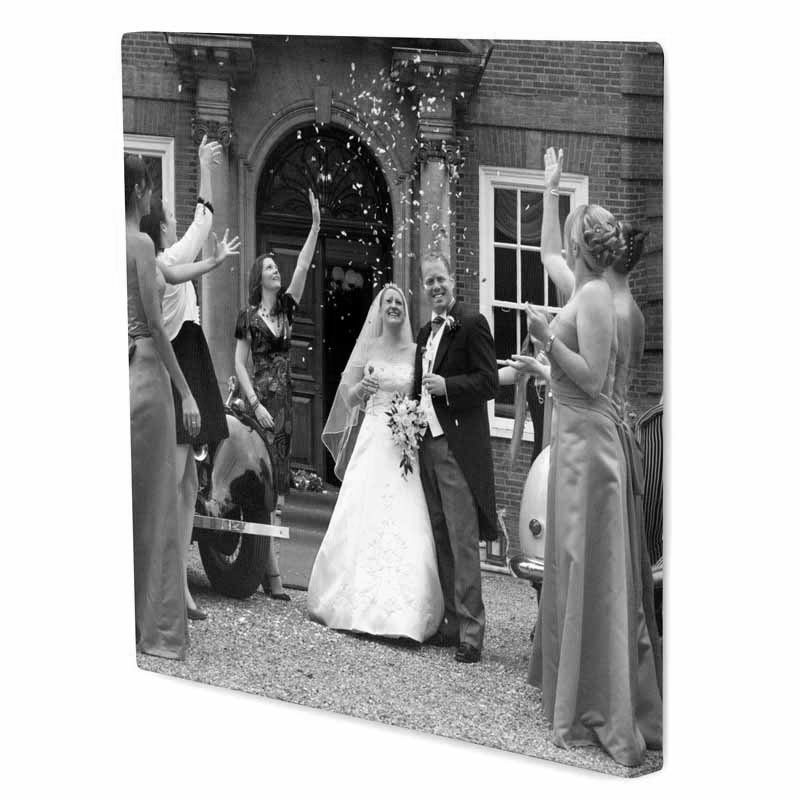 Wedding photos as canvas or shopper bags
Yes, photo albums are a good way to keep all wedding pictures safe, but what do you think about using your favourite ones in a more imaginative way? Design a black and white canvas with your best wedding picture for your wall in the living room, personalised shopper bags for the wife and all her bridesmaids with their photo together… there's a whole lot more to discover and use as a wonderful idea to keep your wedding pictures safe!
Convert Your Album To A Wedding Photo Book
Photo books are something a little different to the standard photo album. There's no mounting of photographs required because you send up to eighty images and they are printed directly onto the pages of the book. Images are printed from edge to edge where possible and the satin book cloth cover, corner protectors, matching spine, and bookmark ribbon give the photo book a real classy edge. At Bags of Love, we work individually and personally on every single one of your photographs to help ensure that you get the very best results.
Wonderful wedding gifts and decorations
Personalised wedding napkins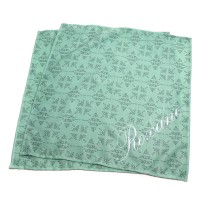 Personalised napkins are ideal for all events such as parties, weddings or birthdays where small details can make a difference. They perfectly go with the personalised tablecloths adding a personal touch to any table. Available in multiple pack sizes, they are hand-sewn and can be personalised by printing photos, graphics or simply by adding text favourites. Personalised napkins could be very nice photo gifts if you want to surprise your partner with a romantic dinner at home. For instance, you could order your personalised napkins with the photo of each member of the family or with the photos of each guest at your party. You could also use personalised napkins as a way to preserve your favourite memories.
Personalised napkins are ideal for sprucing up all occasions. Make your wedding unforgettable and impress your wedding guest with your personalised napkins. For this important occasion, you could choose personalised napkins with the photos of the bride. Or you can print half of the personalised napkin with a photo of the groom and half with a photo of the bride, but only if you really care about being democratic. Personalised napkins are very easy to clean and you can be sure that they won't fade after a few dinners.
Unique Wedding Bunting Ideas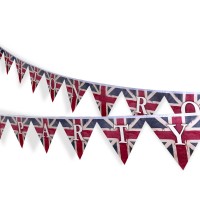 Personalised bunting is a lovely handmade product which can be used and re-used for so many occasions. Say birthdays, weddings, anniversaries or the official office summer party – you can create the little flags exactly the way you want to see them waving in the wind and giving your venue the perfect decoration. Unique buntings for weddings are exactly what many people who are organising a wedding in summer are looking for at the moment. Create the bunting with the names of the couple or even the best photos of them. Use matching background colours for their wedding them or even a funky design of your own…
Wedding gifts can also be creative decorations that will remind them for years of their wedding day as you can use and use the buntings many times again. Creative gift ideas coming straight from the heart.
Personalised Wedding Planning with Bags of Love
Engagement Cards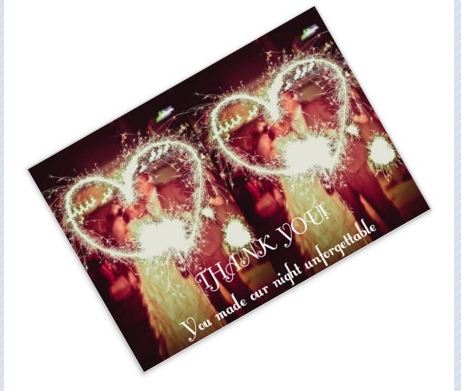 Engagement photos make for fantastic invitations; to use them for your Bags of Love wedding invites, simply upload them from your hard drive into our online design system. If you need any help perfecting their design we have an in-house staff of graphic designers that are happy to help. Don't forget you can use your wedding photos for Thank-you cards after the big day is over. You will have plenty of images to choose from and why not share them with your guests?
Save the Date Cards
A wedding day is a big event in anyone's life and the details count. That's why at Bags of Love we offer a personal service to ensure that the products you receive reflect your taste and vision. Wedding invitations are often the first aspect to address; we offer a variety of personalised cards that would serve as brilliant invitations. Whether you want simple photo postcards, more formal styles, or cards with themed templates, you can choose whichever encompasses your attitude and excitement.
Guestbooks
When the wedding date finally rolls around you will need some decorations ready. Whether you choose a few simple paper lanterns or grand marquees, the event is worth investing in. Why not make sure your decorations reflect your relationship by personalising their design?
A great place to start is with a guestbook and engagement photos would work brilliantly for the cover. Bags of Love offer three sizes of guestbooks, each includes various customisation features.
Your image is printed onto the front and/or back cover, made of satin fabric for a smooth professional finish, and hand-bound by our in-house team to ensure topmost quality. Personalised guestbooks would also make the perfect wedding gift for any approaching date. All you need to do is find your favourite picture of the pair, and leave the rest to us!
Tablecloths and Table Runners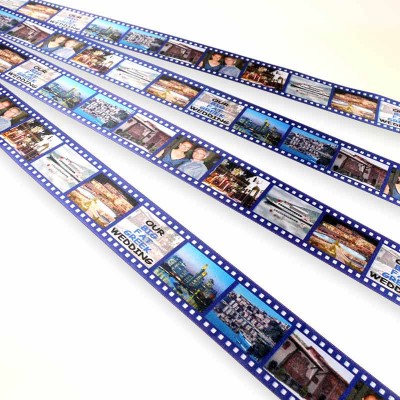 The possibilities are endless – why not have the couple's name and wedding date printed on each table cloth, or have the name of the guests seated at each table clearly stated on its cloth cover? Use images of the couple, family, and friends to brighten up the room? Or have significant messages and images printed to express your devotion and love? You can also have a look at our personalised wedding ring cushion for another way to make your big day special.
Bags of Love wishes you the best of luck during your wedding planning and marriage. We can only advise you to plan ahead and use your imagination. If you would like to contact our team to discuss your decoration ideas, please contact us here.
Wedding Gift Vouchers From Bags Of Love
Wedding gift vouchers are the new, unique and thoughtful way to give a gift. They work just like a gift certificate but with more personality because our vouchers are spent to print the photos of the day into a variety of these different products which we offer. The photo voucher guarantees that your gift will be long remembered and appreciated.
Our wedding gift vouchers can be spent in transforming the photos of their big day into a wide variety of photo gifts formats. There is so much to choose from, including over a dozen different styles of photo bags, or perhaps a personalised guest book from the reception with the favourite shots on the back and cover. Photo gift vouchers mean that the bride and groom have exciting things to do after the wedding, transforming the photos of their day into a variety of home décor, wall art and more!
Wedding Gift Cushions
A part of getting married is settling down together, making a home together. Having children is also likely on the horizon so giving personalised designer bedding items is both symbolic and thoughtful. Whilst the rest of the guests give the couple traditional wedding gifts like tableware surprise them with quirky yet elegant designer bedding gifts. Personalised gifts are ideal for couples who are setting up a home together as they mark their union. Cushions are fabulous designer bedding items so we've created special wedding gifts designs for our sausage cushions and pillowcases. We have created three harmonious colours: umber, lilac and turquoise and two different font options which you can place on the sausage cushion and pillowcase. Then it's up to you if you want simply "Mr and Mrs" or "Mr and Mrs" followed with the couples surname or why not add both of their first names to the cushions?
Our Top Wedding Gift Ideas
We love a wedding we do, and we know how hard it can be sometimes to think up the perfect wedding present. You don't want to give something impersonal but the thought of getting creative can sometimes be a bit daunting.
1. Mr and Mrs Pillowcases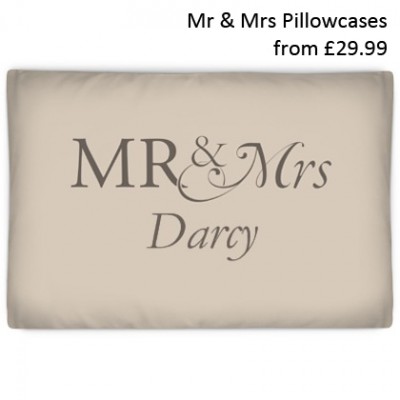 The perfect way for a newlywed couple to rest their heads – on their own, personalised pillowcases! This fun, customised pillowcase can be personalised by you. for the special cover to celebrate their big day!
2. Film Strip Canvas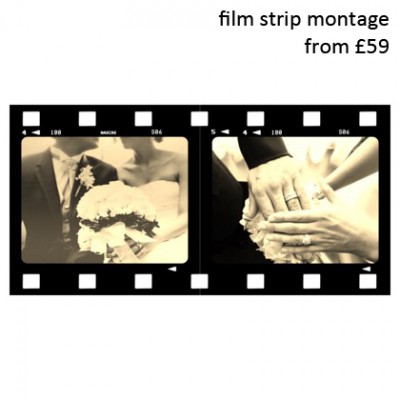 A photo canvas with a difference! Why not create a photo canvas with a twist, with our fun and romantic film strip montage canvas.
3. Photo Clock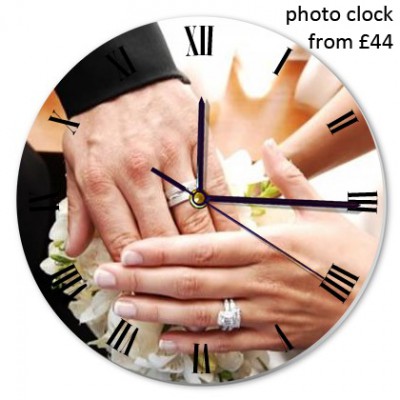 Perfect for their home, this pretty round clock can be customised with a photo of your choice and your clock face design.
4. Holdalls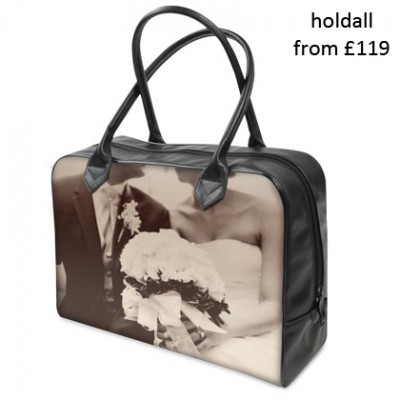 If your newlyweds are heading off on a romantic honeymoon, then why not treat them to a gorgeous, personalised holdall? Available in canvas or leather, choose your pic and a message for the back for a gift which will come in handy time and time again.
5. Heart-Shaped Tin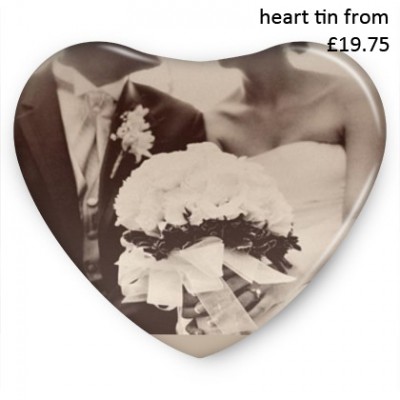 Our little heart-shaped tins are so adorable, they are bound to make every bride smile! Choose your favourite wedding snap and upload it onto the tin to create a keepsake they really will want to keep forever!
6. Photo Box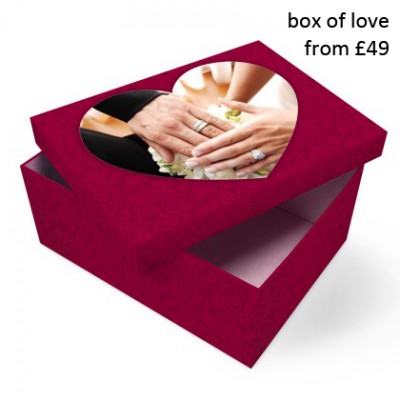 A wedding gift with a difference! Our Box of Love is a beautifully made keepsake box, which can be customised with photos and a message, making it a sweet and sentimental wedding gift.
7. Photo Book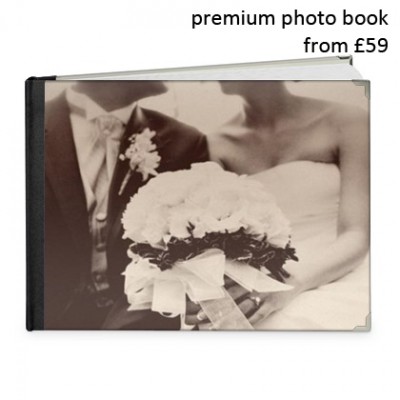 Keep their memories safe and sound with our premium photo book. Simply choose your photos and your design to create a wedding gift, which is sure to make them go "Awwwwwwww"
8. Heart Blanket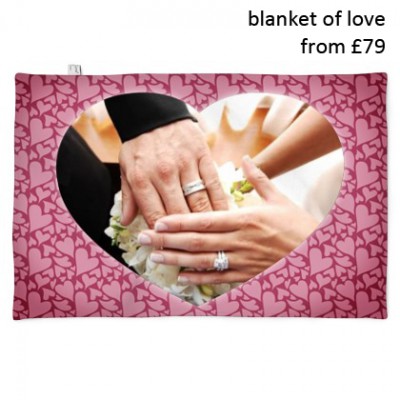 Give a cosy gift, which will make them feel wrapped up in love, with our warm and luxurious Blanket of Love. Decorated with love hearts and a place for your chosen pictures in the middle, this is a customised gift which any newlywed couple would adore!
9. Mr and Mrs Bolster Cushion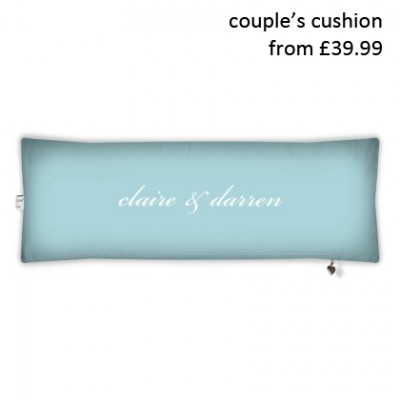 Perfect for adding the finishing touch to a bed or couch, this gorgeous and soft Couple's Cushion can be personalised with the newly wed's names on the front and another special message on the back.
So there you have it! The Bags of Love wedding gift guide. With over 200 personalised and customised gifts available to choose from, you really can get a wedding present, which the happy couple will cherish forever…ahhhhh!